Of the many books I read in 2009, one in particular really stands out for me. That book is Shift by Jennifer Bradbury. Simply described, it is the story of a young man and his best friend who start out on a cross-country bike trek. They disagree on their journey a number of times before finally parting ways. After reaching home and settling into his new collegiate lifestyle, the young man is shocked to discover that his best friend never made it back. Jennifer Bradbury does an excellent job of mixing several different genres such as coming-of-age, mystery, and the traditional road trip into an engaging story with true to life characters.
What Bradbury also managed to do was reignite affection for cycling that I haven't felt since I was a teen myself. Some of my best memories involve riding around my hometown, taking in sights and sounds that can easily go unnoticed when zooming by in a car at 30mph. Cycling also promotes a healthy lifestyle while remaining environmentally friendly. 
 
All of which is why I am excited that IMCPL's Central Library will be hosting a series of lectures sponsored by the Central Indiana Bicycling Association beginning January 13.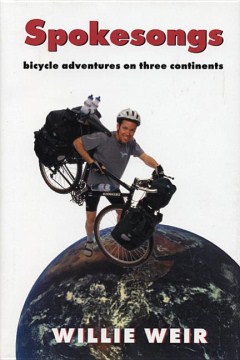 The first is entitled, "A Frugal Cyclist's Guide to the Universe." It features Willie Weir, author of Spokesongs: Bicycle Adventures on Three Continents. Subsequent lectures take place on February 17, March 17, and April 14.
Here are a few other books about cycling:
The Practical Cyclist: Bicycling for Real People by Chip Haynes   796.6 HAY
City Cycling by Richard Ballantine   796.6 BAL
The Complete Do-It-Yourself Bike Book: Everything You Need to Know to Fix, Maintain, and Get the Most out of Your Bike by Melanie Allwood 629.28772 ALL
Any cyclists out there with suggestions of the best places to ride in the city? What about the best kind of bike?