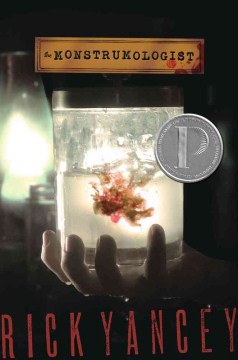 Horror is not my forte.  I thought this was a sci-fi/fantasy book when I picked it up.  I hadn't even read one chapter before I realized my mistake.  Boy, was I in for a bumpy ride.  Blood and gore were flung all over this book.  If you like detailed descriptions of flesh being torn apart with razor sharp teeth belonging to a huge hulking monster, then The Monstrumologist is for you.  The squeamish need not apply.  Being a bit squeamish myself, I fully admit that I struggled through those parts of the book.  The rest of the story is what kept my attention.
As the characters jump from place to place, the suspense builds.  Insane asylums, death ships, graveyards, and underground lairs create the perfect atmosphere for monster attacks.  The anthropophagi are over seven feet tall, can leap up to 40 feet and live in the ground.  You never know where they'll show up or who they will eat next.
In between bouts of monster hunting, you get to know the characters really well. Will Henry is very like the hurt 12 year old that his guardian used to be.  Dr. Warthrop longed for the attention of his father who was always consumed with the science of monstrumology.  Now he's treating Will Henry the same way.  They make a very interesting pair.  I kept reading the story to find out what happened next in their relationship.
As much as I dislike horror novels, I can't wait for the second book to come out.  If you like the first one, Rick Yancey can chill your bones again soon.  Watch for The Curse of the Wendigo in October.