In Clark the Shark Dares to Share, Clark learns that sharing is caring--but sometimes the lesson is a little confusing. Clark shares his funky shark dance with the class, but Mrs. Inkydink tells him he has to wait his turn. Clark shares his reef-hockey skills, but his teammates would rather Clark share the puck. With help from his friends and with his trademark lively rhythms and rhymes, Clark learns how to share in this follow-up to Clark the Shark.
Print This Post
Read Right Now! books you can read online, right now, with no waiting!
---
| | |
| --- | --- |
| | Read I See Colors Read and hear the story in English. Hear the story in Spanish or one of 13 other languages! |
---
| | |
| --- | --- |
| | Read What Colors Do You Eat? Read and hear the story in English. Hear the story in Spanish or one of 13 other languages! |
---
| | |
| --- | --- |
| | Read What Is Blue? Read and hear the story in English. Hear the story in Spanish or one of 13 other languages! |
---
| | |
| --- | --- |
| | Read What Is Orange? Read and hear the story in English. Hear the story in Spanish or one of 13 other languages! |
---
---
More FREE Online Reading:
---
Websites:
---
Downloadable eBooks:
Want to read more without ever leaving home? Use your indyPL library card to download eBooks and audiobooks. Click on a book jacket to choose a book to download.
Downloadable Audiobooks:
Favorite Color Books:
Print This Post
App Features:

Free
iTunes Preview
Compatible with iPhone, iPad, and iPod touch
Turn audio on or off - turn it off if you would like your child to practice reading.
Adjustable field size - while 20 hidden objects is the default, you can go down all the way to just 4 (great for toddlers) or all the way to 56 hidden objects for the ultimate challenge.
Select the categories you want to display
Update the spelling and audio to your own voice and your own language.
IndyPL Ready to Read: Free Skill Apps for Kids
IndyPL Ready to Read: Free Story Apps for Kids
Print This Post
Websites:
Dot, Spot & Circle Books:
Dot, Spot & Circle eBooks:
Dot, Spot & Circle eAudio:
Selected by: Janet Sterling, Selection Services
Print This Post
You might wonder what's so great about a book without any words in it. Does it even qualify for a book if there are no words? With no words, isn't it just pictures? The truth is, a wordless picture book tells a story without using words. The PICTURES have meaning. The ability to look at pictures an understand from them what is going on is an important skill for small children to practice. Looking at wordless picture books helps your child acquire several skills, even before he/she begins to recognize letters or words.
Comprehension - understanding the meaning of the pictures
A book is understood from left to right
Stories have a sequence
Inferring meaning - understanding what has just happened based on the picture, for example, a facial expression.
Predicting what will happen next
Vocabulary - yes, even without words a wordless picture book helps build vocabulary because the reader comes up with their own words, and when reading with a parent, hears the parent's words that describe the same picture...but in different words. Instant vocabulary building!
Lastly, what great books for kids who have trouble with letters and words!
A picture really is worth a thousand words. Looking for more? Search our catalog under the subject "Stories without Words" to find other great wordless reads!
New Wordless Picture Books:
Classic Wordless Books:
Selected by: Janet Spaulding, Selection Services
Print This Post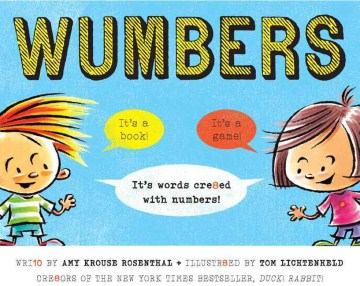 Wumbers is a story created with letters and numbers. Letters and numbers are used together to make words and sentences 4 kids 2 figure out!  It's a great book for kids interested in word puzzles. The clues are letters and numbers.  The pictures help too. Here is what the story looks like:
Don't you just love making 4ts?! (Don't you just love making forts?!)
I Like 10ts, 2! (I like tents, 2!)
It's fun.One of my favorite books growing up was CDB! (See the Bee) by William Steig. It does the same thing! In fact, Wumbers is dedicated to William Steig. The author of Wumbers liked CDB! too! L8er allig8or! Author: Amy Rosenthal
Print This Post
If you could have as many as you wanted, how many jelly beans would be enough? (I could eat a lot...except the black ones. I always gave those to my Mom.) Is a handful good? How about 10? How about 100? The kids in this book up the number of hoped for jelly beans until they get to a million. On each colorful page kids can watch the number grow in the pictures and actually count the jelly beans. Even a million! The million page fold out to make a giant poster of ONE MILLION COUNTABLE BEANS! For small children, it's often hard to tell the difference between one minute and 5 minutes...let alone big numbers like 100 or 1,000 or 10,000. This book is a great way to introduce the big numbers. And it's funny, which is always an A+ way to end a book. Author: Andrea Menotti
More books to help get a handle on numbers, the big ones as well as amount words like "pair" and "couple" and concepts like "more than" and "less than"!:
Print This Post
A confident, cheeky musk ox takes over the whole alphabet, convincing Zebra that musk ox actually belong on every single letter page, not just on the "m" page, stuck in the middle where nobody remembers.
"I didn't ruin your book. I saved it. Every other alphabet book starts with "A is for apple." That's sooo boring. I think you should do something different. How about this: a is for musk ox."
Zebra shouts in exasperation "But musk ox does not start with A!"
Ahh, but it DOES, and with many other letters too. Read on to find out how (but pay careful attention to m, p, t and z.)
A laugh out loud alphabet book with a sassy narrator and wonderful illustrations. If you can paint attitude, Matthew Myers does. Author Erin Cabatingan
Websites:
Books:
Here are some books that use the letters of the alphabet to tell a story...or a joke. These books make naming the letters and practicing with the sounds the letters make fun...just like musk ox and zebra!
Print This Post