App Features:
Free
Compatible with iPhone, iPad, and iPod touch
Rated 4+

Each letter name or sound is pronounced clearly which makes it easy for kids to first hear, and then find the letter

Choose upper or lower case letters
Add letters on the game board to adjust difficulty
Two kids can sit across from each other for 2 player mode to see who can find the letters the fastest
Print This Post
App Features:
Free

iTunes Preview
Google Play for Android

Made for Ages 5 and Under

Compatible with iPhone, iPad, and iPod touch. This app is optimized for iPhone 5 & Android

Slice your way through all upper and lower case letters by name or phonic sounds
Supports 3 difficulty settings: EASY, MEDIUM, or HARD
Print This Post
App Features:
Free
iTunes Preview
Letter recognition, letter sounds, and early literacy
Sequence, order, and patterns
Number recognition and basic counting
Concepts of quantity and number sets
Fine motor skills
Print This Post
Naming the letters of the alphabet and knowing the sounds each letter makes is a critical pre-reading skill. Did you know that singing the alphabet song and books like "A is for Apple" and "B is for Ball" are only the beginning? There are several online games, eBooks, activities and library books that make practicing the alphabet FUN. The Read Right Now! books below you can read online, right now, with no waiting! Also don't miss the Early Readers Club - your child can pick up a free book at participating IndyPL branches from Sep. - May each year until age six. Really! Books to Keep! Details. Plus: More Read Right Now! Free eBooks for Kids
For more Alphabet Book & Activity ideas ideas see:
---
Read Right Now!
| | |
| --- | --- |
| | Read Elmo's ABC - Elmo the little monster cannot decide which is his favorite letter of the alphabet, because he has favorite things for almost every letter. |
---
| | |
| --- | --- |
| | Read A Apple Pie - This book introduces the letters A to Z while following the fortunes of an apple pie. |
---
| | | |
| --- | --- | --- |
| | | Read M is for Monster - Hey, It's Me, Mike! Forget all those other alphabet books where A is for apple and B is for ball. This is the best ABC book ever--because it's written by me. Eye guarantee you'll love it. ALWAYS AVAILABLE for checkout with your IndyPL Library Card. |
---
| | | |
| --- | --- | --- |
| | | Read ABC Letters at the Library - This lovingly written, playfully illustrated book introduces children to both the alphabet and the library, through wonderfully descriptive, alliterative language. ABC Letters in the Library puts a fresh new spin on the traditional ABC lesson, and is an ideal tool for teachers & librarians. It's ABC's for Bookworms-to-Be. ALWAYS AVAILABLE for checkout with your IndyPL Library Card. |
Alphabet Activities to try at home:
Want to read more without ever leaving home? Use your indyPL library card to download eBooks and audiobooks. Click on a book jacket to choose a book to download.
Downloadable eBooks:
Print This Post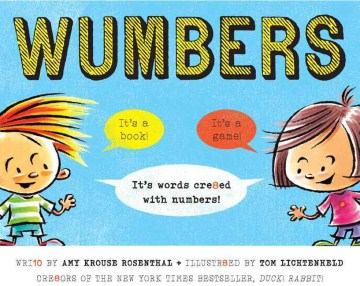 Wumbers is a story created with letters and numbers. Letters and numbers are used together to make words and sentences 4 kids 2 figure out!  It's a great book for kids interested in word puzzles. The clues are letters and numbers.  The pictures help too. Here is what the story looks like:
Don't you just love making 4ts?! (Don't you just love making forts?!)
I Like 10ts, 2! (I like tents, 2!)
It's fun.One of my favorite books growing up was CDB! (See the Bee) by William Steig. It does the same thing! In fact, Wumbers is dedicated to William Steig. The author of Wumbers liked CDB! too! L8er allig8or! Author: Amy Rosenthal
Print This Post