January 12, 2015 by Reader's Connection
I've been raving about the Vivian S. Delbrook Visiting Writers Series at Butler University for six or seven years, now, and am pretty sure that  a children's author hasn't been part of the line-up during that time. Lois Lowry will visit in March, though, and I thought it would be fun to begin this blog post with a list of the awards that Lowry has won. But then I realized you might choke. Click here for the list.
As it happens, all seven of the authors this season are prize-winners.
All events are free and open to the public. No tickets are required.
Maurice Manning
Yale Younger Poets Award, Pulitzer Prize Finalist
February 10
7:30 p.m.
Clowes Memorial Hall, Krannert Room
The Gone and the Going Away (2013)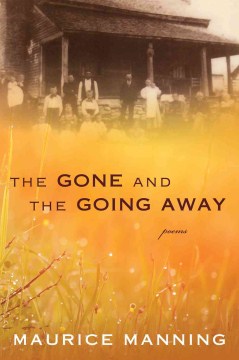 If you look at words on a page as a little system of things that move apart and come together, breathe and pause, and sing and are silent, I think the real parallel is the natural world. To see the little system of a little stream and how over years this stream has made this course and worn this rock this way, and the bank is in proportion to the width of the stream and trees grow over the stream at this angle, you know you can see the micro-features of nature as little systems and then you see how they're connected to other systems. It's really this whole living pattern, and we can't even comprehend it and its totality. It's a wholly, living, eternal pattern. I like to think of writing poetry in that way, too. — Maurice Manning, from an interview in Still: The Journal
NoViolet Bulawayo
Hemingway Foundation/PEN Award Winner
February 23
7:30 p.m.
Atherton Union, Reilly Room
We Need New Names (2013)
In Bulawayo's engaging and often disturbing semiautobiographical first novel, 10-year-old Darling describes, with childlike candor and a penetrating grasp of language, first, her life in Zimbabwe during its so-called Lost Decade and then her life as a teenager in present-day America. What is at once delightful and disturbing is the fact that young Darling and her friends are so resilient amidst chaos. Darling must cope with absentee parents gone to who-knows-where, seeking jobs and a better life; abusive adults; and murdering bands of self-appointed police in a country gone horribly wrong. Yet she evinces a sense of chauvinism regarding her corrupt homeland when she joins her aunt in America. There she discovers a country that has fallen into a different kind of chaos, primarily economic. She and her new family struggle while America fails to live up to her hopes. Ultimately what lingers is Bulawayo's poignant insights into how a person decides what to embrace and what to surrender when adapting to a new culture in a new land. — Booklist
Lois Lowry
Newberry Medal Winner
March 4
7:30 p.m.
Clowes Memorial Hall
*Tickets required. Free tickets available at Clowes Hall box office and Ticketmaster.com (fees apply). Group tickets available by emailing Shannon Rezek at srezek@butler.edu.
Gooney Bird and All Her Charms (2013)
Gooney Bird is back for the sixth volume in this cleverly engaging series with a likable yet eccentric heroine at its center who happens to wear a "silver bracelet jingling with charms." March is the month when the children in Mrs. Pidgeon's class will learn about the human body. In her ever-helpful way, Gooney Bird arranges for her anatomy-professor uncle to lend the class a skeleton. After gasps, giggles, rapid-fire questions and lessons about the skeleton, the class decides to share their new visitor with the rest of the school, choosing appropriate places for each different part of the body. A lesson on the brain takes place in the library, the digestive system display is in the cafeteria, facts about muscles are shared in the gym, and the respiratory system is tested outside. The principal, teachers and kids enjoy these surprise lessons–except for one parent, who complains that the skeleton is inappropriate. When the skeleton goes missing, Gooney Bird swoops in to lead her class in an investigation of the mystery. As always, the story is full of spot-on dialogue that captures every enthusiastic remark or bashful comment added by these winning second graders. It combines with a compelling story structure that is not only highly readable, but entertainingly informative. — Kirkus Reviews
Louise Glück
Pulitzer Prize Winner and National Book Award Winner
March 25
7:30 p.m.
Atherton Union, Reilly Room
Faithful and Virtuous Night (2014)
Glück's 12th collection, her first since Poems, 1962-2102, is one where myth, long a primary concern of hers, takes a backseat to more quotidian affairs. "Mist covered the stage (my life)./ Characters came and went, costumes were changed,/ my brush hand moved side to side/ far from the canvas,/ side to side," Glück writes, "I took a deep breath. And it came to me/ the person who drew that breath/ was not the person in my story." While readers familiar with Glück will recognize her voice, here she is more conversational, more grounded in the materiality of human experience: "First divesting ourselves of worldly goods," the book begins, "we had then to discuss/ whither or where we might travel, with the second question being/ should we have a purpose." Whether through long poems or short prose bursts, she returns to stillness and night as the baselines for human experience, stages upon which the human drama unfolds. "I was aware of movement around me, my fellow beings/ driven by a mindless fetish for action–// How deeply I resisted this!" Glück notes, "truth as I saw it/ was expressed as stillness." Characteristically sure-footed, Glück speaks to our time in a voice that is onstage, but heard from the wings. — Publishers Weekly
Your excitable blogger, aware on some unconscious level that Glück would be coming to Butler, reprinted three poems from one of her earlier collections, A Village Life, back in December.
David Gessner
A Pushcart Prize and John Burroughs Award for Best Nature Essay
April 1
7:30 p.m.
Clowes Memorial Hall, Krannert Room
The Tarball Chronicles : A Journey Beyond the Oiled Pelican and into the Heart of the Gulf Oil Spill (2011)
Gessner's zesty irreverence, passionate curiosity, and realistic concern for humanity and the living world have earned him distinguished awards and an ardent readership. Expressive and adventurous, he follows My Green Manifesto (2011) with a profoundly personal inquiry into the aftermath of the Deepwater Horizon catastrophe unique in its hands-on immediacy and far-ranging ruminations. He roams the coast, talking to anyone he can find who isn't muzzled by BP. He befriends Jean-Michel Cousteau's film crew; stays in a pleasingly rudimentary fishing shack; mourns for oiled and dead pelicans; takes wholehearted pleasure in beer, birds on the wing, and frolicking dolphins; and asks penetrating questions about BP's use of a chemical dispersant illegal in England and the harm done to Gulf Coast wildlife and livelihoods. "Despair mixes with delight," as Gessner revels in the beautiful vitality of the Gulf and wonders how much more damage we'll do by pursuing and burning fossil fuels. "We need to make some hard choices," he writes, and figure out how to live in harmony with nature, our intricate and sustaining planetary symphony. — Booklist
Ellen Bryant Voigt . . .
(Guggenheim Fellowship for the Creative Arts)
. . . and Catherine Barnett
(James Laughlin Award from the Academy of American Poets)
April 6
7:30 p.m.
Clowes Memorial Hall, Krannert Room
Headwaters (2013) by Ellen Bryant Voigt
Celebrated poet and teacher Voigt, a finalist for both the National Book Award and the Pulitzer Prize, continues to use the natural world as thematic grounding in this long-awaited volume. In the title poem, the poet has "clung// to my own life raft I had room on it for only me…," but she includes multitudes–animals, entities, gathered and examined, sheltered and carried. This slim collection of 28 poems delivers what readers have come to expect from Voigt: luminous pieces meticulously shaped by provocative lines and careful syntax. Voigt chooses deceptively simple subjects–noble dogs and moles, larch and lament, the roof she finds praiseworthy, the owl, the cow, and stones a friend saved and of which she is now the owner. But her poems are far from simple. Each reading reveals the tug of opposites, and in this tension the poet shows her brilliance: "the emblem for wisdom is the same for gratitude at dusk at dark/ the farsighted owl strikes in utter silence when we hear it/ from the tree or the barn what it announces/ is already finished." — Library Journal
The Game of Boxes  (2012) by Catherine Barnett
Though the poems . . . are only a handful of lines each, they are deceptively sophisticated. The book's title originates from a game that the speaker plays with her son, "a simple game,/ seven dots by seven, eight by eight:/ there's no end to it." Structurally, the game parallels Barnett's poems, which are tight and self-contained but when stacked, build into larger suites. The book is organized into three of these sections; the first is called "endless forms most beautiful." Scattered amid poems about a mother and her son are pieces written from the first-person plural perspective of an amorphous chorus. Abandoned, the chorus moves through various settings: "they let us go out late, past closing,/ they leave us to winds." "Sleeping/ eyes open, who mothers us?" they lament. Fragmentary poems that stutter through lust, sex, and sorrow form the book's second section, "sweet double, talk-talk." Barnett's emotions are so potent they become something you could choke on: "He's a lozenge of smut," she writes, with the acute, straightforward vulnerability that makes these poems brave. "The modern period," the book's last section is the shortest, but also the most lucidly personal. "Perhaps I'll/ be, in my next life, mist," Barnett muses. "When did it/ get so mysterious? This isn't me speaking/ but the old gentle hiss of a slow glass ship in a bottle on the sea." — Publishers Weekly
Category Announcement, Author Visit, Event | Tags: Butler University, Vivian S. Delbrook Visiting Writers Series
---