June 22, 2015 by Reader's Connection
We visit Berlin, Burma, the Hogwarts School of Witchcraft & Wizardry, Hollywood, and several other locales. We learn to cook some summer food, and we continue our summer reading of books about music. And we learn about being social animals.
The Unlikely Pilgrimage of Harold Fry, a novel by Rachel Joyce, will be discussed at the Warren Library on Thursday, July 2nd at 10:30 a.m.
Soon after his retirement from a brewery in a quiet English village, Harold Fry receives a surprising letter. It's from beloved friend and colleague Queenie Hennessy, whom he hasn't heard from in 20 years, writing from a distant terminal cancer ward to say good-bye. This letter returns Harold to a horrifically painful part of his past, threatens his already troubled marriage, and ultimately leads to a crisis that casts into doubt everything he thinks he knows about himself. He decides to embark on a 600-mile walk to say goodbye to Queenie in person. Joyce, a former actress and acclaimed BBC scriptwriter here publishing her first novel, depicts Harold's personal crisis and the extraordinary pilgrimage it generates in masterly fashion, exploring psychological complexities with compassion and insight. The result is a novel of deep beauty and wisdom about the human condition; Harold, a deeply sympathetic protagonist, has much to teach us. — Library Journal
The Unlikely Pilgrimage of Harold Fry is also available as a downloadable e-book, a downloadable audiobook, and in large print.
The Shared Reading Group at Spades Park Library will continue to read aloud from William Faulkner's Absalom, Absalom!, and discuss it, on Fridays in July–the 3rd, 10th, 17th, 24th and 31st–from 10:00 to 11:30 a.m.
Has anyone based a video game on this book? It could be called "Sutpen's Hundred." But it wouldn't be nearly as strange as the book, and the game wouldn't be accompanied by a poem and refreshments.
The What Would Jane Austen Read? Book Club will meet at the College Avenue Library on Monday, July 6th at 1:30 p.m.
This is a group that reads selections of 18th century literature that Jane Austen might have read. Well-known novels of Burney, Edgeworth, Fielding, Defoe, Sterne and others formed our earliest reading. If you enjoy Jane Austen, you may like some of the writers who influenced her. We now are reading lesser-known works which were popular in her day . . . As these are sometimes obscure works, the library often doesn't have copies, so our members have to use on-line sources, purchase second hand copies (under $5) or use interlibrary loan to obtain the books. — Group facilitator Elizabeth K. Jarvis
"Farmers Markets, Summer Food" will be the theme of the Glendale Cooking Chats on Monday, July 6th from 6:00 to 8:00 p.m.
Christie Wahlert from Keystone Monon Community Gardens and Growing Places will visit the group during the July 6th meeting. She is a great resource for anyone interested in the community gardens and summer fresh food.
This month's featured cookbooks:
Grill This Not That by David Zinczenko and Matt Goulding
Summer Food: New Summer Classics by Paul Løwe
Fresh Food Nation: Simple, Seasonal Recipes from America's Farmers by Martha Holmberg
Daniel James Brown's The Boys in the Boat: Nine Americans and Their Epic Quest for Gold at the 1936 Berlin Olympics will be discussed at the Franklin Road Library on Monday, July 6th at 6:30 p.m.
If Jesse Owens is rightfully the most famous American athlete of the 1936 Berlin Olympics, repudiating Adolf Hitler's notion of white supremacy by winning gold in four events, the gold-medal-winning effort by the eight-man rowing team from the University of Washington remains a remarkable story. It encompasses the convergence of transcendent British boatmaker George Pocock; the quiet yet deadly effective UW men's varsity coach, Al Ulbrickson; and an unlikely gaggle of young rowers who would shine as freshmen, then grow up together, a rough-and-tumble bunch, writes Brown, not very worldly, but earnest and used to hard work. Brown takes enough time to profile the principals in this story while using the 1936 games and Hitler's heavy financial and political investment in them to pull the narrative along. In doing so, he offers a vivid picture of the socioeconomic landscape of 1930s America (brutal), the relentlessly demanding effort required of an Olympic-level rower, the exquisite brainpower and materials that go into making a first-rate boat, and the wiles of a coach who somehow found a way to, first, beat archrival University of California, then conquer a national field of qualifiers, and finally, defeat the best rowing teams in the world. A book that informs as it inspires. — Booklist
The Boys in the Boat is also available as a downloadable e-book, an audiobook on CD, and in large print.
You can join in a discussion of How Starbucks Saved My Life: A Son of Privilege Learns to Live like Everyone Else at the Wayne Library on Monday, July 6th at 6:30 p.m.
Gill, son of New Yorker writer Brendan Gill, explains how he was born into privilege, was "downsized" out of his high-powered advertising career, divorced by his wife after the woman with whom he was having an affair became pregnant, and learned that he had a slow-growing brain tumor–all of which ultimately led him to an entry-level job at Starbucks at the age of 64. And that's just the first chapter. Gill's inspirational memoir is a look back on his first year at Starbucks, learning the ropes as a barista. In each chapter, he faces a new challenge, from cleaning up to balancing the register to hosting coffee tastings . . . While telling his life story, he also hits all the appropriate business world notes, riffing on diversity, acceptance, and respect, and even manages to instill a desire for a cup of coffee in his reader. — Library Journal
How Starbucks Saved My Life is also available as a downloadable audiobook, an audiobook on CD, and in large print.
On Tuesday, July 7th at 6:00 p.m., Central Library will host two different book discussions. One will be held in the Goodrich Hauk Meeting Room, and will feature David Brooks's The Social Animal: The Hidden Sources of Love, Character, and Achievement
The New York Times columnist Brooks has written a fine essay on how people can lead fulfilling lives. He merges his strength in constructing sociological ideal types with current cognitive and sociobiological research. The vehicles for his observations are the lives of the fictional Harold and Erica, from conception, through marriage and careers, to death. His main contention is this: "The central evolutionary truth is that the unconscious matters most. The central humanistic truth is that the conscious mind can influence the unconscious." Framing the same point within the great conversation of philosophy, "The French Enlightenment, which emphasized reason, loses. The British Enlightenment, which emphasized sentiment, wins." Emotions and connections with others are the core of being human; conscious reason is better understood as the servant of that core, not the master. Brooks did decide to sidestep a large theme in most considerations of a meaningful life by not giving Harold and Erica children. On the whole, though, the book is an engaging argument about what human nature and human fulfillment are made of. Highly recommended. — Choice
The Social Animal is also available as a downloadable e-book, a downloadable audiobook, an audiobook on CD, and in Spanish.
And that same night, same time, out in the East Garden at Central, the Adult Summer Reading Program will have its first discussion of the month. The program has a musical theme this year, and the first July discussion will be of Ann Patchett's novel Bel Canto.
Who needs to read a very positive, intelligent Kirkus review of this novel when you can read my obsessive blog post? Click here to be hurtled into a world of marital trauma and literary bliss.
Bel Canto is also available as a downloadable e-book, a downloadable audiobook, and an audiobook on CD.
Wes D. Gehring's biography Carole Lombard, the Hoosier Tornado will be discussed at the Irvington Library on Thursday, July 9th at 1:30 p.m.
Lombard (1908-1942) was the brightest star in screwball comedy's constellation, and her tragic death at 33 made her a Hollywood legend. Ball State film professor Gehring celebrates Lombard's many gifts in this valentine. Born in Fort Wayne, Ind., and raised in California, Lombard has a quintessentially American, star-is-born saga: she parlayed talent and timing into a stellar career and marriage to Clark Gable, the king of MGM. In fact, Lombard, who often doubled as an uncredited producer, loved all things cinematic. A keen intelligence and show-biz savvy defined her as much as her boundless energy. The screen siren was fiercely democratic and wildly generous. Her fame grew with the movie industry-from early Mack Sennett shorts to the deft comic genius of My Man Godfrey and Nothing Sacred-and she embraced all the 20th century had to offer: feminism, free love and fun. Possessing classic beauty yet renowned for her eccentricity and ability to swear like a sailor, Lombard was also a survivor. A car crash when she was 17 nearly ruined her budding career, and only plastic surgery and, in her words, "determination and tenacity" kept her on film. Her undeniable charm bewitched many leading men of the 1930s, including George Raft and first husband William Powell. Lombard, who longed to flex her dramatic muscle, was killed in her prime. When she was heading home after a war bonds drive, her plane crashed. Gehring is clearly in love with his subject and details Lombard's life, times and some delicious backstage gossip with a historian's eye and a biographer's appetite for discovery. — Publishers Weekly
Suzanne Collins's The Hunger Games will be discussed at the Southport Library on Friday, July 10th at 4:30 as part of the IndyPL Summer Reading series for Teens.
Katniss Everdeen lives in a world far different from our own. The Capitol City, ringed by 12 districts, demands two tributes every year to compete in The Hunger Games. A boy and a girl from each district are taken to the capitol to compete in the ultimate reality TV show – survival of the fittest, a literal fight to the death. A show where you not only have to survive, you have to impress your sponsors to get needed supplies. The last one left standing is the winner. Sixteen year old Katniss volunteers for the horrors of The Hunger Games when her 12 year old sister's name is drawn, and she can't bear to let Prim compete. She and Peeta, her fellow District 12 tribute, travel to the capitol, and see first hand the luxury those in the capitol live in, compared to the crushing poverty of their own district. Katniss struggles, not only with the situation at hand, but with her own feelings, fears, and the reality that, with all the performing for the cameras, she's not sure who she really is. The Hunger Games is fascinating, involving, and hard to put down. The book has been optioned for a movie. — Nora Library's Beth Pintal, writing for IndyPL's Teen Scene blog, May 2009.
The Hunger Games is also available as a downloadable e-book, a downloadable audiobook, an audiobook on CD, and in large print

Composer Philip Glass's memoir Words Without Music will be discussed in the East Garden at Central Library on Monday, July 13th at 6:00 p.m.
No matter your opinion of Glass' music, you will like Glass the man. In a straightforward yet often moving voice, he details his early years at the University of Chicago; his move to New York and Juilliard (despite his mother's warning that, as a musician, he would be living in hotels and traveling for the rest of his life); his studies in Paris and, later, in India; his unbending dedication to being an artist; and, in large part, the men and women from all walks of life who would influence him as he developed "the habit of attention" necessary to compose in genres ranging from high-school band music to symphonies, quartets, concertos, and such operas as Einstein on the Beach and Satyagraha. Glass would support his family working odd jobs part-time for years, finally becoming a full-time composer at age 41. Even so, he has lived the life, immersing himself in theater, art, literature, and music, and he relates here how the arts changed over time, the cultural loss AIDS wrought, and the evolution of his sometimes disparaged minimalist, tonalist compositions (as he posits, "I'm a theater composer"). Aspiring musicians and artists will learn much from Glass, as will general readers, musical or not, who will discover an artistic life exceptionally well lived. — Booklist
Words Without Music is also available as a downloadable audiobook, and an audiobook on CD.
Lady Elect 2: Lady Arykah Reigns by Nikita Lynnette Nichols will be discussed at the Flanner House Library on Monday, July 13th at 6:30 p.m.
Have a look at the review on Michelle's Book Stop.
Daniel Mason's novel The Piano Tuner  will be discussed on Thursday, July 16th at 6:00 p.m.
White River State Park
801 W. Washington Street
In October 1886, piano tuner Edgar Drake receives an astonishing request from the War Office. He is asked to go to Burma to tune the Erard piano of Surgeon-Major Anthony Carroll, to whom the office is much indebted for keeping the peace in the remote and restless Shan States. Drake accepts the assignment and launches on a journey of self-discovery that takes him from London to Calcutta to Rangoon and, with the help of a mysterious Burmese woman named Khin Myo, to the compound of the formidable Dr. Carroll himself. Yes, he successfully tunes the piano and even plays a concert for visiting dignitaries he chooses Bach's immortal Well-Tempered Clavier, reasoning that it has universal application but Drake finds that he cannot leave. He is altered by the beauty of the place, slowly opening himself to Khin Myo, and caught up in Carroll's machinations, which may or may not be seditious. It ends, inevitably, in tragedy, but the reader will regret that it ends at all. This is an utterly involving first novel, rich in historical detail and as lulling as Burma itself. Mason's language is at once tropically lush and as precise as a Bach prelude. — Library Journal
The Piano Tuner is also available as a downloadable e-book, a downloadable audiobook, and an audiobook on CD.
Ruth's Journey: The Authorized Novel of Mammy from Margaret Mitchell's Gone With the Wind, by Donald McCaig, will be discussed at the Pike Library on Monday, July 20th at 6:30 p.m.
Click here to read a New York Times article about Ruth's Journey.
Ruth's Journey is also available as a downloadable e-book, an audiobook on CD, and in large print.
Sophie Hannah's The Monogram Murders: The New Hercule Poirot Mystery will be discussed at the Spades Park Library on Wednesday, July 22nd at 6:00 p.m.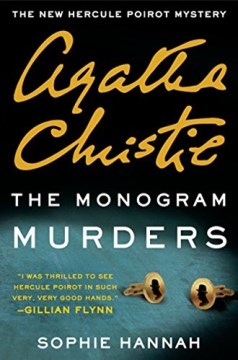 The return of Hercule Poirot after a 40-year absence is certain to please the legions of Agatha Christie fans, young and old, forced to content themselves with rereading the master. Working with the authorization of the Christie estate, Hannah, known for her psychological thrillers, proves more than capable at re-creating the legendary Belgian detective, who once again puts his "little grey cells" to good use, this time in unraveling an exquisitely tangled triple murder. Attempting to take some time away from his regular detective work, Poirot is staying in a London residential hotel. One night, dining solo at a nearby café, he encounters a distraught woman who claims to be "beyond help." The woman quickly disappears, but Poirot becomes convinced, for reasons we only learn much later, that she is somehow connected to three murders in an upscale hotel, crimes that have the Belgian's hotel mate, Scotland Yard Inspector Catchpool, completely baffled. Poirot elbows himself into the action, mercilessly ordering Catchpool about while he interviews hotel staff and gets his deductive juices flowing. Hannah sticks to the Christie formula, embellishing now and again, and making the most of the hapless but quite sympathetic Catchpool as the largely clueless narrator. — Booklist
The Monogram Murders is also available as a downloadable e-book, a downloadable audiobook, and in large print.
Gulping gargoyles! Hogwarts classes are starting in July! I thought the term always started on September 1st. The Harry Potter Wiki backs me up on this.
Oh, I'm sorry. Got confused. Southport Library is hosting a discussion of J. K. Rowling's Harry Potter and the Sorcerer's Stone, the first book in the series, on Friday, July 24th at 4:30 p.m.
This is another program in the IndyPL Summer Reading Program for Teens.
Harry Potter and the Sorcerer's Stone is also available as a downloadable e-book, a downloadable audiobook, an audiobook on CD, and in large print.
Portal, the Indianapolis Science Fiction and Fantasy Discussion Group, will meet at the Glendale Library on Sunday, July 26th at 1:00 p.m. The theme for this program will be "Under the Waves."

Kim Gordon's Girl in a Band will be discussed on Monday, July 27th at 6:00 p.m.
Sun King Brewery
135 N. College Avenue
The title of this very fine memoir is understated. The "girl" in question is the guitarist and vocalist of the alt-rock band Sonic Youth, which Gordon and Thurston Moore founded in 1981. Gordon's chronicle of her youth in Los Angeles, with stays in Hawaii and Hong Kong, is infused with melancholy, because underlying the narrative is the fact that Gordon and Moore married, then painfully broke up. Girl in a Band is also an account of places that no longer exist, such as gritty 1980s New York. Gordon is vulnerable, likable, and humble, a shy and introspective outsider; despite playing in a band for 30 years, she never really considered herself a musician. She writes about her first mentor, John Knight, a conceptual artist who taught her that anything could be viewed in aesthetic terms, and friends and colleagues, including Andy Warhol, Kurt Cobain, and Courtney Love, with great sensitivity. A remarkably astute and observant memoir and tale of finding one's place in the world, this is a must for Sonic Youth fans and all outsiders-at-heart. — Booklist
Girl in a Band is also available as a downloadable e-book, a downloadable audiobook, and an audiobook on CD.
Fannie Flagg's The All-Girl Filling Station's Last Reunion will be discussed at the Southport Library on Monday, July 27th at 6:30 p.m.
Alabama sweetheart Sookie Poole has been a loving wife, a caring mother, and, most important, a patient daughter. Her formidable yet ailing mother never seemed to approve of her as a child. Now approaching 60, Sookie receives some unexpected news about her past that has her questioning both her family history and her mother's constant cold shoulder. While searching for answers, Sookie uncovers Fritzi Jurdabralinski, the eldest of four Polish sisters who ran an all-girl gas station during the 1940s in Pulaski, WI. During World War II, Fritzi became a Fly Girl, transporting military aircraft as a member of the Women Airforce Service Pilots (WASP). After learning of Fritzi's adventures, Sookie is inspired to reexamine her own life. Yet again, Flagg delivers a book full of heartwarming charm that is sure to provoke lighthearted laughter. A complex story told simply and honestly, this is an easy read and another treat for Flagg fans. — Library Journal
The All-Girl Filling Station's Last Reunion is also available as a downloadable e-book, a downloadable audiobook, and in large print.
Category Book Discussions | Tags: Readings and Book Discussions
---