August 25, 2016 by Reader's Connection
Once again this month, some of our book discussions are shifted due to a holiday early in the month–in this case, the library is closed for Labor Day on September 4th and 5th.

Having taken a break for a couple weeks in August, the Shared Reading Group at the East 38th Street Branch is back at it.
On every Friday morning in September–the 2nd, 9th, 16th, 23rd and 30th–from 10:00 to 11:30, attendees will read aloud from and discuss Henry James's The Portrait of a Lady .
J. M. Coetzee's novel Disgrace will be discussed at Central Library on Tuesday, September 6th at 6:00 p.m.
[Coetzee's] latest book is a searing evocation of post-apartheid South Africa; it earned him an unprecedented second Booker Prize. An uninspired teacher and twice divorced, David Lurie is a 52-year-old poetry scholar-cum-"adjunct professor of communications" at Cape Technical University . . . When he seduces Melanie Isaacs, a lithe student from his poetry elective . . . he believes her to represent the final object of his desire, his last act of lush, Romantic desperation. And then he is found out. This not uncommon outrage earns him a dismissal and censure from the university committee he refuses to cooperate with in hopes of saving his job. He immediately shoves off for Salem in the Eastern Cape where his daughter, Lucy, manages a dog kennel and works her smallholding, harvesting a modest crop. Here David hopes to cleanse himself with time-honored toil. But his new life in the country offers scarce refuge. Instead, he is flummoxed to discover an unfamiliar Lucy-principled, land-devoted, with a heroic resignation to the social and political developments of modern South Africa. He also memorably encounters Petrus, Lucy's ambitious colored neighbor and sometime assistant. Petrus embodies the shifting, tangled vicissitudes of a new national schematic, and forces David to relate to the broad segment of society previously shrouded by the mists of his self-absorption. But a violent attack on the estate irrevocably alters how the book's central figure perceives many things: his daughter and her bewildering (to him) courage, the rights of South Africa's grossly aggrieved majority . . . In Coetzee's tale, not a single note is false; every sentence is perfectly calibrated and essential. — Publishers Weekly
Disgrace is also available as an audiobook on CD
Daniel James Brown's The Boys in the Boat: Nine Americans and Their Epic Quest for Gold at the 1936 Berlin Olympics will be discussed at the Fountain Square Branch on Thursday, September 8th at 1:30 p.m.
If Jesse Owens is rightfully the most famous American athlete of the 1936 Berlin Olympics, repudiating Adolf Hitler's notion of white supremacy by winning gold in four events, the gold-medal-winning effort by the eight-man rowing team from the University of Washington remains a remarkable story. It encompasses the convergence of transcendent British boatmaker George Pocock; the quiet yet deadly effective UW men's varsity coach, Al Ulbrickson; and an unlikely gaggle of young rowers who would shine as freshmen, then grow up together, a rough-and-tumble bunch, writes Brown, not very worldly, but earnest and used to hard work. Brown takes enough time to profile the principals in this story while using the 1936 games and Hitler's heavy financial and political investment in them to pull the narrative along. In doing so, he offers a vivid picture of the socioeconomic landscape of 1930s America (brutal), the relentlessly demanding effort required of an Olympic-level rower, the exquisite brainpower and materials that go into making a first-rate boat, and the wiles of a coach who somehow found a way to, first, beat archrival University of California, then conquer a national field of qualifiers, and finally, defeat the best rowing teams in the world. A book that informs as it inspires. — Booklist
The Boys in the Boat is also available as an eBook, an audiobook on CD, and in large print.
The Irvington Library will host a discussion of Jessica Brockmole's Letters from Skye at the Irvington Branch on Thursday, September 8th at 1:30 p.m.-
Brockmole uses letters to tell a remarkable story of two women, their loves, their secrets, and two world wars, cutting to the important matters that letter writers struggle to put into just the right words. In 1912, young poet Mrs. Elspeth Dunn, who has never left Scotland's Isle of Skye because of her fear of boats, receives her first fan letter from David Graham, a college student in Urbana, Ill. They begin a long correspondence. After Elspeth's husband goes off to war, she overcomes her fear and crosses to London to meet briefly with David, who is on his way to France to serve in the American Ambulance Field Service. Interspersed with Elspeth and David's letters are 1940 missives from Margaret, Elspeth's daughter, to her uncle and her fiancé as she tries to find out about her father, since Elspeth will not talk about her past. The beauty of Scotland, the tragedy of war, the longings of the heart, and the struggles of a family torn apart by disloyalty are brilliantly drawn, leaving just enough blanks to be filled by the reader's imagination. — Publishers Weekly
Letters from Skye is also available as an eBook, an eAudiobook, and an audiobook on CD.
Edith Wharton's classic novel The Age of Innocence will be discussed at the Wayne Library on Monday, September 12th at 6:30 p.m.
Edith Wharton's masterpiece, The Age of Innocence, presents the reader with two haunting questions. First, how can a novel with "innocence" in its title be so filled with feverish longing and smoldering desire? Second, how can a love story this passionate express itself with such respectable restraint? The answer to these questions can only be Wharton's particular genius for portraying the mysterious contradictions of the human heart. — The Big Read
(The Age of Innocence is no longer featured on The Big Read's website, but IndyPL and Holy Angels School still have copies of the Big Read's CD treatment of Wharton's novel.)
The Age of Innocence is also available as an eBook and an audiobook on CD
Eric Jerome Dickey's novel The Blackbirds will be discussed at the Flanner House Branch on Monday, September 12th at 6:30 p.m.
Destiny, Indigo, Kwanzaa, and Erica are L.A. besties, celebrating birthdays by crossing off bucket-list items and searching for a nickname for their tight support group. They shudder at the b-word, c-word and "bimbos," but a chance hearing of Nina Simone's song "Blackbirds" gives them their identity. The four women–all sizzling hot–alternate trash talk with firm emotional support as they deal with relationships gone bad, cancer, and the question if dinner has to be included to qualify as a date in Los Angeles. At times their repartee is reminiscent of an adolescent truth-or-dare game (e.g., when quizzed about the oldest guy they hooked up with or if they have ever had a lesbian encounter). It takes some time, but the novel's focus eventually comes back to men who cheat. The mother of one of the Blackbirds offers sage advice: "There are two kinds of men. Those who cheat and get caught, and those who don't get caught." Little do the Blackbirds realize, but unfaithful acts are happening way too close to home. Dickey once again stirs a juicy mix of steamy sexuality with soap-opera drama. . . . This story will please fans who will recognize characters from the author's previous novels. — Library Journal
The Blackbirds is also available as an eBook, an eAudiobook, an audiobook on CD, and in large print.
On Monday, September 12th at 6:30 p.m., the Poetry & Lyric Discussion Group at the Beech Grove Branch will discuss "The Names" by Billy Collins (click the above picture to hear Collins read the poem 10 years after the 9/11 attacks) and the song "New York State of Mind" by Billy Joel.
On Monday, September 19th at 6:00 p.m., the theme for the Cookbook Discussion Program at the Nora Branch will be "Books About Cooking or Chefs."
Attendees can read a cookbook that fits the month's theme, sample a few of its recipes, and offer a review at the meeting. They can also opt to make a recipe from the cookbook and bring samples to share.
Special guests will be Chef Brad Nehrt and Chef Karen Williams, culinary arts instructors at the J. Everett Light Career Center.
Registration is required for this program. Please call 317-275-4470
Their Eyes Were Watching God by Zora Neale Hurston will be discussed at the Pike Branch on Monday, September 19th at 6:30 p.m.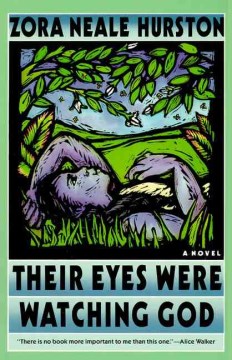 Their Eyes Were Watching God, an American classic, is a luminous and haunting novel about Janie Crawford, a Southern black woman in the 1930s whose journey from a free-spirited girl to a woman of independence and substance has inspired writers and readers for close to seventy years. This poetic, graceful love story, rooted in black folk traditions and steeped in mythic realism, celebrates, boldly and brilliantly, African-American culture and heritage. And in a powerful, mesmerizing narrative, it pays quiet tribute to a black woman, who, though constricted by the times, still demanded to be heard. Originally published in 1937, Their Eyes Were Watching God met significant commercial but divided critical acclaim. Somewhat forgotten after her death, Zora Neale Hurston was rediscovered by a number of black authors in the late 1960s and early 1970s, and reintroduced to a greater readership by Alice Walker in her 1972 essay "In Search of Zora Neale Hurston," written for Ms. magazine. Long out of print, the book was reissued after a petition was circulated at the Modern Language Association Convention in 1975, and nearly three decades later Their Eyes Were Watching God is considered a seminal novel of American fiction. — Harper Collins
Their Eyes Were Watching God is also available as an eBook, an eAudiobook, and an audiobook on CD.
Ray Bradbury's novel Dandelion Wine will be discussed at the Lawrence Branch on Tuesday, September 20th at 10:15 a.m.
The summer of '28 was a vintage season for a growing boy. A summer of green apple trees, mowed lawns, and new sneakers. Of half-burnt firecrackers, of gathering dandelions, of Grandma's belly-busting dinner. It was a summer of sorrows and marvels and gold-fuzzed bees. A magical, timeless summer in the life of a twelve-year-old boy named Douglas Spaulding–remembered forever by the incomparable Ray Bradbury. — Random House
And back in 2013, our (now retired) librarian Steve Bridge wrote: I have read Dandelion Wine at least 6 times and it is, like all great literature, a different book every time I read it. The sequel, Farewell Summer, was finally completed and published in 2006. These two books are not science fiction. They are primarily realistic novels about the conflict between youth and age, about the desire to be both grown-up and forever young. There is the "flavor" of fantasy about them, but you can read them completely as about growing up in a small Midwestern town.
Dandelion Wine is also available as an eAudiobook and an audiobook on CD.
On Monday, September 26th at 6:00 p.m., as a selection of Indiana Humanities Next IN Bookshelf, there will be a discussion at Central Library of Letters/Kurt Vonnegut. The collection was edited by author Dan Wakefield, and Wakefield will be on hand to lead the discussion.
Compiled for the first time, by his close friend and fellow author [Dan] Wakefield, Vonnegut's correspondence spans 60 years, from a 1945 letter he wrote to his parents upon being released from a German POW camp to a final declining, at 84, shortly before his death, of an invitation to deliver a lecture at Cornell, his alma mater. In between, bearing all the canny observations and sardonic witticisms that distinguished his most famous works, are dozens of letters to relatives, friends, and sometimes foes, many revealing fascinating insights into Vonnegut's private thoughts and inspirations. Highlights include reflective letters on his sudden rise to fame, supportive notes to such colleagues as Bernard Malamud and Norman Mailer, and a scathing missive to a school board threatening censorship. Arranged in chronological order and including Wakefield's insightful background information on Vonnegut's life, this is a volume fans will treasure. — Booklist
Letters/Kurt Vonnegut is also available as an eBook.
The College Avenue Library will host a discussion of Jonathan Safran Foer's Extremely Loud & Incredibly Close on Monday, September 26th at 6:00 p.m.
This follow-up to Foer's extremely good and incredibly successful Everything Is Illuminated (2002) stars one Oskar Schell, a nine-year-old amateur inventor and Shakespearean actor. But Oskar's boots, as he likes to say, are very heavy–his father, whom he worshiped, perished in the World Trade Center on 9/11. In his dad's closet a year later, Oskar finds a key in a vase mysteriously labeled "Black." So he goes searching after the lock it opens, visiting (alphabetically) everyone listed in the phone book with the surname Black. Oskar, who's a cross between The Tin Drum's Oskar Matzerath and The Curious Incident of the Dog in the Night Time's Christopher Boone, doesn't always sound like he's nine, but his first-person narration of his journey is arrestingly beautiful, and readers won't soon forget him. A subplot about Oskar's mute grandfather, who survived the bombing of Dresden, isn't as compelling as Oskar's quest for the lock, but when the stories finally come together, the result is an emotionally devastating climax. No spoilers here, but we will say that the book–which includes a number of photographs and some eccentric typography–ends with what is undoubtedly the most beautiful and heartbreaking flip book in all of literature. — Booklist
Extremely Loud & Incredibly Close is also available as an eBook and an eAudiobook.
What This River Keeps, a novel by Greg Schwipps, will be discussed at the Beech Grove Branch on Monday, September 26th at 6:30 p.m.
In the rolling hills of southern Indiana, an elderly couple copes with the fear that their river bottom farm—the only home they've ever known—will be taken from them through an act of eminent domain. The river flowing through their land, where the old man has fished nearly every day of his life, may be dammed to form a reservoir. Their son, meanwhile, sinks deeper into troubles of his own, struggling to determine his place in a new romantic relationship and the duty he owes to his family's legacy. What This River Keeps is a beautiful and heartfelt novel that reflects upon what it means to love a place and a family, and the sometimes staggering cost of that love. — Publisher's note
What This River Keeps is also available as an eBook.
Kazuo Ishiguro's novel Never Let Me Go will be discussed at the Spades Park Branch on Wednesday, September 28th at 6:00 p.m.
The elegance of Ishiguro's prose and the pitch-perfect voice of his narrator conspire to usher readers convincingly into the remembered world of Hailsham, a British boarding school for "special students." The reminiscence is told from the point of view of Kathy H., now 31, whose evocation of the sheltered estate's sunlit rolling hills, guardians, dormitories, and sports pavilions is imbued with undercurrents of muted tension and foreboding that presage a darker reality. As an adult, Kathy re-engages in lapsed friendships with classmates Ruth and Tommy, examining the details of their shared youth and revisiting with growing awareness the clues and anecdotal evidence apparent to them even as youngsters that they were "different" from everyone outside. — School Library Journal
Blogger's note: All the reviews available in our catalog, including the one I've excerpted here, give away too much of the story.
Never Let Me Go is also available as an eBook, an eAudiobook, and an audiobook on CD.
Category Book Discussions | Tags: Readings and Book Discussions
---