July 8, 2016 by Reader's Connection
From Selector Emily Chandler:
For those interested in reading beyond the Indiana titles chosen for the Adult Summer Reading Program, check out this supplemental list of recently released novels all written by contemporary Hoosier authors!
Unless otherwise noted, the book summaries here were provided by the publishers.
Coble, Colleen Mermaid Moon: a Sunset Cove Novel
Mallory's mother died fifteen years ago. But her father's last words on the phone were unmistakable: "Find…mother." Shame and confusion have kept Mallory Davis from her home for the last fifteen years, but when her dad mysteriously dies on his mail boat route, she doesn't have any choice but to go back to Mermaid Point. Mallory believes her father was murdered and childhood sweetheart Kevin O'Connor, game warden in Downeast Maine, confirms her suspicions. But Kevin is wary of helping Mallory in her search. She broke his heart–and left–without a word, years ago. When Mallory begins receiving threats on her own life–and her beloved teenage daughter, Haylie–their search intensifies. There's a tangled web within the supposed murder, and it involves much more than what meets the eye. As answers begin to fall into place, Mallory realizes her search is about more than finding her father's killer–it is also about finding herself again…and possibly about healing what was broken so long ago with Kevin. She just has to stay alive long enough to put all the pieces together.
Mermaid Moon is also available as an eBook, an eAudiobook, an audiobook on CD, and in large print.
Collins, Kate Moss Hysteria
Flower shop owner Abby Knight and her husband, Marco, are ecstatic to finally be moving into their new home, despite the prospect of unpacking a seemingly infinite number of boxes. After all, Brandywine–their new subdivision–seems like an oasis with its welcoming neighbors and beautifully manicured lawns. But their idyllic community is suddenly uprooted when a body is found floating in a nearby pond. The police think Abby and Marco's helpful next door neighbor is the culprit, but the newlyweds aren't convinced. Meanwhile, Marco distrusts his mother's slick new boyfriend, and Abby's cousin Jillian has agreed to decorate their new home, resulting in comic chaos. Even worse, as Abby and Marco dig through Brandywine's secrets in search of a killer, they discover that some flowers come from very bad seeds…and danger stalks even the sunniest small-town streets
Moss Hysteria is also available as an eBook.
Crandall, Susan The Flying Circus
From the bestselling and award-winning author of Whistling Past the Graveyard comes an adventure tale about two daredevils and a farm boy who embark on the journey of a lifetime across America's heartland in the Roaring Twenties. Set in the rapidly changing world of 1920s America, this is a story of three people from very different backgrounds: Henry "Schuler" Jefferson, son of German immigrants from Midwestern farm country; Cora Rose Haviland, a young woman of privilege whose family has lost their fortune; and Charles "Gil" Gilchrist, an emotionally damaged WWI veteran pilot. Set adrift by life-altering circumstances, they find themselves bound together by need and torn apart by blind obsessions and conflicting goals. Each one holds a secret that, if exposed, would destroy their friendship. But their journey of adventure and self-discovery has a price–and one of them won't be able to survive it. As they crisscross the heartland, exploring the rapidly expanding role of aviation from barnstorming to bootlegging, from a flying circus to the dangerous sport of air racing, the three companions form a makeshift family. It's a one-of-a-kind family, with members as adventurous as they are vulnerable, and as fascinating as they are flawed. But whatever adventure–worldly or private–they find themselves on, they're guaranteed to be a family you won't forget.
The Flying Circus is also available as an eBook and an eAudiobook.
Dams, Jeanne Blood Will Tell
American Anglophile Dorothy Martin tackles a tricky puzzle in the historic university town of Cambridge. Dorothy Martin isn't overly enthusiastic when her husband, retired police detective Alan Nesbitt, invites her to accompany him to a conference in Cambridge, picturing cramped student accommodation. But St. Stephen's turns out to be recently renovated, and, bolstered by en suite facilities, Dorothy is looking forward to exploring the historic and beautiful city. It is not long, though, before disaster strikes: lost in the maze of college buildings, Dorothy stumbles into a laboratory…and is shocked to find what looks like a pool of blood on the floor. She flees, to fetch help, but when Alan checks it out, there is nothing to be found. Was she mistaken? Or has a terrible crime been committed? Dorothy, who can never resist a puzzle, determines to find out.
Blood Will Tell is also available as an eBook.
Gulley, Philip A Place Called Hope
When Quaker Pastor Sam Gardner is asked by the ill Unitarian minister to oversee a wedding in his place, Sam naturally agrees. It's not until the couple stands before him that he realizes they're two women. In the tempest of strong opinions and misunderstandings that follows the incident, Sam faces potential unemployment. Deeply discouraged, he wonders if his pastoral usefulness has come to an end. Perhaps it's time for a change. After all, his wife has found a new job at the library, his elder son is off to college, and the younger has decided to join the military once he graduates high school. Sam is contemplating a future selling used cars when he receives a call from a woman in the suburban town of Hope, Indiana. It seems Hope Friends Meeting is in desperate need of a pastor. Though they only have twelve members, they also have a beautiful meetinghouse and a pie committee (Sam is fond of pie). But can he really leave his beloved hometown of Harmony.
A Place Called Hope is also available as an eBook and an eAudiobook.
Jannetides, Elaine A Golden Bond
Golden Bond is a story of growing up as the daughter of immigrant parents during the1950 ; a time very different than today. Our story opens with a gathering of girls walking to the start of the last day of their senior year of high school. Their journey will span decades, take a few unexpected turns along the way, and end as a tale of caring, hope, and love. When young Angela Demetrious mother dies her father casts aside any reminder of his late wife and refuses to speak of her to their children. Following the funeral her father to returns to Greece for an arranged marriage. Soon after meeting her stepmother, Angela becomes aware that her life will never be the same. She will have to break from her family s traditions and set her own course. She will not do it alone.
Perona, Elizabeth Murder on the Bucket List
The septuagenarian women of the Summer Ridge Bridge Club have gathered in secret late one July night to check skinny-dipping off their bucket list. But as Francine observes, the jittery members seem more obsessed with body issues and elaborate preparations than actually stripping down and getting in the pool. A pungent smell emanating from the pool shed provides a perfect distraction. When a dead body flops out, its an answered prayer for Charlotte, since the first item on her list is to solve a murder.
Ryan, Hank Phillippi Prime Time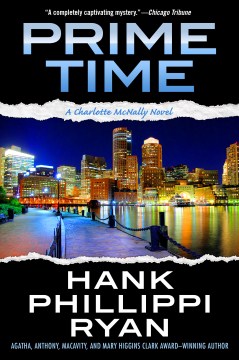 In the cutthroat world of television journalism, seasoned reporter Charlotte McNally knows that she'd better pull out all the stops or kiss her job goodbye. But it's her life that might be on the line when she learns that an innocent-looking e-mail offer resulted in murder, mayhem and a multimillion-dollar fraud ring. All too soon her investigation leads her straight to Josh Gelston, who is a little too helpful and a lot too handsome. Charlie might have a nose for news, but men are a whole other matter. Now she has to decide whether she can trust Josh…before she ends up as the next lead story.
Prime Time is also available as an eBook and in large print.
Sorrells, Amy Lead Me Home
Abandoned by his no-good father and forced to grow up too soon, Noble Burden has set his dreams aside to run the family farm. Meanwhile, James Horton, the pastor of the local church, questions his own calling as he prepares to close the doors for good. As a severe storm rolls through, threatening their community and very livelihood, both men fear losing what they care about most…and reconsider where they truly belong. — Amazon.com
Lead Me Home is also available as an eBook.
Winters, Ben H. Underground Airlines
It is the present-day, and the world is as we know it: smartphones, social networking and Happy Meals. Save for one thing: the Civil War never occurred. A gifted young Black man calling himself Victor has struck a bargain with federal law enforcement, working as a bounty hunter for the US Marshall Service. He's got plenty of work. In this version of America, slavery continues in four states called "the Hard Four." On the trail of a runaway known as Jackdaw, Victor arrives in Indianapolis knowing that something isn't right–with the case file, with his work, and with the country itself. A mystery to himself, Victor suppresses his memories of his childhood on a plantation, and works to infiltrate the local cell of a abolitionist movement called the Underground Airlines. Tracking Jackdaw through the back rooms of churches, empty parking garages, hotels, and medical offices, Victor believes he's hot on the trail. But his strange, increasingly uncanny pursuit is complicated by a boss who won't reveal the extraordinary stakes of Jackdaw's case, as well as by a heartbreaking young woman and her child who may be Victor's salvation. Victor himself may be the biggest obstacle of all–though his true self remains buried, it threatens to surface. Victor believes himself to be a good man doing bad work, unwilling to give up the freedom he has worked so hard to earn. But in pursuing Jackdaw, Victor discovers secrets at the core of the country's arrangement with the Hard Four, secrets the government will preserve at any cost. Underground Airlines is a ground-breaking novel, a wickedly imaginative thriller, and a story of an America that is more like our own than we'd like to believe.
Follow Reader's Connection on Twitter.
Category Booklist | Tags: Adult Summer Reading Program, Emily Chandler, Indiana Authors
---