August 25, 2015 by Reader's Connection
On Tuesday, September 1st, Rules of Civility, a novel by Amor Towles, will be discussed at Central Library at 6:00 p.m.
In his smashing debut, Towles details the intriguing life of Katherine Kontent and how her world is upended by the fateful events of 1938. Kate and her roommate, Evelyn Ross, have moved to Manhattan for its culture and the chance to class up their lives with glamour–be it with jazz musicians, trust fund lotharios, or any man with a hint of charm who will pay for dinner and drinks. Both Kate and Evelyn are enamored of sophisticated Tinker Grey, who they meet in a jazz club; he appears to be another handsome, moneyed gent, but as the women vie for his affection, a tragic event may seal a burgeoning romance's fate. New York's wealthy class is thick with snobbery, unexpected largesse, pettiness, jealousies, and an unmistakable sense of who belongs and who does not, but it's the undercurrent of unease–as with Towles's depiction of how the upper class can use its money and influence to manipulate others' lives in profoundly unsavory ways–that gives his vision depth and complexity. His first effort is remarkable for its strong narrative, original characters and a voice influenced by Fitzgerald and Capote, but clearly true to itself. — Publishers Weekly
Rules of Civility is also available as a downloadable e-book, a downloadable audiobook, and an audiobook on CD.
The Warren Library will host a discussion of Stephanie Cowell's novel Marrying Mozart on Thursday, September 3rd at 10:30 a.m.
Terry Langdon of the Indianapolis Symphony Orchestra will be a special guest.
Former opera singer Cowell . . . turns her eye to the women in the life of a young Mozart in her fourth graceful and entertaining historical. Music copyist Fridolin Weber and his socially ambitious wife, Marie Caecilia, have four daughters-bookish and devout Sophie; quiet Constanze; beautiful, silver-voiced Aloysia; and headstrong Josefa-whom they struggle to keep in hats and hose. Though the freethinking girls may wonder about the benefits of marrying well vs. marrying for love, Caecilia, whose family once had money, is terrified of growing old a pauper. Pinning her hopes on her prettiest daughter, 16-year-old Aloysia, Caecilia aims for a Swedish baron as suitor (though she keeps a list of backups in a notebook). Aloysia falls in love with the young Mozart, however, who happily returns her affections, though he, too, wonders about marrying better to support his father and beloved mother. But when the Webers move to Munich from Mannheim, Caecilia's hopes for good matches begin to dim, as Josefa takes a married lover and a pregnant Aloysia runs away with a painter who, along with Mozart, had been boarding with the family. As Mozart progresses in his career, he has relationships with the other Weber sisters, too, and falls alternately in and out of favor with their bitter old mother. Told through the recollections of an aging Sophie, the tale is as rich and unhurried as 18th-century court life. — Publishers Weekly
Marrying Mozart is also available as a downloadable e-book.
The Shared Reading Group at Spades Park Library will continue to read aloud from William Faulkner's Absalom, Absalom! on Fridays in September–the 4th, 11th, 18th and 25th–from 10:00 to 11:30 a.m.
A poem is always read. Refreshments are always eaten.
In addition to this weekly shared reading, there will be a monthly book discussion at Spades Park on September 23rd. See below.
Edward Eggleston's 1883 novel The Hoosier School-Boy will be discussed at the Irvington Library on Thursday, September 10th at 1:30 p.m.
While the larger boys in the village school of Greenbank were having a game of "three old cat" before school-time, there appeared on the playground a strange boy, carrying two books, a slate, and an atlas under his arm . . . He was evidently from the country, for he wore a suit of brown jeans, or woollen homespun, made up in the natural color of the "black" sheep, as we call it. He shyly sidled up to the school-house door, and looked doubtfully at the boys who were playing, watching the familiar game as though he had never seen it before . . . 
The What Would Jane Austen Read? Book Club will meet at the College Avenue Library on Monday, September 14th, at 1:30 p.m.
This is a group that reads selections of 18th century literature that Jane Austen might have read. Well-known novels of Burney, Edgeworth, Fielding, Defoe, Sterne and others formed our earliest reading. If you enjoy Jane Austen, you may like some of the writers who influenced her. We now are reading lesser-known works which were popular in her day . . . As these are sometimes obscure works, the library often doesn't have copies, so our members have to use on-line sources, purchase second hand copies (under $5) or use interlibrary loan to obtain the books. — Group facilitator Elizabeth K. Jarvis
Benjamin Mee's memoir We Bought a Zoo: The Amazing True Story of a Young Family, a Broken Down Zoo, and the 200 Wild Animals That Changed Their Lives Forever will be discussed at the Franklin Road Library on Monday, September 14th at 6:30 p.m.
Following the death of his father, Mee took on the challenge of helping his 76-year-old mother find a new home. This relatively simple task resulted in life-altering, unexpected outcomes, not the least of which was taking on the responsibility of owning and renovating a dilapidated zoo in rural England. Mee has a strong interest in animal behavior and was trained as a science journalist, which influenced his decision to move his family to a run down 30-acre zoo complete with animals. Readers will delight in his anecdotes, most notably about escapees Sovereign the jaguar and Parker the wolf, who attracted a fair share of media attention and antizoo feeling from the public. While the Mee family dream was coming to fruition, Mee's wife, Katherine, suffered from the return of a brain tumor and died before the zoo was restored and reopened. The author's touching description of this tragedy stands in contrast to his otherwise conversational tone and the humorous events depicted in the book. The Dartmoor Zoological Park now attracts thousands of visitors annually. — Library Journal
We Bought a Zoo is also available as a downloadable e-book, a downloadable audiobook, and an audiobook on CD.
Mister Owita's Guide to Gardening: How I Learned the Unexpected Joy of a Green Thumb and an Open Heart, a book by Carol Wall, will be discussed at the Wayne Library on Monday, September 14th at 6:30 p.m.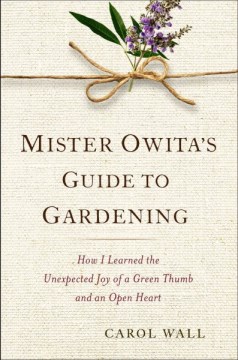 In this moving memoir chronicling the many lasting rewards garnered from an unexpected friendship, writer Wall enlists a neighbor's gardener, a man from Kenya, to help her maintain her garden. What begins as a purely professional relationship, with Wall hoping to learn more about gardening, blossoms into an intimate friendship. Wall, a breast cancer patient, admits that, before she met Giles Owita, her outlook on life was less than sunny. Always an introvert and prone to social gaffes, Wall was dealing at the time with her parent's decline. Slowly, over three years, Owita, a quiet and unassuming man, transforms Wall's unkempt lawn into a living masterpiece, showing Wall the beauty inherent in everyday life . . . This tender narrative gently probes the complicated terrain of American race relations, dealing with serious illness and facing the death of loved ones. — Publishers Weekly
Mister Owita's Guide to Gardening is also available as a downloadable audiobook, a downloadable e-book, and in large print.
JaQuavis Coleman's novel The White House will be discussed at the Flanner House Library on Monday September 14th at 6:30 p.m.
The White House is based on true events, reimagining the dark chronicles of a notorious drug kingpin's death, and the unfortunate events that followed. The young heroine Draya lives paycheck to paycheck, laboring as a maid in a luxurious white house. One day, in the course of performing her duties, she is presented with an irresistible opportunity for a quick–and risky–payday. What unfolds in the white house changes the course of her life. Kidnapping, murder, and mayhem lead her–and the reader–through a harrowing and twisting plot to an explosive ending that no one sees coming. Look through the eyes of this young woman and glimpse how a life can forever be altered due to an unfortunate series of events–all touched off in a legendary white house — Publisher's note.
The White House is also available as a downloadable e-book and a downloadable audiobook.
Tom Perrotta's The Leftovers, on which the TV series was based, will be discussed at the Lawrence Library on Tuesday, September 15th at 10:15 a.m.
October 14 looked like any other day in the leafy New England enclave of Mapleton–until it didn't. Eighty-seven townspeople and millions more around the world simply disappeared. Cars careened with no one behind the wheel, school kids were without teachers, food went uneaten on dinner tables, and lovers found themselves abandoned. The Rapture? No one knows. What we do know is that the psychological trauma for those left behind is overwhelming, and who better than Perrotta, known for his ability to zero in on the vicissitudes of middle-class America to grapple with the impact? Three years after "The Sudden Departure," Kevin Garvey's wife has joined a cult, son Tom has ditched college to follow guru Holy Wayne, and lovely daughter Jill has shaved her head and taken up with stoners. Nora Durst's life is in a holding pattern as she awaits the return of her husband and child, while Reverend Jamison, enraged at being passed over, publishes a newsletter exposing the failings of the missing. Perrotta has taken a subject that could easily slip into slapstick and imbued it with gravitas. Like Richard Russo, he softens the sting of satire with deep compassion for his characters in all their confusion, guilt, grief, and humanity. — Library Journal
The Leftovers is also available as a downloadable e-book, a downloadable audiobook, and an audiobook on CD.
As a part of this year's Teen Read Week, three branches will host discussions of John Green's Paper Towns in September.
Irvington Library
Thursday, September 17th at 4:00 p.m.
Glendale Library
Friday, September 18th at 4:00 p.m.
Decatur Library
Tuesday, September 22nd at 4:00 p.m.
Quentin–or "Q." as everyone calls him–has known his neighbor, the fabulous Margo Roth Spiegelman, since they were two. Or has he? Q. can't help but wonder, when, a month before high-school graduation, she vanishes. At first he worries that she might have committed suicide, but then he begins discovering clues that seem to have been left for him, which might reveal Margo's whereabouts. Yet the more he and his pals learn, the more Q. realizes he doesn't know and the more he comes to understand that the real mystery is not Margo's fate but Margo herself–enigmatic, mysterious, and so very alluring. Yes, there are echoes of Green's award-winning Looking for Alaska: a lovely, eccentric girl; a mystery that begs to be solved by clever, quirky teens; and telling quotations (from Leaves of Grass, this time) beautifully integrated into the plot. Yet, if anything, the thematic stakes are higher here, as Green ponders the interconnectedness of imagination and perception, of mirrors and windows, of illusion and reality. That he brings it off is testimony to the fact that he is not only clever and wonderfully witty but also deeply thoughtful and insightful. In addition, he's a superb stylist, with a voice perfectly matched to his amusing, illuminating material. — Booklist
Paper Towns is also available as a downloadable e-book, an audiobook on CD, and in large print.

Teen Read Week lasts longer than a normal human week, and the Paper Towns discussions extend into October.
While I'm at it, I should link to Teen Read Week programs that run through the next three months.
Paper Towns – Rounding Off the Edges
3Doodler Art Sessions
Back to September book discussions.

On Monday, September 21st at 6:00 p.m., the theme for Nora Library's Cookbook Discussion program will be "Cookbooks about Slow Cookers and Quick Meals."
1. Find a cookbook that fits this month's theme. The book pictured here, Slow-Cooker Quick Fixes, is just one possible title.
2. Read the cookbook and sample a few recipes.
3. Pick up a review form at Nora, fill it out, and bring it with you to the meeting.
4. Optional: make a recipe from the cookbook and bring samples to the meeting.
5. Join us for an enjoyable discussion of the cookbooks and some delicious taste testing.
The special guest will be Brad Nehrt, Culinary Arts Instructor at the J. Everett Light Career Center.
Dinaw Mengestu's The Beautiful Things That Heaven Bears will be discussed at the Pike Library on Monday, September 21st at 6:30 p.m.
In his run-down store in a gentrifying neighborhood of Washington, D.C., Ethiopian immigrant Stepha Stephanos regularly meets with fellow African immigrants Ken the Kenyan and Joe from the Congo. Their favorite game is matching African nations to coups and dictators, as they consider how their new immigrant expectations measure up to the reality of life in America after 17 years. From his store and nearby apartment, Stephanos makes keen observations of American race and class tensions, seeing similarities–physical and social–to his hometown of Addis Ababa, where his father was killed in the throes of revolution. When Judith, a white woman, and Naomi, her mixed-race daughter, move into the neighborhood, Stephanos finds tentative prospects for friendship beyond his African compatriots. Mengestu, himself an Ethiopian immigrant, engages the reader in a deftly drawn portrait of dreams in the face of harsh realities from the perspective of immigrants.
The Beautiful Things That Heaven Bears is also available as a downloadable e-book and an audiobook on CD.
The Spades Park Library will host a discussion of Dave Eggers's
A Hologram for the King on Wednesday, September 23rd at 6:00 p.m.
Alan Clay is a 50-something American salesperson for an information technology company angling for a contract to wire King Abdullah Economic City, a Saudi commerce hub. Alan and his team are initially anxious to deliver their presentation to the king–which features a remote speaker appearing via hologram–but they soon learn the country moves at a snail-like pace. So Alan drifts: He wanders the moonscape of the sparely constructed city, obsesses over a cyst on his back, bonds with his troubled driver, pursues fumbling relationships with two women, ponders his debts and recalls his shortcomings as a salesman, husband and father. This book is in part a commentary on America's eroding economic might (there are numerous asides about offshoring and cheap labor), but it's mostly a potent, well-drawn portrait of one man's discovery of where his personal and professional selves split and connect. Eggers has matured greatly as a novelist . . . He masters the hurry-up-and-wait rhythm of Alan's visit, accelerating the prose when the King's arrival seems imminent, then slackening it again . . . This book is firm proof that that social concerns can make for resonant storytelling. — Kirkus Reviews
A Hologram for the King is also available as a downloadable e-book.
Portal, the Indianapolis Science Fiction and Fantasy Discussion Group, will meet at the Glendale Library on Sunday, September 27th at 1:00 p.m. The theme for this program will be "Read the Book, See the Movie," and will deal with media tie-ins: movies, video/DVD, television series, games.
The Guernsey Literary and Potato Peel Pie Society by Mary Ann Shaffer and Annie Barrows will be discussed at the Southport Library on Monday, September 28th at 6:30 p.m.
In January 1946, London is beginning to recover from World War II, and Juliet Ashton is looking for a subject for her next book. She spent the war years writing a column for the Times until her own dear flat became a victim of a German bomb. While sifting through the rubble and reconstructing her life, she receives a letter from a man on Guernsey, the British island occupied by the Germans . . . So begins a correspondence that draws Juliet into the community of Guernsey and the members of the Literary and Potato Peel Pie Society. Named to protect its members from arrest by the Germans, the society shares their unique love of literature and life with a newfound friend. Seeing this as the subject of her next book, Juliet sails to Guernsey–a voyage that will change her life . . . this is a warm, funny, tender, and thoroughly entertaining celebration of the power of the written word. – Library Journal
The Guernsey Literary and Potato Peel Pie Society is also available as a downloadable e-book, a downloadable audiobook, an audiobook on CD, and in large print.
Category Book Discussions | Tags: Readings and Book Discussions
---