October 27, 2014 by Reader's Connection
I began the previous blog post with a note about the exciting programs coming up in November; and next week we'll have a season-loving post from Selector Emily Chandler. Let's begin this one with a chilling view of the month, from Lord Byron's Don Juan. (Yes, him again.)
'Twas in November when fine days are few,
aAnd the far mountains wax a little hoary,
And clap a white cape on their mantles blue;
aAnd the sea dashes round the promontory,
And the loud breaker boils against the rock,
And sober suns must set at five o'clock.
Something tasty this way comes at the Franklin Road Library. On Monday, November 3rd at 5:00 p.m., there will be a pitch-in buffet followed by a discussion of Ray Bradbury's Something Wicked This Way Comes.
At 6:00 p.m. a film of the novel will be shown, and at 7:30 there will be a discussion comparing the book and the film.
A little over a month ago I found myself spending the night in Meridian, Mississippi . . . after being refused service at the local Waffle House (don't ask) I wandered over to a department store parking lot where a carnival was set up. When I left the carnival, it was with a chill down my spine — the setting, the clientele and the proprietors reminded me of a book I had first read almost 40 years ago with a title borrowed from Shakespeare. The book, of course, was SOMETHING WICKED THIS WAY COMES and I could not get it out of my mind.–Joe Hartlaub, writing at Bookreporter.com
Something Wicked This Way Comes is also available as a downloadable audiobook and an audiobook on CD.
S. J. Watson's novel Before I Go to Sleep will be discussed at the Wayne Library on Monday, November 3rd at 6:30 p.m.
Forty-seven-year-old Christine Lucas awakens each morning believing she is still in her twenties and single. She suffered a terrible accident that has severely impaired her memory. She doesn't recognize Ben, the man who tells her he is her husband; she doesn't remember that she had a son; and, worst of all, she does not feel comfortable in her own skin, appalled by her wrinkled face and old-lady clothes. But it turns out she has been getting some help with her memory problem. Dr. Nash calls her every day after Ben leaves for work to tell her where to retrieve her journal, which contains key details about her previous life and work. The most upsetting thing she learns from her journal, however, is that certain facts don't match the story Ben has been telling her. But how can she be sure he is deceiving her when she can barely hold on to the threads of her own life? This mesmerizing, skillfully written debut novel from a British author works on multiple levels. It is both an affecting portrait of the profound impact of a debilitating illness and a pulse-pounding thriller whose outcome no one could predict. — Booklist
Before I Go to Sleep is also available as a downloadable e-book.
Central Library will host a discussion of Edmund de Waal's The Hare with Amber Eyes on Tuesday, November 4th at 6:00 p.m.
A nimble history of one of the richest European families at the turn of the century.De Waal, a notable London potter, is a descendent of the wealthy Ephrussi family. He seized on an inherited collection of Japanese netsuke–small decorative figures made out of wood or ivory–and traced its ownership down the family line . . . The family's fabulous wealth derived from the grain-trading business, operating between Paris and Vienna. Charles, who assembled the collection, was a dandyish art collector who settled in Paris at the age of 21, wrote art criticism and a book on Dürer and patronized the early Impressionists. He was quite possibly the real-life character on whom Proust modeled his Charles Swann. Subsequently, the netsuke was given to Charles's cousin Viktor on the occasion of his wedding in 1899–just at the height of the Dreyfus Affair, when French anti-Semitism burst forth in full force–and the collection passed to Vienna, where the family resided at the surpassingly beautiful Ephrussi Palais on the Ringstrasse. Anti-Jewish feeling pervaded all facets of their lives, and two world wars wreaked havoc on the Ephrussi fortune. Eventually the netsuke was saved from the rapacious hands of the Nazis by a servant who stuffed it in her mattress. De Waal keeps a pleasantly ironic tone throughout this remarkable journey and nicely handles the clutter of objects and relatives.The roster of characters is daunting at first, but this narrative proves a marvelously absorbing synthesis of art history, detective story and memoir. — Kirkus Reviews
The Hare with Amber Eyes is also available in a revised edition with more illustrations, or as a downloadable audiobook or an audiobook on CD.
The Sunflower: On the Possibilities and Limits of Forgiveness, by Simon Wiesenthal, will be discussed at the Warren Library on Thursday, November 6th at 10:30 a.m.
In 1976, Schocken published the first edition of this book. In it, Wiesenthal related an autobiographical incident and invited responses from a number of prominent thinkers. For this revised version, responses were solicited from 31 new personages; in addition, 11 of the old responses were retained and three included from the 1981 German edition. Among the new respondents, including intellectuals, writers, theologians, political dissidents and religious leaders from around the world, are the Dalai Lama, Robert Coles, Harold S. Kushner and Albert Speer . . . Wiesenthal recounts how, as a concentration camp prisoner, he was one day called to the bedside of a dying SS soldier. The terribly wounded young man had requested a Jew to hear his final confession, because of his guilt over vicious crimes against Jewish civilians. The SS man claimed that he was not anti-Semitic and had only followed the orders and lead of his officers and peers. In a few hours, the solider retold the story of his life, without rationalizations or excuses. Now repentant, he described his crime and asked Wiesenthal for forgiveness. The author has pondered his own response–silence–for more than five decades, and he asks his readers what they might have done in his place. In simple yet elegant prose, Wiesenthal recreates the grim reality of a time when Eastern Europe was hell. Never lapsing into the maudlin or self-pitying, his matter-of-fact realism makes the images all the more horrifying. The responses to the author's question are as varied as their authors. The mystery of evil and atonement remain, and the reader is left challenged on these most basic issues of meaning in human life. — Publishers Weekly
The Sunflower is also available as a downloadable e-book, a downloadable audiobook and an audiobook on CD.
Rita Mae Brown's mystery Santa Clawed will be discussed at the Irvington Library on Thursday, November 6th at 1:30 p.m.
The holiday spirit takes it on the chin when a series of murders blemish picture-perfect Crozet, Va.Mary Minor "Harry" Haristeen and her equine vet husband Fair are happily shopping for a Christmas tree when they discover a monk with his throat slit. The Brothers of Love, who support themselves by selling trees, do good works in the area. But many of their members are ex-cons. Surely they have some enemies from the past. Brother Christopher, for instance, was a schoolmate of Harry and Fair who lost millions for investors in an insider-trading scheme. Perhaps the most bizarre aspect of the crime is the obol found under Christopher's tongue. One of three stolen from a local coin dealer, it was the customary payment to Charon to transfer souls across the river Styx. Harry, who along with her garrulous pets is a veteran of genteel homicide (The Purrfect Murder, 2008, etc.), can't keep her nose out of this latest puzzle. When another Brother, an ex-jockey, is found dead in the same fashion, the animals must pitch in again to keep their mother out of trouble. A local physician is the recipient of the third obol, but Harry's discovery of a chest full of money almost makes her the final victim. — Kirkus Reviews
Santa Clawed is also available as a downloadable e-book, an audiobook on CD, and in large print.
The Shared Reading Group at Spades Park Library will meet from 10:00 to 11:30 a.m. on every Friday in November–the 7th, 14th, 21st, and even the 28th, the day after Thanksgiving. Unless they change their minds about that one.
Probably sometime early in the month, (vague enough?) the group will begin reading and discussing Jean Toomer's Cane. They will also, as always, be reading and discussing poems, and eating–if not discussing–refreshments.
Zeitoun by Dave Eggers will be discussed at the Flanner House Library on Monday, November 10th at 6:30 p.m.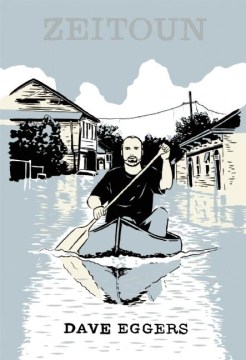 Eggers chronicles, as nonfiction, the tribulations of Abdulrahman Zeitoun, a Syrian American painting contractor who decides to ride out Hurricane Katrina in New Orleans. Although his wife, Kathy, leaves town with their four children, Abdulrahman (known as Zeitoun because few locals can pronounce his first name) stays behind, hoping to protect their home, their job sites, and their rental properties. After the storm, he paddles the flooded streets in a canoe, rescuing stranded people, feeding trapped dogs, and marveling at the sometimes surreal beauty of the devastation. Was it God's plan that he help others? he wonders. Then people in uniforms take him at gunpoint and incarcerate him. There are no charges, only the guards' insistence that he is "al Qaeda" and "Taliban." Zeitoun's odyssey–23 days of grueling imprisonment, held incommunicado and deprived of all due process–is but one nightmare of many lived after Katrina. But it is exceptionally well told . . . Booklist
Zeitoun is also available as a downloadable e-book and an audiobook on CD.
Edwidge Danitcat's Claire of the Sea Light will be the subject of a discussion at the Fountain Square Library on Thursday, November 13th at 1:30 p.m.
As a native Haitian, Danticat is known for taking an innate cultural understanding and mixing it with a spare, striking writing style, always with marvelous results. The setting for her latest is Ville Rose, a small coastal town in Haiti, where baby Claire is born as her mother dies in childbirth. The novel begins on Claire's seventh birthday and then flows back in time, revisiting previous birthdays and their parallel events. In the village, life and death coexist in heartrending fashion, and the people live with the understanding that any one of them may be instantly and forever altered by natural forces, irrational acts, or simple circumstances. As Claire's father, a poor fisherman, makes a difficult decision, personal histories converge and the village comes together both to mourn a death and to save a life. Throughout, everything seems to be driven by the mystical power of the sea, for which Claire is named . . . Danticat . . . has the ability to conjure up the rarified air of Haiti as she manages to pull tightly at one's heartstrings; this novel is no exception. — IndyPL's own Susanne Wells, writing in Library Journal
Claire of the Sea Light is also available as downloadable e-book and an audiobook on CD.
On Monday, November 17th at 6:00 p.m., the Cookbook Discussion Program at the Nora Library will focus on baking. Under discussion will be:
The Secret Lives of Baked Goods: Sweet Stories & Recipes for America's Favorite Desserts by Jessie Oleson Moore
Baking: More Than 350 Recipes Plus Tips and Techniques from Better Homes and Gardens
Bouchon Bakery by Thomas Keller and Sebastien Rouxel
The Cook's Illustrated Baking Book: Baking Demystified: with 450 Recipes from America's Most Trusted Food Magazine by the editors at America's Test Kitchen
Read from one or more of the cookbooks, try a couple of the recipes, and bring a sample of your favorite. Chef Brad Nehrt, Culinary Arts Instructor at the J. Everett Light Career Center, will be the special guest.
Please call 275-4472 to register for this program.
The Pike Library will host a discussion of Barbara Kingsolver's Flight Behavior on Monday, November 17th at 6:30 p.m.
Dellarobia Turnbow is in a perpetual state of fight or flight. Married at 17 to kind, dull Cub, she finds even the satisfaction of motherhood small consolation for the stultifying existence on her in-laws' struggling Tennessee sheep farm. When a fluke of nature upends the monotony of her life, Dellarobia morphs into the church's poster child for a miracle, an Internet phenomenon, and a woman on the verge of unexpected opportunity as scientists, reporters, and ecotourists converge on the Turnbow property. Orange Prize winner Kingsolver (The Lacuna) performs literary magic, generously illuminating both sides of the culture wars, from the global-warming debate to public eduction in America. It's a joy to watch Dellarobia and her precocious son, Preston, blossom under the tutelage of entomologist Ovid Byron. Like E.O. Wilson in his novel Anthill, Kingsolver draws upon her prodigious knowledge of the natural world to enlighten readers about the intricacies of the migration patterns of monarch butterflies while linking their behavior to the even more fascinating conduct of the human species. Highly recommended. — Library Journal
Flight Behavior is also available as an audiobook on CD
M. L. Stedman's The Light Between Oceans will be discussed at the Lawrence Library on Tuesday, November 18th at 10:15 a.m.
Stedman's haunting tale opens in 1918 with the return of Tom Sherbourne to his home in Australia after serving four years in the Great War. He applies for a job as a lighthouse keeper and is assigned to the light on Janus Rock, a remote island off the southwest coast where he hopes to erase his horrific memories of war. Several years later, Tom brings to the island his bride, Isabel, a free-spirited young woman who is determined to adapt to Tom's solitary life with their only contact with the mainland a quarterly visit from the supply boat. Four years later, after Isabel has suffered two miscarriages and a very recent stillbirth, an event occurs that forever changes them. A dinghy washes up on the beach carrying a dead man and a newborn baby girl, giving Isabel hope that she may become, at last, a mother. The choice they make as a couple comes to haunt them, their unexpected happiness replaced by guilt and mistrust. Stedman draws the reader into her emotionally complex story right from the beginning, with lush descriptions of this savage and beautiful landscape, and vivid characters with whom we can readily empathize. Hers is a stunning and memorable debut. — Booklist
The Light Between Oceans is also available as a downloadable e-book and an audiobook on CD
Portal, the Indianapolis Science Fiction and Fantasy Discussion Group, will meet at the Glendale Library on Sunday, November 23rd from 1:00 to 3:00 p.m.They will depart from their usual format this month, and discuss one book, Hugh Howey's Wool, which all group members will read.
This the original stand-alone story Wool, which is the first part of Wool Omnibus. I think the whole omnibus appears on the audiobook on CD (15 discs) and on the downloadable e-book.
The original stand-alone story is also available for free on Amazon.com. If you can handle this sort of thing, click here.
The Southport Library will host a discussion of The Shoemaker's Wife, by Adriana Trigiani, on Monday, November 24th at 6:30 p.m.
As the twentieth century begins, two teenagers living in the Italian Alps, Enza and Ciro, share a kiss that will linger across continents and time. Forced by circumstances to leave their beloved mountains, both land in New York City, where they pass in and out of one another's lives. Gradually, the practical-minded Enza makes a name for herself as a seamstress, eventually sewing for the great Caruso at the Metropolitan Opera, while Ciro develops into a skilled shoemaker and the charming rake of Little Italy. Their paths remain star-crossed until Ciro realizes what Enza has known all along, that they are destined for each other. Drawing on her own family history, adored, best-selling Trigiani has crafted a gorgeous romantic saga that succeeds on the appealing chemistry of her well-matched lovers, whom readers will take to heart as dear friends. Though set a century ago, this expansive epic, which seems tailor-made for a miniseries, manages to feel both old-fashioned and thoroughly contemporary as Enza and Ciro come to exemplify the immigrant experience in America as strangers in a strange land who ultimately find themselves at home in a new world. — Booklist
The Shoemaker's Wife is also available as a downloadable e-book, a downloadable audiobook, and an audiobook on CD.
Category Book Discussions | Tags: Readings and Book Discussions
---