October 24, 2016 by Reader's Connection
November traditions include cooking (check out Nora's cookbook discussion on the 21st) and the fact that the Portal discussion group at Glendale actually discusses one book, rather than a theme (have a look at the 27th).
Happy Thanksgiving.
Central Library will host a discussion of William Faulkner's The Sound and the Fury  on Tuesday, November 1st at 6:00 p.m.
I'm always proud to live in Indy when any of our discussion groups goes for this one. Please click here for some helpful tips about dealing with this book.

Yo-ho! Look alive! The Shared Reading Group at East 38th Street has moved back to the Spades Park Branch
At that location, on all the Fridays in November–the 4th, 11th, 18th, and as far as I know even the 25th, the day after Thanksgiving–they will read aloud from Henry James's novel The Portrait of a Lady.
Poems and refreshments follow this group wherever they go.
Thomas Wolfe's short story "The Lost Boy" will be discussed at the Franklin Road Branch on Monday, November 7th at 6:30 p.m. The discussion will be led by Dr. Mark Canada, professor of English and member of the Thomas Wolfe Society.
Anne Tyler's A Spool of Blue Thread will be discussed at the Wayne Branch on Monday, November 7th at 6:30 p.m.
Three generations of Whitshanks have lived in the family home in Baltimore since the 1920s, in which they have loved, squabbled, protected secrets, had children, and, in some cases, led inauthentic lives. Using her signature gifts for brilliant dialog and for intricately framing the complex messiness of parental and spousal relationships, Tyler beautifully untangles the threads that bind and sometimes choke all of them, especially Red and Abby, the last Whitshank homestead occupants. In 2012, Red and Abby are in their late 70s, and their fractious children rally to the modern dilemma of the sandwich generation–caring for aging resistant parents in their home safely, while raising their own children. VERDICT It's been half a century since Tyler debuted with If Morning Ever Comes, and her writing has lost none of the freshness and timelessness that has earned her countless awards and accolades. Now 73, she continues to dazzle with this multigenerational saga, which glides back and forth in time with humor and heart and a pragmatic wisdom that comforts and instructs. — Library Journal
A Spool of Blue Thread is also available as a downloadable e-book, a downloadable audiobook, an audiobook on CD, and in large print.
Kurt Vonnegut´s God Bless You, Mr. Rosewater will be discussed at Fountain Square Branch on Thursday, November 10th at 1:30 p.m.
"You're all I read any more. You're the only ones who'll talk about the really terrific changes going on, the only ones crazy enough to know that life is a space voyage, and not a short one, either, but one that'll last for billions of years. You're the only ones with guts enough to really care about the future, who really notice what machines do to us, what wars do to us, what cities do to us, what big, simple ideas do to us, what tremendous misunderstandings, mistakes, accidents and catastrophes do to us. You're the only ones zany enough to agonize over time and distances without limit, over mysteries that will never die, over the fact that we are right now determining whether the space voyage for the next billion years or so is going to be Heaven or Hell."
That's Eliot Rosewater speaking to a group of science fiction writers. Perhaps I should always do this, always quote a novel's characters rather than reprint a book review.
God Bless You, Mr. Rosewater is also available as an eBook.
Alan Bradley's Flavia de Luce novel Speaking from Among the Bones will be discussed at the Irvington Library on Thursday, November 10th at 1:30 p.m.
Memorable, often funny prose complements the crafty plot of Bradley's fifth Flavia de Luce novel. The year 1951 marks the 500th anniversary of the death of St. Tancred, who gave his name to 11-year-old Flavia's local church in the village of Bishop's Lacey. That the occasion will include the opening of the saint's tomb excites Flavia, whose curiosity about the excavation leads her to find the body of a murder victim. The precocious and irrepressible Flavia (who was booted from the Girl Guides for "an excess of high spirits") continues to delight. Portraying a 11-year-old as a plausible sleuth and expert in poisons is no mean feat, but Bradley makes it look easy. The reader never loses sight of Flavia's youth, but also never wonders at the likelihood that someone with her qualities exists. — Publishers Weekly
Speaking from Among the Bones is also available as an eBook, an eAudiobook, an audiobook on CD, and in large print.
Author Stacy Campbell will join in a discussion of her novel Mattie's Call at the Flanner House Branch on Monday, November 14th at 6:30 p.m.
When their mother goes missing from her nursing home, three estranged siblings must fulfill the requests left in her will before they can find closure—or receive their inheritance. Mattie Benson feels trapped in Grand Oak Acres Nursing Home. Abandoned by her adult children and missing her deceased husband, she takes matters into her own hands and leaves the facility. A Mattie's Call is issued, and soon, the siblings learn things about their mother they never knew—namely, her ability to bring them together through the conditions of her will. Gabrielle, the eldest daughter, must stop living life on her looks, get a job, and move out of the family home. This feat proves difficult for a forty-nine-year-old woman accustomed to the generosity of wealthy men. Joshua, the runaway groom, must reconnect with the son he never knew existed. He isn't against the idea, but facing the only love of his life proves more difficult than he anticipated. Alice, Mattie's baby girl, has been trapped in a loveless marriage for years. The stipulation that she complete her college degree scares her more than climbing a mountain, but an unforgivable moment with her husband proves she must move forward with her life. Stumbling and ultimately rising to the challenge, the siblings get to know one other as their parents' legacy mends old wounds and paves the way for new beginnings. — Publisher's note
Mattie's Call is also available as an eBook.
On Monday, November 14th at 6:30 p.m., the Poetry & Lyric Discussion Group at the Beech Grove Branch will discuss William Wordsworth's poem "I Wandered Lonely as a Cloud" and the lyrics to Joni Mitchell's song, "Both Sides Now."
Once in a Great City by David Maraniss will be discussed at the Lawrence Branch on Tuesday, November 15th at 10:15 a.m.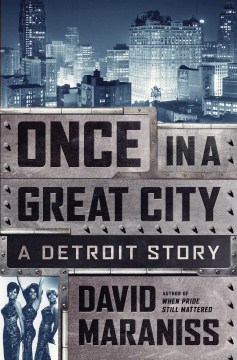 Maraniss spent only his first six and a half years in Detroit, so he was surprised when he "choked up" after seeing a car commercial extolling the Motor City. That affection inspired this fast-paced, sprawling, copiously detailed look at 18 months—from 1962 to 1964—in the city's past. During that time, big things happened in Detroit. Motown burst onto the music scene after the Motortown Revue left the city on a nationwide tour. Ford developed a new car, kept secret except from the prestigious J. Walter Thompson advertising agency; unveiled at the New York World's Fair in 1964, the Mustang became an instant, bestselling hit. Detroit fought fiercely for the 1968 Olympics, but despite support from native son Avery Brundage, president of the International Olympic Committee, Mayor Jerome Cavanagh, and Governor George Romney, Detroit lost to Mexico City. Detroit was embroiled in the civil rights movement, as well, with Cavanagh and union head Walter Reuther among many leaders taking a strong stand for racial equality. Reuther even rounded up money to bail out demonstrators in Birmingham, Alabama, and he never wavered in his commitment to freedom and justice. Martin Luther King Jr. delivered an early version of his "I have a dream" speech at the city's much-publicized Walk to Freedom, in which Reuther, Cavanagh, and 100,000 others marched; it was, said one participant, "a model of peaceful protest and racial cooperation" during a time of national unrest . . . Maraniss' brawny narrative evokes a city still "vibrantly alive" and striving for a renaissance. An illuminating history of a golden era in a city desperately seeking to reclaim the glory. — Kirkus Reviews
Once in a Great City is also available as an eBook, an eAudiobook, and in large print.
On Monday, November 21st at 6:00 p.m., the Nora Branch's Cookbook Discussion will focus on cookbooks about Thanksgiving.
1. Find a cookbook from the library that fits this month's theme. The cookbook pictured here is just one of many possibilities.
2. Read the cookbook and sample a few recipes.
3. Pick up a review form at the Nora Library, fill it out, and bring it with you to the meeting.
4. Optional: make a recipe from the cookbook and bring samples to the meeting.
5. Join us for an enjoyable discussion of the cookbooks and some delicious taste testing.
Special Guests: Chefs Brad Nehrt and Karen Williams, Culinary Arts Instructors at the J. Everett Light Career Center
Please register for the program by calling 275-4472 or by coming into the Nora Library and signing up at the Information Desk.
The Pike Branch will host a discussion of David McCullough's The Wright Brothers on Monday, November 21st at 6:30 p.m.
Two-time Pulitzer Prize winner McCullough exhibits his artist's touch in re-creating the lives of the Wright brothers, their father, and their sister Katharine from historical documents. Mining their letters, notebooks, and diaries, McCullough shows the Wright brothers (snubbed by the British as mere bicycle mechanics) for the important technoscientists they were. With only high school educations, they personified self-reliance and ingenuity, making their own calculations and testing their mechanical skills as they experimented with gliders. Their solution to controlling the gliders' flight was wing warping, enabling the gliders to bank like a bird's wings. As early engine designers and mechanics, when they couldn't find a light enough engine, they designed one that their mechanic built in six weeks. A few days after Langley's $70,000 failure, the Wright brothers made several powered flights–for less than $1,000–to prove that humans could fly. When the US military rejected their services, the Wrights signed a contract with a French syndicate. From 1910 on, the brothers were much occupied by business and patent infringement lawsuits. Wilbur contracted typhoid and died in 1912, but Orville lived until 1948. The brothers were remarkable for their analytical minds, their skiIl as early pilots, and their brilliance as experimental scientists. This work is their great, eminently readable story. — Choice
The Wright Brothers is also available as a eBook, a eAudiobook, an audiobook on CD, and in large print.
Portal, the Indianapolis Science Fiction and Fantasy Book Discussion Group, will meet at the Glendale Branch on Sunday, November 27th at 1:00 p.m.
In November, instead of discussing a theme, everyone reads the same book. This year it's John Corey Whaley's novel Noggin.
In the not-too-distant future, 16-year-old Travis Coates loses his head once—literally—after a deadly bout with cancer left him for dead. His head, cryogenically frozen as part of an experimental process to bring cancer victims back to life using donors, is the only thing that's left of him until he wakes up with it attached to the body of Jeremy Pratt in the Saranson Center for Life Preservation five years later. From there on out, Travis' life gets just as crazy as Whaley's bizarre setup. Lots of changes have taken place in five years, and Travis soon finds himself losing his head again, in the figurative sense. He has to drag his best friend back out of the closet, discovers terrible secrets about his parents, and pursues his old girlfriend, who is now 21 and engaged to another, great guy, to readers' cringe-inducing embarrassment on his behalf. Readers will recognize the Printz winner's trademark lovable characterizations in Travis' newfound BFF Hatton, who dubs him "Noggin" on his first day back at school. They'll also recognize the poignantly rendered reflections on life, love, death and everything in between. A satisfyingly oddball Frankenstein-like tale of connectivity. — Kirkus Reviews
Noggin is also available as an eBook and an eAudiobook.
The Heart is a Lonely Hunter by Carson McCullers will be discussed at the College Avenue Branch on Monday, November 28th at 6:00 p.m.
When Carson McCullers was a teenager, she came to New York City to study piano at Juilliard. She never matriculated; she lost the purse with her tuition money in it. Such small, unredressed tragedies as these are at the silent, solitary heart of McCullers' first novel, which centers on a deaf-mute and a teenage tomboy living in a small Georgia town in the 1930s. McCullers' characters reach out to one another for sympathy and understanding, but not all of them can complete the connection, and their isolated thoughts form a choir of amazing, transcendent poignance — music only the reader can hear. Time Magazine, All-Time Hundred Novels (Their list of the best novels since 1923, the year Time came into existence.)
The Heart is a Lonely Hunter is also available as an eBook, an audiobook on CD, and in large print.
Two stories will be discussed at the Beech Grove Branch on Monday, November 28th at 6:30 p.m.

One of them is Stephen King's "Rita Hayworth and the Shawshank Redemption."
King's story appears in his collection Different Seasons, which is also available as an eBook, and the "Rita Hayworth and the Shawshank Redemption" story, all by itself, is available as an eAudiobook.

The other story to be discussed at Beech Grove is Truman Capote's "A Christmas Memory."
In addition to the stand-alone edition pictured here http://www.indypl.org/cgi-bin/fullbib.pl?bibno=1724809, the story also appears in a collection A Christmas Memory ; One Christmas ; & The Thanksgiving Visitor, which is also available as an eBook. There's also a children's book (the whole story, as far as I know) with an accompanying CD.
Category Book Discussions | Tags: Readings and Book Discussions
---