November 24, 2014 by Reader's Connection
We seem to be featuring marriages this month. Anne Morrow marries Charles Lindbergh, who turns into a Nazi. Mail-order brides arrive from Japan. There's the long-standing marriage of two political consultants of two different stripes, and there's the couple who make great sacrifices in order to buy each other Christmas presents. And there's adultery. And a problematic adoption. And Mozart.
Indianapolis Symphony Orchestra cellist Ingrid Fischer-Bellman will facilitate a discussion of Stephanie Cowell's Marrying Mozart at the Franklin Road Library on Monday, December 1st at 6:30 p.m.
Former opera singer Cowell . . . turns her eye to the women in the life of a young Mozart in her fourth graceful and entertaining historical. Music copyist Fridolin Weber and his socially ambitious wife, Marie Caecilia, have four daughters-bookish and devout Sophie; quiet Constanze; beautiful, silver-voiced Aloysia; and headstrong Josefa-whom they struggle to keep in hats and hose. Though the freethinking girls may wonder about the benefits of marrying well vs. marrying for love, Caecilia, whose family once had money, is terrified of growing old a pauper. Pinning her hopes on her prettiest daughter, 16-year-old Aloysia, Caecilia aims for a Swedish baron as suitor (though she keeps a list of backups in a notebook). Aloysia falls in love with the young Mozart, however, who happily returns her affections, though he, too, wonders about marrying better to support his father and beloved mother. But when the Webers move to Munich from Mannheim, Caecilia's hopes for good matches begin to dim, as Josefa takes a married lover and a pregnant Aloysia runs away with a painter who, along with Mozart, had been boarding with the family. As Mozart progresses in his career, he has relationships with the other Weber sisters, too, and falls alternately in and out of favor with their bitter old mother. Told through the recollections of an aging Sophie, the tale is as rich and unhurried as 18th-century court life. — Publishers Weekly
Marrying Mozart is also available as a downloadable e-book.
Melanie Benjamin's novel The Aviator's Wife will be discussed at the Wayne Library on Monday, December 1st at 6:30 p.m.
Biographical novel of Anne Morrow and her troubled marriage to pioneering aviator Charles Lindbergh . . . At first, the glamorous couple's life consists of flights all over the world: Anne becomes a pilot and navigator and Charles' indispensable sidekick. However, when in 1932 the Lindberghs' first child is kidnapped from his nursery, the resulting press furor almost destroys Anne. In addition to her grief over her lost firstborn, a grief that Lindy doesn't appear to share, Anne suffers the downside of fame as public adulation turns to prurient sensationalism. The couple takes refuge abroad, where they enjoy the orderly routine and docile press of the Hitler regime, as long as Charles is willing to accept a Nazi medal and attend rallies. However, Kristallnacht proves too much even for Lindbergh's anti-Semitism, and he and Anne return to the States as war threatens. As more children arrive, Anne is beginning to bridle at Charles' domineering ways, however the aspiring author is too insecure to contradict him even as he offends her liberal friends and family by siding with right-wing groups who claim that the Jews are trying to force America into war . . . Although the portrayal of such a passive character could easily turn tepid, Benjamin maintains interest, even suspense, as readers wonder when Anne's healthy rebellious instincts will burst the bonds of her dutiful deference. — Kirkus Reviews
The Aviator's Wife is also available as a downloadable e-book and a downloadable audiobook.
You're invited to a discussion of Julie Otsuka's novel The Buddha in the Attic at Central Library on Tuesday, December 2nd at 6:00 p.m.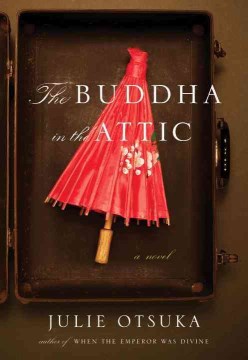 In the early 1900's, numerous Japanese mail order brides came to America seeking better lives. Otsuka's latest novel paints a delicate, heartbreaking portrait of these women. Using a collective first-person narrator ("On the boat we were mostly virgins."), Otsuka looks at the experiences of these "picture brides," organizing their stories into themes which include: their arrival in America; their first nights with their husbands; their interactions with white people; their children; and finally, the experience of World War II. Each section is beautifully rendered, a delicate amalgam of contrasting and complementary experiences. Readers will instantly empathize with these unnamed women as they adjust to American culture . . . By the time readers realize that the story is headed toward the internment of the Japanese, they are hopelessly engaged and will finish this exceptional book profoundly moved. — Publishers Weekly
The Buddha in the Attic is also available as a downloadable e-book, a downloadable audiobook, and an audiobook on CD.
Jim Gaffigan's Dad is Fat will be discussed at the Warren Library on Thursday, December 4th at 10:30 a.m.
Clean-mouthed comedian Gaffigan–best known for his riffs on Hot Pockets, McDonald's, and bacon–lived by himself for more than 13 years before getting married and fathering five children who now reside with him and his wife, Jeannie, in a two-bedroom New York City apartment. What began as a series of tweets about the everyday chaos of this self-professed loner's life has now become Gaffigan's hilarious first book. In 60 short chapters that read like stand-up bits, the comedian shares his insights on being the youngest of six kids in a Catholic family and explains why adults are really just "giant toddlers." He covers everything actual toddlers love, from candy to cousins, mocks preschool and nut allergies in three swift paragraphs, and explains why he and Jeannie opted for five home births as well as how they are raising so many kids in a such a tiny living space. Occasionally, Gaffigan feels the need to explain his jokes, but he needn't worry, as this laugh-out-loud collection also is one of the most honest and endearing portrayals of fatherhood penned by a contemporary comedian. The inclusion of dozens of photographs featuring Gaffigan's adorable family furthers the personal touch. — Publishers Weekly
Dad is Fat is also available as a downloadable e-book, a downloadable audiobook and an audiobook on CD.
On December 5th, 12th, 19th and 26th–every Friday in December–the Shared Reading Group at Spades Park Library will meet from 10:00 to 11:30 a.m. I'll let you know if it turns out that they don't plan to meet the day after Christmas.
I keep mumbling about how they're going to start reading and discussing Jean Toomer's Cane, It's really going to happen. They've been reading around, but Cane is coming.
Poems will be read, refreshments eaten.
The Flanner House Library will host a discussion of Reshonda Tate Billingsley's What's Done in the Dark on Tuesday, Decmember 9th at 6:30 p.m.
For the characters in best-selling Billingsley's latest, a crossroads of opportunity clashes with long-buried feelings and leads to a life-changing mistake. Felise is furious that her husband of 15 years forgot their anniversary. Her best friend, Paula, is tired of caring for four children and takes it out on her husband, Steven. Felise used to date Steven, and they meet up by chance at a hotel bar after both have argued with their spouses. After a couple of drinks, they get a room. Felise wakes up to find that Steven has died from a heart condition. She leaves and tries to be a supportive friend to Paula while keeping her secret. But someone saw her and Steven at the hotel, and Felise makes more bad choices to try to protect herself. But of course, the truth comes out. In this painful but absorbing story, Paula and Felise each undergoes transformations as they try to cope with their new reality, and Billingsley shows sympathy to both women. — Booklist
What's Done in the Dark is also available as a downloadable e-book.
Love & War: Twenty Years, Three Presidents, Two Daughters & One Louisiana Home, by Mary Matalin and James Carville, will be discussed at the Fountain Square Library on Thursday, December 11th at 1:30 p.m.
Matalin and Carville continue the saga of their politically-bipartisan marriage and career highlights from the beginning of the Clinton administration to current issues and events. Matalin reflects honestly on losing the 1993 election, feeling like a "poster child for failure and disgrace," wanting to feel happy for Carville while she "simultaneously hated every inch of his skinny Cajun being." This situation is reversed in 2000 when Matalin takes a job working for Dick Cheney, whom she calls "a man of impeccable integrity" while Carville suffers bitter disappointment. Matalin provides a first-hand account of being in the White House on 9/11, working in an underground bunker with the Vice President, and both offer alternate takes on the Iraq War that toe their respective party lines. Carville opens up about his ADHD and shares some helpful advice for anyone looking to charm Barbara Bush. On the topic of Matalin's menagerie of pets, he compares them to her politics: "I generally dislike them, so I tend to ignore them." The couple finds common ground in their love of New Orleans, where they relocated in 2008–Carville praises LSU football while Matalin notes the community spirit that rallied residents after Hurricane Katrina. — Publishers Weekly
Love & War is also available as a downloadable e-book and an audiobook on CD.
Anne Perry's mystery A Christmas Secret will be discussed at the Irvington Library on Thursday, December 11th at 1:30 p.m.
Dominic and Clarice Corde, minor characters who fell in love in Perry's Charlotte and Thomas Pitt novel Brunswick Gardens (1998), are called to the small village of Cottisham in Oxfordshire, where Dominic is to replace Reverend Wynter, who unexpectedly went on holiday right before Christmas. While fetching coal from the cellar, Clarice discovers the vicar's body in the second cellar. Some holiday. Although the local doctor says Wynter died of natural causes, Clarice and Dominic don't agree and begin their own investigation as snow blankets the village. What secrets did Wynter know that may have caused his death? Along with rummaging about in the villagers' closets in search of a motive, the sleuths also deal with Dominic's lack of confidence in his abilities to minister to his flock this Christmas season. Engaging characters, a vivid sense of time and place, and a cozy setting add enjoyment to this Victorian mystery. — Booklist
A Christmas Secret is also available as a downloadable e-book and a downloadable audiobook.
Kate Morton's The Forgotten Garden will be discussed at the Southport Library on Monday, December 15th at 6:30 p.m.
A four-year-old girl abandoned aboard a ship touches off a century-long inquiry into her ancestry . . . In 1913, Hugh, portmaster of Maryborough, Australia, discovers a child alone on a vessel newly arrived from England. The little girl cannot recall her name and has no identification, only a white suitcase containing some clothes and a book of fairy tales by Eliza Makepeace. Hugh and his wife, childless after several miscarriages, name the girl Nell and raise her as their own. At 21, she is engaged to be married and has no idea she is not their biological daughter. When Hugh confesses the truth, Nell's equilibrium is destroyed, but life and World War II intervene, and she doesn't explore her true origins until 1975, when she journeys to London . . . Intricate, intersecting narratives . . . suggesting possible incest create a thicket of clues as impenetrable and treacherous as Eliza's overgrown garden and the twisty maze on the Mountrachet estate.Murky, but the puzzle is pleasing and the long-delayed "reveal" is a genuine surprise. — Kirkus Reviews
The Forgotten Garden is also available as an audiobook on CD.
Donna Tartt's Pulitzer Prize-winning novel The Goldfinch will be discussed at the Nora Library on Monday, December 15th at 6:30 p.m.
In the wake of his nefarious father's abandonment, Theo, a smart, 13-year-old Manhattanite, is extremely close to his vivacious mother–until an act of terrorism catapults him into a dizzying world bereft of gravity, certainty, or love. Tartt writes from Theo's point of view with fierce exactitude and magnetic emotion as, stricken with grief and post-traumatic stress syndrome, he seeks sanctuary with a troubled Park Avenue family and, in Greenwich Village, with a kind and gifted restorer of antique furniture. Fate then delivers Theo to utterly alien Las Vegas, where he meets young outlaw Boris. As Theo becomes a complexly damaged adult, Tartt, in a boa constrictor-like plot, pulls him deeply into the shadow lands of art, lashed to seventeenth-century Dutch artist Carel Fabritius and his exquisite if sinister painting, The Goldfinch. Drenched in sensory detail, infused with Theo's churning thoughts and feelings, sparked by nimble dialogue, and propelled by escalating cosmic angst and thriller action, Tartt's trenchant, defiant, engrossing, and rocketing novel conducts a grand inquiry into the mystery and sorrow of survival, beauty and obsession, and the promise of art. — Booklist
The Goldfinch is also available as a downloadable e-book, a downloadable audiobook, and an audiobook on CD.
O. Henry's classic tale The Gift of the Magi will be discussed at the Lawrence Library on Tuesday, December 16th at 10:15 a.m.
The Gift of the Magi is available in other editions.
Portal, the Indianapolis Science Fiction and Fantasy Discussion Group, will meet at the Glendale Library on Sunday, December 28th from 1:00 to 3:00 p.m. The discussion topic will be open. "Bring in anything you're enthusiastic about"
Category Book Discussions | Tags: Readings and Book Discussions
---