September 12, 2016 by Reader's Connection
From Selector Emily Chandler: Orchards are popular destinations to visit during the summer and fall, as people flock there for fruit picking and often stay to enjoy food, drink, and entertainment. Why not sweeten the experience by checking out and reading some of these great novels about orchards?
The book descriptions have been provided by the publishers.
Cane, Emma
At Fairfield Orchard
For Amy Fairfield, the family orchard is more than a business. With its blossom-scented air and rows of trees framed by the majestic Blue Ridge Mountains, it's her heritage and her future. But right now, it's also a headache. Putting a painful breakup behind her, Amy has come home to help revitalize Fairfield Orchard. She doesn't have time for the handsome—distracting—professor who wants to dig into her family's history for his research.
Jonathan Gebhart knows he needs the Fairfields' cooperation to make his new book a success. As for Amy—nothing in his years of academia could have prepared him for their sudden and intense attraction. He doesn't want to complicate her life further, especially since she seems uneasy about his poking around in the past and he knows he's not the sort of man built for forever. But some sparks can't help but grow, and Jonathan and Amy may just learn that unexpected love can be the sweetest of all.
Chevalier, Tracy
At The Edge of the Orchard
James Goodenough, whose family had originally settled in Connecticut from England brings his family to Ohio to carve out a new life for them in the Black Swamp in 1838. As swamp fever gradually picks off their children and they wrestle daily with survival. This course will see their family engulfed in tragedy and fifteen years later we pick up with their youngest son, Robert who has been running west since the trying to escape his memories of what happened, taking solace in a very different kind of tree–the redwoods and sequoias of California. But Robert's past catches up with him and he's forced to confront what he's running from and work out for himself that you can't run for ever.
Connolly, Sheila
A Gala Event
The fall harvest may be just about over, but orchard owner Meg Corey is busier than ever planning her wedding to Seth Chapin. Who knew picking apples would be less work than picking out rings and a dress? And even though the happy couple has invited most of Granford, Massachusetts, to the ceremony, they might have to make room for one more guest…Ex-con Aaron Eastman has unexpectedly reappeared in his hometown, searching for answers to the tragic fire in his family's past that put him behind bars twenty-five years ago. Moved by his sincerity, Meg vows to do everything she can to help him solve the cold case. As she cobbles together the clues, it becomes increasingly clear that Aaron may have been considered the bad seed of the family, but someone else was one bad apple.
Furlong, Susan
Peaches and Scream
To help run the family peach farm during her parents' absence, Nola Harper returns to her childhood home of Cays Mill, Georgia, and soon discovers that things back at the farm aren't exactly peachy. A poor harvest and rising costs are threatening to ruin the Harpers' livelihood, and small-town gossip is spreading like blight thanks to Nola's juicy reputation as a wild teenager way back when. But Nola really finds herself in the pits when she stumbles upon a local businessman murdered among the peach trees. With suspicions and family tensions heating up faster than a cobbler in the oven, this sweet Georgia peach will have to prune through a list of murder suspects–before she too becomes ripe for the killer's picking.
Hamilton, Jane
The Excellent Lombards
Mary Frances "Frankie" Lombard is fiercely in love with her family's sprawling apple orchard and the tangled web of family members who inhabit it. Content to spend her days planning capers with her brother William, competing with her brainy cousin Amanda, and expertly tending the orchard with her father, Frankie desires nothing more than for the rhythm of life to continue undisturbed. But she cannot help being haunted by the historical fact that some family members end up staying on the farm and others must leave. Change is inevitable, and threats of urbanization, disinheritance, and college applications shake the foundation of Frankie's roots. As Frankie is forced to shed her childhood fantasies and face the possibility of losing the idyllic future she had envisioned for her family, she must decide whether loving something means clinging tightly or letting go.
McCoy, Shirlee
The Orchard at the Edge of Town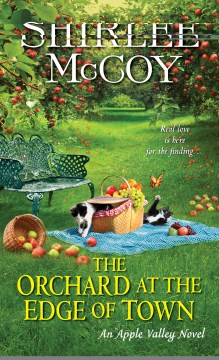 Apricot Sunshine Devereux-Miller needs to stay lost. Her eccentric aunt's home in Apple Valley is the perfect place to forget her cheating ex-fiance and get her no-longer-perfect life back under control. Plus, it couldn't hurt to fix up the house and turn its neglected orchard into a thriving business. And if Apricot can keep deputy sheriff Simon Baylor's two lively young daughters out of mischief, maybe she can ignore that he's downright irresistible–and everything she never dreamed she'd find. Simon isn't looking to have his heart broken again. He already has his hands full raising his girls. And lately he's thinking way too much about Apricot's take-charge energy and unwitting knack for stirring up trouble. He can't see a single way they could ever be right for each other. Unless they can take a crazy chance on trusting their hearts–and risking the courage to finally find their way home.
Rice, Luanne
The Lemon Orchard

After the death of her daughter, Julie housesits the Mailbu home of her aunt and uncle where she finds herself drawn to Roberto, the handsome man who oversees the lemon orchard and whose daughter was lost but never found.
Sanna, Lucy
The Cherry Harvest
The war has taken a toll on the Christiansen family. With food rationed and money scarce, Charlotte struggles to keep her family well fed. Her teenage daughter, Kate, raises rabbits to earn money for college and dreams of becoming a writer. Her husband, Thomas, struggles to keep the farm going while their son, and most of the other local men, are fighting in Europe. When their upcoming cherry harvest is threatened, strong-willed Charlotte helps persuade local authorities to allow German war prisoners from a nearby camp to pick the fruit — unleashing unexpected consequences.
Wiggs, Susan
The Apple Orchard

Set to inherit half of Bella Vista, a one hundred-acre apple orchard in a town called Archangel, along with a half-sister she's never heard of, Tess Delaney, who makes a living restoring stolen treasures to their rightful owners, discovers a world filled with the simple pleasures of food and family.
Category Booklist | Tags: Orchards
---