January 25, 2010 by Reader's Connection
During this last week in January, there will be three  discussions of our One Book One City title Some Buried Caesar, by Rex Stout.
Southport Library: Monday, January 25th, 7:00 p.m.
Pike Library: Tuesday, January 26th, 6:30 p.m.
Spades Park Library: Thursday, January 28th, 6:00 p.m.
It has been years since the orchid-growing eccentric Nero Wolfe has been outside his beloved home. Stout's sixth novel in the series finds Wolfe in upstate New York with Archie Goodwin where he must endure poor food, uncomfortable chairs, warm beer, and three dead bodies. A family feud over the fate of a prize bull (send him to the stud farm or a steak house) plus tacky publicity stunts and blackmail all fit into the situation, told from Archie's point of view.–Library Journal
And on Thursday, January 28th, Lisa Genova's Still Alice will be discussed at the Franklin Road Library will be discussed at 6:30 p.m.
In a highly readable form of bibliotherapy, first-time novelist Genova, who holds a doctorate in neuroscience, meticulously traces the downward spiral of a woman suffering from early-onset Alzheimer s disease. In September of 2003, 50-year-old Alice Howland leads a very busy, productive life as a psychology professor at Harvard, the spouse of a biology professor, and the mother of two grown daughters. But a series of memory problems, ranging from forgetting where she put her Blackberry to becoming disoriented on her daily run, sends her to the doctor. She learns that she is suffering from Alzheimer s, and the subsequent months and years see a steady decline in her abilities. By September of 2005, the accomplished professional can barely remember her own daughters names. Still Alice, however, is far from bleak as it depicts both the unalterable course of the disease and the various ways family members can cope with it. Clearly explaining the testing, treatment options, and symptoms of the disease within the context of an absorbing family drama, Genova has written an ideal primer for anyone touched by Alzheimer's — Booklist
February's discussions get started at the Wayne Library. On Monday the 1st, James L. Swanson's Manhunt: The Twelve-Day Chase for Lincoln's Killer will be discussed at 7:00 p.m.
 In the early days of April 1865, with the bloody war to preserve the union finished, Swanson tells us, Abraham Lincoln was "jubilant." Elsewhere in Washington, the other player in the coming drama of the president's assassination was miserable. Hearing Lincoln's April 10 victory speech, famed actor and Confederate die-hard John Wilkes Booth turned to a friend and remarked with seething hatred, "That means nigger citizenship. Now, by God, I'll put him through." On April 14, Booth did just that. With great power, passion and at a thrilling, breakneck pace, Swanson conjures up an exhausted yet jubilant nation ruptured by grief, stunned by tragedy and hell-bent on revenge. For 12 days, assisted by family and some women smitten by his legendary physical beauty, Booth relied on smarts, stealth and luck to elude the best detectives, military officers and local police the federal government could muster. Taking the reader into the action, the story is shot through with breathless, vivid, even gory detail. With a deft, probing style and no small amount of swagger, Swanson . . . has crafted pure narrative pleasure, sure to satisfy the casual reader and Civil War aficionado alike. — Publishers Weekly
Steve Harvey's Act Like a Lady, Think Like a Man: What Men Really Think about Love, Relationships, Intimacy and Commitment will be discussed twice in February.
Brightwood Library Tuesday, February 2nd at 6:00 p.m.
Flanner House Library Monday, February 8th at 6:30 p.m.
As a popular comedian, radio host and red-blooded male, Harvey doesn't have the bona fides typical to most women's relationship self-help, but he still manages a thorough, witty guide to the modern man. Harvey undertakes the task because "women are clueless about men," because "men get away with a whole lot of stuff" and because he has "some valuable information to change all of that." Harvey makes a game effort, taking a bold but familiar men-are-dogs approach: if you're "cutting back" on sex, "he will have another woman lined up and waiting to give him what he needs and wants-the cookie." several chapters later, however, he introduces the "ninety-day rule," asserting that, actually, he won't always have another woman lined up-and the only way to make sure is a three month vetting period. Harvey also tackles mama's boys, "independent-and lonely-women," and the matter of children in the dating world ("if he's meeting the kids after you decide he's the one, it's too late"). Feminists and the easily offended probably won't take to Harvey's blanket statements and blunt advice, but Harvey's fans and those in need of tough (but ticklish) love advice should check it out (especially the hysterical last-chapter q&a). — Publishers Weekly
Boris Pasternak's classic novel Doctor Zhivago will be discussed at Central Library on Tuesday, February 2nd at 6:00 p.m.
In the grand tradition of the epic novel, Boris Pasternak's masterpiece brings to life the drama and immensity of the Russian Revolution through the story of the gifted physician-poet, Zhivago; the revolutionary, Strelnikov; and Lara, the passionate woman they both love. Caught up in the great events of politics and war that eventually destroy him and millions of others, Zhivago clings to the private world of family life and love, embodied especially in the magical Lara.
First published in Italy in 1957, Doctor Zhivago was not allowed to appear in the Soviet Union until 1987, twenty-seven years after the author's death. — Publisher's note
The Last Lecture by Randy Pausch will be discussed at the Warren Library on Thursday, February 4th at 10:30 a.m.
 When Randy Pausch learned he was dying of pancreatic cancer, he found himself in quite a dilemma: at the top of his professional game, with a beautiful wife and three young children, how should he check out of life? A computer science professor at Carnegie Mellon University, Pausch . . . has worked with such companies as Google, Electronic Arts and Walt Disney Imagineering. "I love thinking I might find a way to beat this late-stage cancer," he writes in The Last Lecture. "Because even if I don't, it's a better mindset to help me get through each day." . . . Ultimately, this insightful nerd-optimist-dreamer abandons the idea of a "bucket list," reflecting instead his father's lifelong dedication to sharing intellectual and emotional wealth with others. "Time is all you have," Pausch writes, "And you may find one day that you have less than you think." — BookPage
John Boyne's novel The Boy in the Striped Pajamas will be discussed at the East 38th Street Library on Monday, February 8th at 6:00 p.m.
Some of the most thought-provoking Holocaust books are about bystanders, including those who say they did not know what was happening. This first novel tells the bystander story from the viewpoint of an innocent child. Bruno is nine when his family moves from their luxurious Berlin home to the country, where "the Fury" has appointed Bruno's father commandant. Lost and lonely, the child hates the upheaval, while his stern but kind father celebrates his success because he has learned to follow orders. Bruno can see a concentration camp in the distance, but he has no idea what is going on, even when he eventually meets and makes friends with Shmuel, a boy from Cracow, who lives on the other side of the camp fence. The boys meet every day. They even discover that they have the same birthday . . . Shmuel is Bruno's alternative self, and as the story builds to a horrifying climax, the innocent's experience brings home the unimaginable horror. — Booklist   
The Sugarbook Book Club at College Avenue Library will try to warm up February with a discussion of Christina Feehan's Street Game on Tuesday the 9th at 6:00 p.m.
Mack McKinley, the leader of a team of GhostWalker killing machines, has perfected the art of urban warfare, but is unable to control his own feelings when he encounters Jaimie, a spy with a potent sapphire stare with whom he had once been in love. — Baker & Taylor
Fred D. Cavinder's Forgotten Hoosiers: Profiles from Indiana's Hidden History will be discussed at the Irvington Library on Wednesday, February 10th at 1:30 p.m.
Entertaining brief profiles of Hoosiers who were once famous and now forgotten by most people. These include poets, humorists, reporters, generals, reformers, the first coast-to-coast racer, the first movie Tarzan, and even Colonel Sanders. Cavinder is a retired Indianapolis Star reporter.
Haven Kimmel's Something Rising (Light and Swift) will be discussed at the Fountain Square Library on Thursday, February 11th at 1:30 p.m.
After a memoir (A Girl Named Zippy) and a debut novel (The Solace of Leaving Early), both well-received works with a lyrical bent, Kimmel attempts something different: the rough-and-tough story of a teenaged girl who helps support her family by working construction and shooting pool for money. Cassie does her best after her shark/hustler father abandons the family in small-town Indiana. The going-nowhere losers, the phobic and reclusive older sister, the seemingly passive mother, and the tender grandfather are all carefully drawn. Better yet is Uncle Bud, proprietor of the local pool hall, who teaches Cassie what she needs to know, supports her emotionally and sometimes financially, and shepherds her into adulthood. Cassie has two men to conquer: her father and the rich New Orleans doctor her mother might have married. — Library Journal
The Lawrence Library will host a discussion of Daphne Du Maurier's Rebecca on Tuesday, February 16th at 10:15 a.m.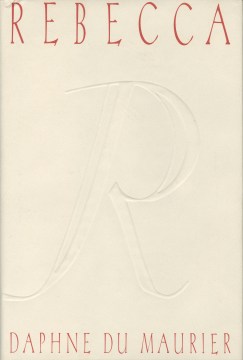 It is no exaggeration to say that du Maurier was the 20th century's Charlotte Bronte and "Rebecca" the 20th century's "Jane Eyre." The parallels between the two authors and the two books are obvious. Though Bronte's childhood circumstances were straitened and du Maurier's privileged, both girls lived essentially interior lives in which imagination, storytelling and fantasy were central. Both published early (Bronte under the pseudonym Currer Bell) and both became wildly successful . . . "Rebecca" is . . . a work of immense intelligence and wit, elegantly written, thematically solid, suspenseful even a second time around. Indeed, one of the pleasures of a second reading is that though one (mostly!) remembers a book's story and characters, invariably one discovers aspects of it that were missed the first time through. Utterly caught up in the novel's plot when first I read it, I simply didn't understand that this isn't just a novel about a lovesick girl's obsessive jealousy of her husband's dead first wife, it is also a book about the interweaving of past and present. Du Maurier treats memory with what can only be called delicacy and tenderness. — Jonathan Yardley, The Wall Street Journal 
Shobhan Bantwal's The Sari Shop Widow will be discussed at the Southport Library on Monday, February 22nd at 7:00 p.m.
Anjali poured her entire life into her family's sari shop in suburban New Jersey after her husband's sudden death. Now, several years later, the shop is in serious financial trouble, and her father must turn to his elder brother for help. When Anjali's uncle arrives, he brings along his mysterious younger associate, Rishi, to evaluate the shop's potential. The men decide to invest in expanding the shop, building on Anjali's vision. After several weeks of working side-by-side, Anjali and Rishi begin to see each other as more than simply colleagues. Bantwal, author of The Dowry Bride (2007) and Forbidden Daughter (2008), writes for the first time about the Indian immigrant experience in the U.S. — Booklist
There will be a discussion of Kathryn Stockett's The Help at the Pike Library on Tuesday, February 23rd at 6:30 p.m.
What perfect timing for this optimistic, uplifting debut novel . . . set during the nascent civil rights movement in Jackson, Miss., where black women were trusted to raise white children but not to polish the household silver. Eugenia "Skeeter" Phelan is just home from college in 1962, and, anxious to become a writer, is advised to hone her chops by writing "about what disturbs you." The budding social activist begins to collect the stories of the black women on whom the country club sets relies–and mistrusts–enlisting the help of Aibileen, a maid who's raised 17 children, and Aibileen's best friend Minny, who's found herself unemployed more than a few times after mouthing off to her white employers. The book Skeeter puts together based on their stories is scathing and shocking, bringing pride and hope to the black community, while giving Skeeter the courage to break down her personal boundaries and pursue her dreams. — Publishers Weekly   
Barack Obama's The Audacity of Hope will be discussed at the Spades Park Library on Thursday, February 25th at 6:00 p.m.
Reporters and politicians continually use the word authenticity to describe Mr. Obama, pointing to his ability to come across to voters as a regular person, not a prepackaged pol. And in these pages he often speaks to the reader as if he were an old friend from back in the day, salting policy recommendations with colorful asides about the absurdities of political life . . . This volume does not possess the searching candor of the author's first book. But Mr. Obama strives in these pages to ground his policy thinking in simple common sense. — The New York Times, October 2006
The Franklin Road Library will host a discussion of Antoine de Saint-Exupery's Wind, Sand and Stars on Thursday, February 25th at 6:30 p.m.
"Saint Ex" was a pioneering pilot for Aéropostale in the 1920s, carrying mail over the deadly Sahara on the Toulouse-Dakar route, encountering cyclones, marauding Moors, and lonely nights: "So in the heart of the desert, on the naked rind of the planet, in an isolation like that of the beginnings of the world, we built a village of men. Sitting in the flickering light of the candles on this kerchief of sand, on this village square, we waited out the night." Whatever his skills as a pilot—said to be extraordinary—as a writer he is effortlessly sublime . . .  No writer before or since has distilled the sheer spirit of adventure so beautifully. True, in his excitement he can be righteous, almost irksome—like someone who's just gotten religion. But that youthful excess is part of his charm. Philosophical yet gritty, sincere yet never earnest, utterly devoid of the postmodern cop-outs of cynicism, sarcasm, and spite, Saint-Exupéry's prose is a lot like the bracing gusts of fresh air that greet him in his open cockpit. He shows us what it's like to be subject—and king—of infinite space. — Outside Online
Category Book Discussions | Tags: Book Discussions, Readings and Book Discussions
---