September 3, 2009 by Reader's Connection
This year´s Bouchercon World Mystery Conference is being held in Indianapolis, October 15-18.
On Tuesday, October 13 at 7 p.m., five of the Boucheron´s mystery authors will pay a pre-conference visit to the Glendale Library to discuss their writing lives.
Here are some of their books. To see all that the library owns by a certain author, click on the author's name.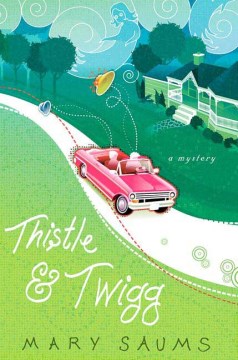 In this delightful first of an offbeat new series from Saums (Midnight Hour), recently widowed Jane Thistle, who has lived many places as the wife of a career military officer, moves to Tullulah, Ala., where she soon meets Phoebe Twigg, also a widow, who has lived in the small town all her life. The two women, despite their differences in outlook and personality, become close friends. When they find a dead body in the woods, and Jane's neighbor Cal Prewitt is arrested for murder, they turn detective to exonerate him. Phoebe's kitchen is firebombed, and Jane is subject to eerie happenings in her house. They persevere, despite the threats, and prove that two crafty widows are more than a match for the bad guys. Saums ably weaves humor, suspense and a dash of the supernatural in this winning twist on the Southern cozy. — Publishers Weekly
 When it comes to digging up trouble, Jane Thistle and Phoebe Twigg have never had any problems, but when a tornado uproots trees on Jane's property and unearths a centuries-old skeleton, Jane and Phoebe receive unwanted attention from unlikely sources. Since her woods once sheltered several Native American tribes, the burial site is a treasure trove of artifacts, making it especially appealing to erstwhile archaeologist Jane, especially sacred to local tribal elders, and especially enticing to a crew of antiquities thieves who have descended on the otherwise quiet town of Tullulah, Alabama, disguised as a film crew scouting locations. After Jane's home is robbed, her purse snatched, and the mugger murdered, Jane and Phoebe realize that none of these events are coincidental, and the two best friends, sprightly widows with more energy and armaments than a military base, set an elaborate trap to catch the crooks. Although labeled a cozy mystery, the second installment in Saums' series carries a finely honed edge and an eerily sinister twist. — Booklist
Interrupted Aria: A Baroque Mystery
Myers's absorbing first novel, a historical set in 18th-century Italy, introduces a most unusual hero, Tito Amato, who was sold as a child to be castrated and taught to be an opera singer. In late 1731, Tito and fellow castrato Felice Ravello leave Naples for Tito's native Venice to sing with an opera company owned by a wealthy and powerful family. Myers recreates the opera seria of the time in fascinating detail, from the special stage effects to the vocal pyrotechnics. All Venetians attended the opera and sang the principal arias as popular songs; the narrative was less important and came primarily in spoken recitatifs. During one performance, the prima donna is poisoned, and Felice, who's been working as an instrumentalist since his voice became unstable, is jailed as the chief suspect. Tito is determined to clear his friend and scours the Republic of Venice for evidence of his innocence . . . The complicated plot has twists enough for a 19th-century opera, but Myers neatly ties all the pieces together by the end. — Publishers Weekly
Painted Veil: The Second Baroque Mystery
After a bout of diva excess, Tito is replaced as the star by famous visiting castrato, Francesco Florio, an even bigger diva. Humbly taking responsibility for his own actions, Tito begins working hard to get his voice back in top shape while gracefully dodging the taunts of Florio. Meanwhile, scene-painter Luca Cavalieri goes missing, and theater-director Torani asks Tito to investigate. Jumping at the chance to restore the maestro's faith in him, Tito sets off with his new English friend, Gussie Rumbolt, to find Luca. Along the way, Myers exposes readers to a dark side of Venice: prejudice. Often a victim of ridicule himself, Tito's heart aches for the Jews, who are forced to live in a locked ghetto and treated with contempt. Like a grand opera, Myers' story transports readers to a fascinating world of glamour, deceit, intrigue, and passion. Bravo! — Booklist
She's smart. She's tough. She's sexy. She's a dairy farmer? However incongruous Stella Crown's occupation may seem in conjunction with her attributes, Clemens makes her not only believable but admirable. Left alone when her parents died, Stella runs the family's Pennsylvania dairy farm with help from her hired hand and second father, Howie. It's a hard life, and Clemens' vivid portrayal of the lot of the small farmer is eye-opening and disturbing. But Stella's troubles go beyond the everyday when it becomes clear that someone is sabotaging her. And, even more seriously, children are falling ill with a strange virus–one young boy is already dead. Stella deals with dead cows, arson, a missing dog, and a sick young farmhand while also attempting to sort out her love life. Alternately a Harley-riding, tough farm girl and a kindhearted, vulnerable woman, Stella makes an endearing heroine in a promising first novel. — Booklist
Casey Maldonado is running from the ruins of her life. Her family wants her to sue following a fatal car accident, even though the car manufacturer offered a generous settlement. Her only travel companion is Death. When Casey stops in a small Ohio town, she finds a community deeply affected by the recent death of a young woman, who reportedly killed herself after she lost her factory job, which is being moved to Mexico. Strong and self-reliant, but operating under a pronounced death wish, Casey attempts to find the truth behind the "suicide" and reluctantly discovers she's good at helping people. Clemens, author of the well-received Stella Crown series, explores intriguing new territory in this series debut, and adventurous mystery buffs may want to hitch a ride. — Library Journal
In the opening pages of Gage's emotionally charged debut, Brazilian Chief Inspector Mario Silva is dispatched from police headquarters in Brasilia to rural Cascatas do Pontal to investigate the assassination of Bishop Dom Felipe Antunes. Unlike his predecessor, Bishop Antunes was unsympathetic to the Landless Workers' League, an organization that advocates, not always peacefully, for equal distribution of land among rich and poor. (A similar group actually exists in Brazil.) A long history of strife between wealthy landowners and the league prompts Chief Inspector Silva and his policeman nephew, Hector, to tread very carefully as they gather clues in the case. Then, when a crackerjack local journalist on the verge of breaking a seemingly unrelated story is found with her throat slit, Silva and his partner are forced to extend their stay in the sticks. Chief Inspector Silva, a seasoned cop determined to avenge his father's brutal murder, is the most engaging among a cast of broadly drawn characters. Gage, a part-time resident of Brazil, vividly evokes a country of political corruption, startling economic disparity, and relentless crime, both random and premeditated. — Booklist
At the start of Gage's intelligent and subtle second mystery to depict life in modern Brazil, Yoshiro Tanaka, a corrupt local policeman, uncovers a secret cemetery in a park near Brasilia that contains more than three dozen corpses, including those of 24 children. Mario Silva, of the Brazilian Federal Police, has an uphill battle persuading his politically sensitive boss, Nelson Sampaio, that the find warrants federal resources. When forensics indicate that the dead were each missing a body part, Sampaio fears rumors that a satanic cult is responsible will harm the country's tourism industry. Tanaka, under pressure from his wife to bring in more money, dutifully tracks down clues identifying some of the dead people. When Tanaka's attempts to extort money backfire, Silva must pick up the pieces of his investigation. Lovers of suspenseful and sophisticated crime novels will be rewarded. — Publishers Weekly
Hiroshima survivor Mas Arai is a man of few words: luckily, readers are privy to his thoughts. This follow-up to her highly praised debut, Summer of the Big Bachi, finds Mas leaving his Southern California home-and-gardening business to visit his daughter, Mari, in New York. Despite being married and recently having a baby, Mari, the titular "Gasa-Gasa Girl," is still as restless as her Japanese childhood nickname implies. (For his part, Mas finds all New Yorkers entirely too "gasa-gasa.") Mari and her husband, Lloyd, are going through tough times, both with their baby's health and with Lloyd's job, designing a garden for a half-Japanese multimillionaire. First, the garden is targeted by vandals, and then Lloyd's boss, Kazuhiko "Kazzy" Ouchi, is found murdered in the pond . . . Although Hirahara generates a satisfying level of suspense, what makes this series unique is its flawed and honorable protagonist. Seeing New York City through Mas' eyes, hearing his amusingly accented English, and struggling with him as he tries to avoid an emotional confrontation with his daughter give readers a fascinating insight into a complex and admirable man. — Booklist
In youth-obsessed Los Angeles, maturity and reticence work in favor of the 70ish gardener Mas Arai, Hirahara's reluctant hero, as he gets drawn into his highly enjoyable third mystery (after 2005's Gasa-Gasa Girl ). Mas leaves a party held for a friend at a Hawaiian restaurant early, but when the guest of honor turns up dead, Mas has to return to the restaurant to answer questions about anything suspicious he might have observed . . . As a Hiroshima survivor, Mas has his misgivings about examining the past too closely, but his strong sense of right and wrong propels him toward a just resolution. Hirahara's sharp ear for dialogue and keen sense of place mark this as a superior read, but it's her intimate view of the Japanese-American community and her wry portrait of the endearing Mas, with his fondness for gambling and Spam, that really make this series stand out. — Publishers Weekly
Category Author Visit, Booklist | Tags: Beverle Graves Myers, Bouchercon 2009, Judy Clemens, Leighton Gage, Mary Saums, Naomi Hirahara
---