August 31, 2009 by Reader's Connection
On September 1, 1939, Germany invaded Poland without a declaration of war. They had secured a nonagression pact with the Soviet Union which allowed for the partition of Poland by Germany and the USSR. Two days later, Britain and France declared war, with Australia, Canada, New Zealand and South Africa following suit soon thereafter.
Here's a sampling of the nonfiction published about World War II in the last couple of years.
World War II : The Definitive Visual History: From Blitzkrieg to the Atom Bomb
. . . leads the reader on a chronological journey through World War II. An oversized book filled with hundreds of photographs, graphics and maps, it begins with the unsettled political landscape following World War I and the circumstances that enabled Hitler and Mussolini to gain power. It chronicles key battles, such as Guadalcanal, D-Day and Iwo Jima, and the bombing of Hiroshima. It also explores the aftermath of the war, including the rebuilding of Germany and Japan and the growth of Communism. But it is the photographs and personal stories that are truly gripping. The key figures–Churchill, Roosevelt, Stalin and Eisenhower–are well represented. So, too, are images and stories of the common man, from the foot soldier to the concentration camp survivor. World War II is a worthy book for the shelves of the serious student of war, or for the coffee table of any reader who seeks a comprehensive history of the world's greatest conflict. — BookPage
Faces of War: The Untold Story of Edward Steichen´s WWII Photographers by Mark D. Faram
. . . we are treated to the war photography of Edward Steichen, a veteran art and commercial photographer who did some of his most memorable work while in the U.S. Navy. Steichen gained fame shooting fashion and celebrity photographs for Vogue and Vanity Fair, but at the outset of World War II, the 62-year-old enlisted in the Navy. He was named a lieutenant commander and led a team of photographers in capturing images aboard ships and aircraft carriers in the Pacific Theater. Steichen captured images of men at war, and also at leisure in the belly of naval vessels. The black-and-white photographs are striking considering that despite the tight and often tense conditions aboard Navy ships, Steichen was able to find dramatic lighting and place his subjects at ease. Steichen created simple, but profound images that changed the art and craft of war photography. — BookPage
Blood, Toil, Tears and Sweat: The Dire Warning by John Lukacs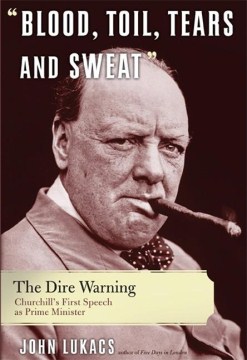 Churchill was Britain's prime minister from 1940 to 1945 and from 1951 to 1955 and led the nation through World War II. On May 13, 1940, he gave his first speech before the House of Commons, three days after Germany invaded France, Belgium, the Netherlands, and Luxembourg. In his now-famous speech, he said, "I have nothing to offer but blood, toil, tears, and sweat."  Lukacs, a history professor with more than 20 books to his credit, posits that beneath Churchill's bravery lay his understanding of a looming catastrophe, still unimaginable to most: that it was probably too late, and that Adolf Hitler was close to winning the war. In this lucidly written history, the author tells of Churchill's determination to succeed in defeating Hitler, his nine secret sessions with the War Cabinet, and the British army's defeat at Dunkirk. Lukacs has captured this moment in history with meticulous precision. — Booklist
  
A Dawn Like Thunder: The True Story of Torpedo Squadron Eight by Robert J. Mrazek
Mrazek brilliantly captures the bravery of Squadron Eight in World War II's pivotal battle of Midway and the unit's subsequent involvement at Guadalcanal. Presented in logbook format, the author's clipped narrative offers fascinating vignettes of the aviators' prewar lives. At Midway the squadron, in obsolete torpedo bombers without fighter protection, was ordered to attack Japanese carriers–and was nearly decimated. Mrazek indicts the captain and air commander of the formation's carrier, the USS Hornet, for this fiasco and intimates that the squadron may have been used as a decoy to benefit high-altitude dive bombers as they took the greatest toll on the enemy flattops. Following Midway, Squadron Eight was reassigned to the USS Saratoga as part of a task force charged with expelling the Japanese from Guadalcanal. Mrazek's gripping account of the group's bombing activities is rich in detail and tactical analysis. A special treat is Mrazek's winsome epilog, which details the postwar achievements of the surviving squadron officers and men. A well-written and meticulously researched account of one of America's most distinguished World War II aerial groups — Library Journal
 
 World War II: The Events and Their Impact on Real People by R. G. Grant
This reviewer's father, a Pearl Harbor survivor, would have loved this volume, not only because it covers the attack so thoroughly but also because it deals with the war so broadly, helping readers see the event from a global perspective. Starting with the end of World War I, the author chronicles the buildup of problems throughout the world, and then, with detail, he follows the war globally all the way through to how it is recalled today. As with most DK publications, the volume is visually stunning-50 to 80 percent of each page is art. A potentially drab layout of black-and-white photographs is avoided by sepia tones, color blocks, maps, and color photos from museums . . . A thirty-eight-minute DVD accompanies the book, with still photos of the book's chronicled events. Although some histories focus solely on Europe and the Pacific, Grant takes readers to Russia, Burma, India, the deserts of northern Africa, and more . . . Readers young and old will gain understanding of their world today by perusing this engrossing history. — VOYA
The Monuments Men: Allied Heros, Nazi Thieves, and the Greatest Treasure Hunt in History by Robert M. Edsel with Bret Witter
WWII was the most destructive war in history and caused the greatest dislocation of cultural artifacts. Hundreds of thousands of items remain missing. The main burden fell to a few hundred men and women, curators and archivists, artists and art historians from 13 nations. Their task was to save and preserve what they could of Europe's great art, and they were called the Monuments Men . . . Edsel has presented their achievements in documentaries and photographs. He and Witter . . . are no less successful here. Focusing on the organization's role in northwest Europe, they describe the Monuments Men from their initial mission to limit combat damage to structures and artifacts to their changed focus of locating missing items. Most had been stolen by the Nazis. In southern Germany alone, over a thousand caches emerged, containing everything from church bells to insect collections. The story is both engaging and inspiring. In the midst of a total war, armies systematically sought to mitigate cultural loss. — Publishers Weekly
Fire and Fury: The Allied Bombing of Germany, 1942-1945 by Randall Hansen
During the Second World War, Allied air forces dropped nearly two million tons of bombs on Germany, destroying some 60 cities, killing more than half a million German citizens, and leaving 80,000 pilots dead. But the terrible truth is that much of the bombing was carried out against the expressed demands of the Allied military leadership, leading to the needless deaths of hundreds of thousands of civilians.
Focusing on the crucial period from 1942 to 1945, Fire and Fury tells the story of the American and British bombing campaign through the eyes of those involved: the military and civilian command in America, Britain, and Germany, the aircrews in the skies who carried out their orders, and civilians on the ground who felt the fury of the Allied attacks. — Publisher's Note
Hell´s Cartel: I. G. Farben and the Making of Hitler's War Machine by Diarmuid Jeffreys
British journalist Jeffreys presents a compelling account of the comprehensive collaboration of Germany's major chemical conglomerate with Adolf Hitler's genocidal dictatorship. The fourth largest industrial concern in the world, IG Farben was a key element of German foreign policy. Its employees were well treated. Its scientists won Nobel prizes. Its administrators created an international network controlling the production and sale of everything from plastics to camera film–and poison gas. Jeffreys tells the story from the rise of Germany's chemical industry in the 19th century to its support of the Nazis' ascent to power starting in 1932. National Socialism was good for business. The increasingly lucrative contracts came with a price: first accommodation, then collaboration, as one compromise after another enmeshed the cartel ever deeper in the Nazi system. Eventually, from Farben's perspective, Auschwitz was no more than a source of labor for producing the synthetic rubber and oil that kept the war machine operating. Ignominiously dissolved in the early '50s, IG Farben remains a monument to willful and unapologetic moral blindness. — Publishers Weekly
Just Doing My Job: Stories of Service from World War II compiled by Jonna Doolittle Hoppes
In this revealing oral history, author Hoppes (Calculated Risk) gathers personal accounts of ordinary citizens who contributed to the 1940s war effort. The granddaughter of Gen. Jimmy Doolittle, who led America's first strike against Japan during World War II, she records the detailed stories of, among others, German Jew Rose Beal, who was 11 when Hitler came into power; Bonnie Gwaltney, a young woman who left North Carolina to work the assembly line at California's Douglas Aircraft; Carmelita Pope, a Chicago performer who traveled with the USO; and Navy corpsman Jack Hammett, who recalls the chaos and bloodshed of the attack on Pearl Harbor: "Everywhere I looked I saw broken bodies: the dead, the dying, some just barely hanging on, others merely stunned, all mixed together in a jumble." Particularly fascinating is the account of Dick Hamada, a Japanese-American soldier from Hawaii who worked for the newly formed Office of Strategic Services, the first U.S. intelligence agency. Their significant sacrifices and vivid memory make for engrossing narratives of perseverance and faith. — Publishers Weekly
The Two Thousand Yard Stare: Tom Lea´s World War II edited by Brendan M. Greeley
Artist Tom Lea (1907-2001) had a successful career as a muralist, book illustrator, and novelist, but his indelible legacy is his artwork from World War II. Working for Life magazine, Lea embarked on warships involved in Atlantic convoy patrols, Pacific aircraft carrier battles, and amphibious landings on Peleliu in September 1944. Lea s participation in and survival of the latter inspired a set of images that ranks among the most harrowing in WWII artwork reproduced in any volume covering the subject, such as H. Avery Chenoweth s Art of War (2002). A preexisting audience will therefore be drawn to editor Greeley s assembly of Lea's output from the war, a comprehensive treatment that includes Lea's diary of a 1943 journey to China and recollections of his frightening combat experience on Peleliu. Nearly 200 images, a third of which are in color, populate the work and reflect Lea s realist approach to his subjects: he was a skilled portraitist of both leaders and men who posed for him. Clearly the last visual word on Lea's war, Greeley's work earns its place in the WWII collection. — Booklist
Category Booklist | Tags: World War II
---