July 28, 2014 by Reader's Connection
There will also be writing workshops and beer sampling and meditation this month. Our Adult Summer Reading Program, with pop-ups around town, continues into August.
The Shared Reading Group at Spades Park Library will continue to read Nathaniel Hawthorne's The Scarlet Letter on August Fridays, the 1st, 8th, 15th, 22nd and 29th, from 10:00 to 11:30 a.m.
Following the shared reading, a poem will be read. Refreshments will be eaten throughout the morning.
Anja Petrakopoulos, as always, will be your facilitator.
Wayne Library will host a discussion of David McCullough's The Greater Journey: Americans in Paris on Monday, August 4th at 6:00 p.m.
One of America's most popular historians and a two-time Pulitzer Prize winner, McCullough has hit the historical jackpot. Travelers before the telephone era loved to write letters and journals, and McCullough has turned this avalanche of material into an entertaining chronicle of several dozen 19th-century Americans who went to Paris, an immense, supremely civilized city flowing with ideas, the arts, and elegance, where no one spit tobacco juice or defaced public property. They discovered beautiful clothing, delicious food, the art of dining ("The French dine to gratify, we to appease appetite," wrote John Sanderson). Paris had not only pleasures but professional attractions as well. Artists such as Samuel F.B. Morse, Whistler, Sargent, and Cassatt came to train. At a time when American medical education was fairly primitive, Oliver Wendell Holmes Sr. and other prospective physicians studied at the Sorbonne's vast hospitals and lecture halls–with tuition free to foreigners. Authors from Cooper to Stowe, Twain, and James sometimes took up residence. McCullough mixes famous and obscure names and delivers capsule biographies of everyone to produce a colorful parade of educated, Victorian-era American travelers and their life-changing experiences in Paris. — Publishers Weekly
The Greater Journey : Americans in Paris is also available as an audiobook on CD in large print.
On Monday, August 4th, from 6:30 to 8:00 p.m. at Sun King Brewery (135 N. College Avenue), there will be a discussion of Jhumpa Lahiri's novel The Lowland.
And not only that: In keeping with the novel's Indian setting, bring your yoga mat and participate in an invigorating 30-minute meditation. Sun King beer samples will be provided during the book talk and a writing workshop led by the Indiana Writers Center.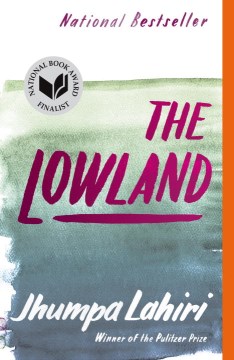 The clever Mitra brothers are inseparable even though Subhash is serious, cautious, and reliable, while Udayan is brash, impassioned, and rebellious. Both excel in their studies even though, thanks to Udayan, they get into mischief in their quiet, middle-class Calcutta enclave with its two adjacent ponds and water hyacinth-laced lowland, a gorgeously rendered landscape Lahiri uses to profound effect. In college, Subhash studies chemistry, Udayan physics, but while Subhash prepares to go to America to earn his PhD, Udayan experiences a life-altering political awakening. It's the late 1960s, a time of international protest, and Udayan joins the Mao-inspired Naxalite movement, which demands justice for the poor. He also secretly marries self-reliant, scholarly Gauri. Subhash's indoctrination into American life and Rhode Island's seasons and seashore is bracing and mind-expanding, while Udayan's descent into the Naxalite underground puts him in grave danger. — Booklist
The Lowland is also available as a downloadable e-book, a downloadable audiobook, and an audiobook on CD.
Nemesis, a novel by Philip Roth, will be discussed at Central Library on Tuesday, August 5th at 6:00 p.m.
In general terms, the novel is a staggering visit to a time and place when a monumental health crisis dominated the way people led their day-to-day lives. Newark, New Jersey, in the early 1940s (a common setting for this author) experienced, as the war in Europe was looking better for the Allies, a scare as deadly as warfare. The city has been hit by an epidemic of polio. Of course, at that time, how the disease spread and its cure were unknown. The city is in a panic, with residents so suspicious of other individuals and ethnic groups that emotions quickly escalate into hostility and even rage. Our hero, and he proves truly heroic, is Bucky Canter, playground director in the Jewish neighborhood of Newark. As the summer progresses, Bucky sees more and more of his teenage charges succumb to the disease. When an opportunity presents itself to leave the city for work in a Catskills summer camp, Bucky is torn between personal safety and personal duty. What happens is heartbreaking, but the joy of having met Bucky redeems any residual sadness. — Booklist
Nemesis is also available as a downloadable e-book, a downloadable audiobook and an audiobook on CD.
Author visit: Ruth Ann Hanley will join readers at the Warren Library and lead a discussion of her book No Pulling Back: Tale of a Fighter Dog on Thursday, August 7th at 10:30 a.m.
Daemon is a trained fighter dog and is a favorite of the crowds who come to the Roman amphitheater to witness the bloody fights. He puts fear into every creature he meets until one day he turns against his handlers. After escaping his own upcoming execution, Daemon lives free and trails a man called "Jesus" until he finally meets him alone. – Publisher's note
Victoria Christopher Murray's novel Never Say Never will be discussed at the Flanner House Library on Monday, August 11th at 6:30 p.m.
When Miriam's fireman husband, Chauncey, dies while rescuing students from a school fire, Miriam feels like her life is over. How is she going to raise her three children all by herself? How will she survive without the love of her life? Luckily, Miriam's sister-friend Emily and Emily's husband, Jamal, are there to comfort her. Jamal and Chauncey grew up together and were best friends; Jamal and Emily know they will do all they can to support Miriam through her grief. Jamal steps in and helps Miriam with the funeral arrangements and with her children, plus he gives her hope that she has a future. But all the time that they spend together—grieving, sharing, and reminiscing—brings the two closer in ways they never planned. — Author's website
On Tuesday, August 12th, from 6:00 to 8:00 p.m., there will be a discussion of Edwidge Danitcat's Claire of the Sea Light, followed by a writing activity led by the Indiana Writers Center.
This will be happening at New Day Craft (1102 Prospect Street).
Here's a Library Journal review of the novel, written by IndyPL's own Susanne Wells:
As a native Haitian, Danticat (Brother, I'm Dying) is known for taking an innate cultural understanding and mixing it with a spare, striking writing style, always with marvelous results. The setting for her latest is Ville Rose, a small coastal town in Haiti, where baby Claire is born as her mother dies in childbirth. The novel begins on Claire's seventh birthday and then flows back in time, revisiting previous birthdays and their parallel events. In the village, life and death coexist in heartrending fashion, and the people live with the understanding that any one of them may be instantly and forever altered by natural forces, irrational acts, or simple circumstances. As Claire's father, a poor fisherman, makes a difficult decision, personal histories converge and the village comes together both to mourn a death and to save a life. Throughout, everything seems to be driven by the mystical power of the sea, for which Claire is named. VERDICT A new offering from National Book Critics Circle Award-winning author Danticat is always cause for celebration. She has the ability to conjure up the rarified air of Haiti as she manages to pull tightly at one's heartstrings; this novel is no exception. Highly recommended. — Susanne Wells, Indianapolis
Claire of the Sea Light is also available as downloadable e-book and an audiobook on CD.
Mister Owita's Guide to Gardening: How I Learned the Unexpected Joy of a Green Thumb and an Open Heart, a book by Carol Wall, will be discussed at the Fountain Square Library on Thursday, August 14th, at 1:30 p.m.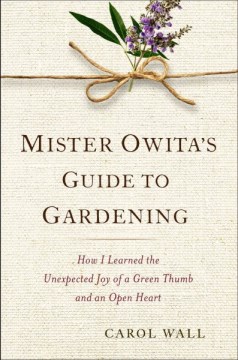 In this moving memoir chronicling the many lasting rewards garnered from an unexpected friendship, writer Wall enlists a neighbor's gardener, a man from Kenya, to help her maintain her garden. What begins as a purely professional relationship, with Wall hoping to learn more about gardening, blossoms into an intimate friendship. Wall, a breast cancer patient, admits that, before she met Giles Owita, her outlook on life was less than sunny. Always an introvert and prone to social gaffes, Wall was dealing at the time with her parent's decline. Slowly, over three years, Owita, a quiet and unassuming man, transforms Wall's unkempt lawn into a living masterpiece, showing Wall the beauty inherent in everyday life . . . This tender narrative gently probes the complicated terrain of American race relations, dealing with serious illness and facing the death of loved ones. — Publishers Weekly
Mister Owita's Guide to Gardening is also available as a downloadable audiobook.
Author visit: At the Irvington Library on Thursday, August 14th, at 1:30 p.m., the Irvington Afternoon Book Discussion Group will join the American Villages Book Club to discuss the book, Affectionately Yours: The Civil War Home-Front: Letters Of The Ovid Butler Family by Barbara Butler Davis. The author will visit to share letters, photographs and family history, while also discussing the home front in Indianapolis through the lens of the Butlers.
This program is presented by Indiana Humanities and the ALA Making Sense of the Civil War, and is funded by a grant from Indiana Humanities.
P. D. James's Death Comes to Pemberley will be discussed at the Pike Library on Monday, August 18th at 6:30 p.m.
Historical mystery buffs and Jane Austen fans alike will welcome this homage to the author of Pride and Prejudice from MWA Grand Master James, best known for her Adam Dalgliesh detective series. In the autumn of 1803, six years after the events that closed Pride and Prejudice, Elizabeth Darcy, the happily married mistress of Pemberley House, is preparing for Lady Anne's annual ball, "regarded by the county as the most important social event of the year." Alas, the evening before the ball, Elizabeth's sister Lydia, who married the feckless Wickham, bursts into the house to announce that Captain Denny, a militia officer, has shot her husband dead in the woodland on the estate. Darcy and Colonel Fitzwilliam, who purists may note behaves inconsistently with Austen's original, head out in a chaise to investigate. Attentive readers will eagerly seek out clues to the delightfully complex mystery, which involves many hidden motives and dark secrets, not least of them in the august Darcy family. In contrast to Pride and Prejudice, where emotion is typically conveyed through indirect speech, characters are much more open about their feelings, giving a contemporary ring to James's pleasing and agreeable sequel. — Publishers Weekly
Death Comes to Pemberley is also available as a downloadable e-book and a downloadable audiobook.
Readers of the Nora Library book discussion group will join readers from the Jordan YMCA to discuss Bill Bryson's One Summer : America, 1927 on Monday, August 18th at 6:30 p.m.
On May 21, 1927, when Charles Lindbergh set off to be the first man to cross the Atlantic alone in an airplane, he profoundly changed the culture and commerce of America and its image abroad. Add to that Babe Ruth's efforts to break the home-run record he set, Henry Ford's retooling of the Model T into the Model A, the execution of accused anarchists Sacco and Vanzetti, and Al Jolson appearing in the first talkie, and 1927 became the pivot point when the U.S. began to dominate the world in virtually everything–military, culture, commerce, and technology. Bryson's inimitable wit and exuberance are on full display in this wide-ranging look at the major events in an exciting summer in America . . . Among the other events in a frenzied summer: record flooding of the Mississippi River and the ominous beginnings of the Great Depression. Bryson offers delicious detail and breathtaking suspense about events whose outcomes are already known. A glorious look at one summer in America. — Booklist
One Summer: America, 1927 is also available as a downloadable e-book, a downloadable audiobook and an audiobook on CD.
On Thursday, August 21st, from 6:00 to 8:00 p.m., the Indianapolis Museum of Art (4000 Michigan Road) will host a discussion of Barbara Demick's Nothing to Envy: Ordinary Lives in North Korea
Following the discussion, participate in a writing activity led by the Indiana Writers Center and browse the IMA's vast Asian Collection.
A detailed, grim portrait of daily life under the repressive North Korean dictatorship, where schoolchildren are taught to sing anthems in praise of their leader asserting that they "have nothing to envy in this world.`Los Angeles Times foreign correspondent Demick bases her account on seven years of interviews with North Koreans who escaped to South Korea. She focuses on individuals whose stories began in the 1990s and continue to the present, including Mi-ran, a lower-class girl who became a teacher; Jun-sang, a university student who eventually got a glimpse of outside life through books, radio and television; Mrs. Song, a middle-aged true believer, and her defiant daughter Oak-hee; Dr. Kim, an idealistic female physician; and Kim Hyuck, an orphan boy surviving alone on the streets. Along with their personal stories, Demick includes background information on the Korean War and the dictatorships of Kim Il-sung and his son Kim Jong-il . . . In one unforgettable scene, Dr. Kim, having crossed a river into China, sees that dogs in China eat better than human beings in North Korea . . . Demick shows the state of mind of each of her subjects, what their daily life was like, how they coped and eventually how each escaped. — Kirkus Reviews
Nothing to Envy is also available as a downloadable e-book, a downloadable audiobook, and an audiobook on CD.
Portal, the Indianapolis Science Fiction and Fantasy Discussion Group, will meet at the Glendale Library on Sunday, August 24th from 1:00 to 3:00 p.m.
The theme for August is "Global" – It's true that our Adult Summer Reading Program has been quite global, with titles reflecting life from all over the world. But the Portal global discussion will relate to science fiction and fantasy.
Jacqueline Susann's Valley of the Dolls will be discussed at the Southport Library on Monday, August 25th at 6:30 p.m.
Before Sex and the City, Hollywood Wives and Desperate Housewives, there was Valley of the Dolls. First published in 1966, the tale of three young women who fight their way to fame and fortune while fighting their addiction to "dolls"—a euphemism for pills and drugs—Valley of the Dolls cemented Jacqueline Susann's place in publishing and pop-culture history. Valley of the Dolls has sold more than 30 million copies, been turned into a feature film and been published in over 20 languages. Our three heroines—innocent Anne, sultry Jennifer and firecracker Neely find themselves in a bi-coastal saga of friendship and betrayal, ambition and rivalry, sex and drugs. It's not too long before they discover the true price of fame. Sound familiar? With Hollywood's young stars burning out before they even get a chance to start, Valley is more relevant today than ever before. Valley was the original. — jacquelinesusann.com
The month began with Nathaniel Hawthorne at Spades Park and will finish with Anne Sexton and Chimamanda Ngozi Adichi at Spades Park.
The Spades Park Poetry Club will be meeting on Tuesday, August 26th, from 6:00 to 7:30 p.m., and poems by Sexton will be read and discussed.
Patrick Dugan, as always, will be your facilitator.
AND Chimamanda Ngozi Adichi's novel Americanah, by will be discussed at the Spades Park Library on Wednesday, August 27th at 6:00 p.m.
Ifemelu, the Nigerian expat and Princeton lecturer at the heart of this novel, writes biting, dead-on blog posts taking aim at the cultural schism between non-African blacks, Africans, and everyone else. She also observes her Auntie Uju turning herself inside out to attract a man as Ifemelu's nephew silently accepts his mother's aspirations. Whether Ifemelu is writing a treatise on how to care for black hair or a scathing take on American students earning extra credit for bombast, her opinions bring her money and acknowledgment. But one day, as she is complimented on her nurtured American accent, Ifemelu senses that she has lost her way. A parallel plotline follows Obinze, the man Ifemelu left behind in Lagos, who emigrated to London and longs for a life in America with her. Witty, wry, and observant, Adichie is a marvelous storyteller who writes passionately about the difficulty of assimilation and the love that binds a man, a woman, and their homeland. — Library Journal
Americanah is also available as a downloadable e-book and an audiobook on CD.
Category Book Discussions | Tags: Readings and Book Discussions, Summer Reading Program
---