July 4, 2014 by Reader's Connection
Oh, no! It's another picture of me, grinning outside a book discussion spot.
This won't go on all summer, I promise. You won't have to look at me knocking back a brew in front of Sun King or New Day Craft, when those brewery book discussions roll around in August.
On Monday, July 14th, from 5:30 to 7:30 p.m., there will be a discussion of Julie Otsuka's novel The Buddha in the Attic, followed by a workshop led by the Indiana Writers Center.
This will happen at Foundry Provisions (236 E. 16th Street, that's 16th & Alabama).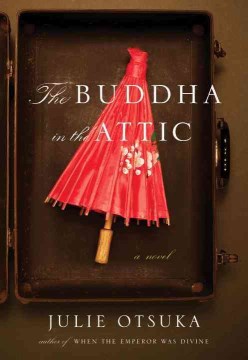 I love the way The Buddha in the Attic is narrated. Early in the twentieth century, a group of young Japanese women sail over to San Francisco. They (or their parents) have agreed to arranged marriages with men who have sent pictures and letters and money.
The novel's main character is the whole group. There must be other novels like this, but they don't come to mind. Individuals are named, fragments of individual stories told, but–at least as far as I've read–we are hearing a sort of swarm-voice. This sounds as though it might get in the way of an emotional connection with any of the women, but the story works in its own way.
Some of us on the boat were from Kyoto, and were delicate and fair, and had lived our entire lives in darkened rooms at the back of the house. Some of us were from Nara, and prayed to our ancestors three times a day, and swore we could still hear the temple bells ringing. Some of us were farmers' daughters from Yamaguchi with thick wrists and broad shoulders who had never gone to bed after nine. Some of us were from a small mountain hamlet in Yamanashi and had only recently seen our first train. Some of us were from Tokyo, and had seen everything, and spoke beautiful Japanese, and did not mix much with any of the others. Many more of us were from Kagoshima and spoke in a thick southern dialect that those of us from Tokyo pretended we could not understand. Some of us were from Hokkaido, where it was snowy and cold, and would dream of that white landscape for years. Some of us were from Hiroshima, which would later explode, and were lucky to be on the boat at all though of course we did not then know it.
Otsuka's canny use of the we, when the we is describing our first sexual experiences with our new husbands, pulls the reader's attention here and then there and then here, rather than following one romantic or titillating line.
I know from the reviews that the story moves forward through internment during World War II, and I'm reading with dread and anticipation. The claims on the dust jacket about the poetry of this book are not empty boasts.

Yikes! What is that horse doing outside Foundry Provisions? Has the blogger found some twisted way to include this post in his celebration of the Year of the Horse?
Their plows weighed more than we did, and were difficult to use, and their horses were twice the size of our horses back home in Japan. We could not harness them without climbing up onto orange crates, or standing on stools, and the first time we shouted out to them to move they just stood there snorting and pawing at the ground. Were they deaf? Were they dumb? Or were they just being stubborn? "These are American horses," our husbands explained. "They don't understand Japanese." And so we learned our first words of horse English. "Giddyap" was what you said to make the horse go forward, and "Back" was what you said to make it back up. "Easy" was what you said to make it slow down, and "Whoa" was what you said to make it stop. And after fifty years in America these would be the only words of English some of us could still remember by heart.
Hope to see you at Foundry Provisions on the 14th, or at some other events in the Adult Summer Reading Program.
Happy Independence Day to all, especially to those whose ancestors didn't experience a whole lot of independence in our country.
Category Book Review, Event | Tags: Foundry Provisions, Indiana Writers Center, Julie Otsuka, Summer Reading Program, The Buddha in the Attic, Year of the Horse
---