June 19, 2014 by Reader's Connection
The elsewhere refers to discussions popping up at non-library locations, as part of our Adult Summer Reading Program. (I've been peeking at the Foundry Provisions and Calvin Fletcher menus. In a purely literary way, of course.)
Central Library will get our Independence Day drums rolling with a discussion of David McCullough's John Adams on Tuesday, July 1st at 6:00 p.m.
[John Adams] took considerable personal risks in spreading the American colonists' rebellion across his native Massachusetts. Adams gained an admirable reputation for fearlessness and for devotion not only to his cause but also to his beloved wife Abigail. After the Revolution . . . part of the reason that the New England states enjoyed influence in a government dominated by Virginians was the force of Adams's character. His lifelong nemesis, who tested that character in many ways, was also one of his greatest friends: Thomas Jefferson, who differed from Adams in almost every important respect. McCullough depicts Jefferson as lazy, a spendthrift, always in debt and always in trouble, whereas Adams never rested and never spent a penny without good reason, a holdover from the comparative poverty of his youth. Despite their sometimes vicious political battles (in a bafflingly complex environment that McCullough carefully deconstructs), the two shared a love of books, learning, and revolutionary idealism . . . McCullough . . . includes enough biographical material on Jefferson that this can be considered two biographies for the price of one. — Kirkus Reviews
John Adams is also available as an audiobook on CD and in large print.
John Berendt's Midnight in the Garden of Good and Evil: A Savannah Story will be discussed at the Warren Library on Thursday, July 3rd at 10:30 a.m.
After discovering in the early 1980s that a super-saver fare to Savannah, Ga., cost the same as an entree in a nouvelle Manhattan restaurant, Esquire columnist Berendt spent the next eight years flitting between Savannah and New York City. The result is this collection of smart, sympathetic observations about his colorful Southern neighbors, including a jazz-playing real estate shark; a sexually adventurous art student; the Lady Chablis (` "What was your name before that?" I asked. "Frank," she said.' "); the gossipy Married Woman's Card Club; and an assortment of aging Southern belles. The book is also about the wealthy international antiques dealer Jim Williams, who played an active role in the historic city's restoration–and would also be tried four times for the 1981 shooting death of 21-year-old Danny Handsford, his high-energy, self-destructive house helper. The Williams trials–he died in 1990 of a heart attack at age 59–are lively matches between dueling attorneys fought with shifting evidence, and they serve as both theme and anchor to Berendt's illuminating and captivating travelogue. — Publishers Weekly
Midnight in the Garden of Good and Evil is also available as a downloadable e-book, a downloadable audiobook, and an audiobook on CD.
The Spades Park Library will be closed on Friday, July 4th, as will Central Library and all branches except the InfoZone at the Childrens Museum which will be open from 10 a.m. to 5 p.m.
The Shared Reading Group at Spades Park will continue to read Nathaniel Hawthorne's The Scarlet Letter on all succeeding Fridays–July 11th, 18th and 25th–from 10:00 to 11:30 a.m.
Anja Petrakopoulos will facilitate the reading and discussion. There will be refreshments, unless something goes wrong.
On Monday, July 7th at 6:30 p.m., Cheryl Strayed's Wild: From Lost to Found on the Pacific Coast Trail will be discussed at the Franklin Road Library .
Unsentimental memoir of the author's three-month solo hike from California to Washington along the Pacific Crest Trail. Following the death of her mother, Strayed's life quickly disintegrated. Family ties melted away; she divorced her husband and slipped into drug use. For the next four years life was a series of disappointments . . . While waiting in line at an outdoors store, Strayed read the back cover of a book about the Pacific Crest Trail. Initially, the idea of hiking the trail became a vague apparition, then a goal. Woefully underprepared for the wilderness, out of shape and carrying a ridiculously overweight pack, the author set out from the small California town of Mojave, toward a bridge ("the Bridge of the Gods") crossing the Columbia River at the Oregon-Washington border. Strayed's writing admirably conveys the rigors and rewards of long-distance hiking. Along the way she suffered aches, pains, loneliness, blistered, bloody feet and persistent hunger. Yet the author also discovered a newfound sense of awe; for her, hiking the PCT was "powerful and fundamental" and "truly hard and glorious." Strayed was stunned by how the trail both shattered and sheltered her. Most of the hikers she met along the way were helpful, and she also encountered instances of trail magic, "the unexpected and sweet happenings that stand out in stark relief to the challenges of the trail." A candid, inspiring narrative of the author's brutal physical and psychological journey through a wilderness of despair to a renewed sense of self. — Kirkus Reviews
Wild: From Lost to Found on the Pacific Crest Trail is also available as a downloadable e-book, a downloadable audiobook, an audiobook on CD, and in large print.
Gillian Flynn's novel Gone Girl will be discussed at the Wayne Library on Monday, July 7th at 6:30 p.m.
A perfect wife's disappearance plunges her husband into a nightmare as it rips open ugly secrets about his marriage and, just maybe, his culpability in her death. Even after they lost their jobs as magazine writers and he uprooted her from New York and spirited her off to his childhood home in North Carthage, Mo., where his ailing parents suddenly needed him at their side, Nick Dunne still acted as if everything were fine between him and his wife, Amy. His sister Margo, who'd gone partners with him on a local bar, never suspected that the marriage was fraying, and certainly never knew that Nick, who'd buried his mother and largely ducked his responsibilities to his father, stricken with Alzheimer's, had taken one of his graduate students as a mistress. That's because Nick and Amy were both so good at playing Mr. and Ms. Right for their audience. But that all changes the morning of their fifth anniversary when Amy vanishes with every indication of foul play. Partly because the evidence against him looks so bleak, partly because he's so bad at communicating grief, partly because he doesn't feel all that grief-stricken to begin with, the tide begins to turn against Nick . . . One of those rare thrillers whose revelations actually intensify its suspense instead of dissipating it. The final pages are chilling. — Kirkus Reviews
Gone Girl is also available as a downloadable e-book, a downloadable audiobook, and an audiobook on CD.
Four of our July discussions take place at locations other than library branches, as part of our Summer Reading Program for Adults.
One of these is the discussion of Anthony Marra's novel A Constellation of Vital Phenomena, which will pop up at Calvin Fletcher's Coffee Company (647 Virginia Avenue) on Wednesday, July 9th at 4:00 p.m.
In this extraordinary first novel, Marra homes in on a people and a region that barely register with most Americans and, in heartrending prose, makes us feel their every misfortune. In rural Chechnya, during the second war, a small group of people struggle to survive in the bleakest of circumstances. A gifted surgeon works tirelessly in a crumbling hospital, hardening her heart so that she can perform her gruesome work. An eight-year-old girl who has already seen too much is being hunted by the government ever since the night her father was abducted by Russian soldiers. An incompetent doctor who longed to be an artist paints portraits of 41 neighbors who were killed by government forces and hangs them in the doorways and trees of his ruined village . . . Marra collapses time, sliding between 1996 and 2004 while also detailing events in a future yet to arrive, giving his searing novel an eerie, prophetic aura. — Booklist
A Constellation of Vital Phenomena is also available as a downloadable e-book and a downloadable audiobook.
The Fountain Square Library will host a discussion of John Updike's The Widows of Eastwick on Thursday, July 10th at 1:30 p.m.
You remember, don't you, The Witches of Eastwick, Updike's 1984 comic novel about three women friends who live in the Rhode Island coastal town of Eastwick and form a coven of witches? This continuation of their story finds them, decades later, all in their seventies and widowed and somewhat out of touch, since all three left Eastwick many years ago. One day Alexandra receives a call from Jane, who suggests, as a way of reestablishing their friendship, a trip to Egypt. Later, after all three take a trip to China, they decide to spend the summer back in Eastwick . . . Their reception by townsfolk is cool at best. As the summer in Eastwick progresses, they can't help but try the old witchcraft again, with disastrous results for one in their group. Vibrant characters, careful detailing, and a sense of anticipation of impending dire events leave this an absorbing read, enjoyable to its fullest even by readers unfamiliar with its predecessor. — Booklist
The Widows of Eastwick is also available as a downloadable e-book and an audiobook on CD.
A choice for readers at the Irvington Library: Pick one (or more) of three books by Bich Minh Nguyen to discuss on Thursday, July 10th at 1:30 p.m:
Stealing Buddha's Dinner : a memoir (also available as a downloadable e-book and an audiobook on CD.)
Short Girls: a novel (also available as a downloadable audiobook.)
Pioneer Girl: a novel (also available as a downloadable e-book and a downloadable audiobook.)
Our review is of Stealing Buddha's Dinner:
A childhood immigration memoir for foodies.Nguyen's father fled Vietnam with his two daughters when Nguyen was just a baby. Sponsored by a family in Grand Rapids, Mich., the Nguyens began to adjust to life in a "pale city," dominated by conservative Christians and blonde Republicans. Nguyen explores her relationship with her new home through food: As a girl, she longed for and fantasized about the packaged goods that fill American grocery stores. One of her earliest discoveries was Pringles-the red tube in which the chips sit snuggly-which captivated her. When, as a girl, Nguyen began to read the works of Laura Ingalls Wilder, she marveled at the descriptions of butchering hogs and making cheese, activities that seemed to encapsulate the American frontier experience. She contrasts her own stepmother, Rosa, with the mothers of her school chums: Real mothers cook things like pot roast; real mothers bake Toll House cookies in the afternoon; real mothers send their daughters to school with lunches packed neatly in Tupperware containers. Rosa, a hard-working schoolteacher, was too busy to be Betty Crocker, and the family usually dined on simple Vietnamese food . . . this debut suggests [Nguyen is] a writer to watch. — Kirkus Reviews
You're invited to a pop-up discussion of Julie Otsuka's The Buddha in the Attic, followed by a workshop led by the Indiana Writers Center, at Foundry Provisions (236 E. 16th Street) on Monday, July 14th, from 5:30 to 7:30 p.m.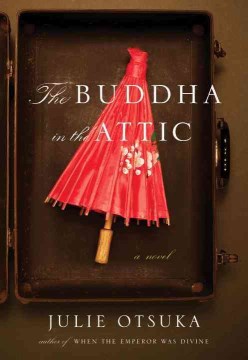 In the early 1900's, numerous Japanese mail order brides came to America seeking better lives. Otsuka's latest novel paints a delicate, heartbreaking portrait of these women. Using a collective first-person narrator ("On the boat we were mostly virgins."), Otsuka looks at the experiences of these "picture brides," organizing their stories into themes which include: their arrival in America; their first nights with their husbands; their interactions with white people; their children; and finally, the experience of World War II. Each section is beautifully rendered, a delicate amalgam of contrasting and complementary experiences. Readers will instantly empathize with these unnamed women as they adjust to American culture . . . By the time readers realize that the story is headed toward the internment of the Japanese, they are hopelessly engaged and will finish this exceptional book profoundly moved. — Publishers Weekly
The Buddha in the Attic is also available as a downloadable e-book, a downloadable audiobook, and an audiobook on CD.
Shelia Goss's novel The Joneses will be discussed at the Flanner House Library on Monday, July 14th at 6:30 p.m.
Keeping up with the Joneses isn't all it's made out to be. In this intriguing novel full of drama and plot twists, one family tries to hold on to their "perfect" life before their secrets, lies, and scandals are exposed. On the outside, the Joneses seem like the ideal family: Royce Jones, a funeral home mogul, and his wife, Lexi, are parents to Charity, Hope, and Lovie–and everybody wants to be them. But it's true that money can't buy happiness, and the Joneses are harboring secrets that can't stay hidden forever… The funeral home business has been slow lately, and Royce is in serious trouble. When Lexi learns of their financial strain, she vows to hold on to her status by any means necessary–even if it means going behind her husband's back. Lovie, seeing his beloved mother so stressed, will do whatever it takes to put a smile back on her face. And sibling rivalries tense up when Charity and Hope both fall for the same guy. On top of this, they all have secrets they're hiding not only from people outside their family–but from each other. It's only a matter of time before the Joneses' perfect life goes spinning out of control and they're revealed for who they truly are. — Simon & Schuster
A discussion of Khaled Hosseini's And the Mountains Echoed will pop up at the Kurt Vonnegut Memorial Library (340 N. Senate Avenue) on Thursday, July 17th from 6:30-8:00 p.m.
While discussing the book, enjoy music and food that highlight Afghani culture.
This bittersweet family saga spans six decades and transports readers from Afghanistan to France, Greece, and the United States. Hosseini weaves a gorgeous tapestry of disparate characters joined by threads of blood and fate . . . Each character tells his or her version of the same story of selfishness and selflessness, acceptance and forgiveness, but most important, of love in all its complex iterations. In this uplifting and deeply satisfying book, Hosseini displays an optimism not so obvious in his previous works. — Library Journal
And the Mountains Echoed is also available as a downloadable e-book and in large print, and has been ordered as an audiobook on CD.
Colum McCann's novel Let the Great World Spin will be discussed at the Pike Library on Monday, July 21st at 6:30 p.m.
It begins on August 7, 1974, when New Yorkers are stopped in their tracks by the sight of a man walking between the towers of the World Trade Center. Yes, it's Philippe Petit, the subject of the Academy Award-winning documentary Man on Wire and one of McCann's many intense and valiant characters. The cast also includes two Irish brothers: Corrigan, a radical monk, and Ciaran, who follows him to the blasted Bronx, where he encounters resilient prostitute Tillie and her spirited daughter Jazzlyn. Gloria lives in the same housing project, and she befriends Claire of Park Avenue as they mourn the deaths of their sons in Vietnam. McCann's hallucinatory descriptions of a great city tattooed and besmirched with graffiti, blood, and drugs in the midst of a financial freefall are eerie in their edgy beauty, chilling reminders of how quickly civilization unravels. Here, too, are portals onto war, the justice system, and the dawning of the cyber age. In McCann's wise and elegiac novel of origins and consequences, each of his finely drawn, unexpectedly connected characters balances above an abyss, evincing great courage with every step. — Booklist
Let the Great World Spin is also available as a downloadable e-book.
Americanah, by Chimamanda Ngozi Adichie, will be featured in a pop-up discussion at Bookmamas (9 Johnson Avenue) on Saturday, July 26th. After the discussion, there will be a writing activity, led by the Indiana Writers Center.
That happens from 1:30 to 3:30 p.m. But you can enjoy music, food, and arts that showcase the Nigerian culture from 10:00 a.m. to 4:00 p.m. at Bookmamas.
Ifemelu, the Nigerian expat and Princeton lecturer at the heart of this novel, writes biting, dead-on blog posts taking aim at the cultural schism between non-African blacks, Africans, and everyone else. She also observes her Auntie Uju turning herself inside out to attract a man as Ifemelu's nephew silently accepts his mother's aspirations. Whether Ifemelu is writing a treatise on how to care for black hair or a scathing take on American students earning extra credit for bombast, her opinions bring her money and acknowledgment. But one day, as she is complimented on her nurtured American accent, Ifemelu senses that she has lost her way. A parallel plotline follows Obinze, the man Ifemelu left behind in Lagos, who emigrated to London and longs for a life in America with her. Witty, wry, and observant, Adichie is a marvelous storyteller who writes passionately about the difficulty of assimilation and the love that binds a man, a woman, and their homeland. — Library Journal
Americanah is also available as a downloadable e-book and an audiobook on CD.
Portal, the Indianapolis Science Fiction and Fantasy Discussion Group, will meet at the Glendale Library on Sunday, July 27th from 1:00 to 3:00 p.m.
The theme for July is "The Kids Are Alright" – Young adult fantasy & science fiction (plus books for children, tweens, new adults, and whatever categories are the new thing.)
The Unlikely Pilgrimage of Harold Fry, a novel by Rachel Joyce, will be discussed at the Southport Library on Monday, July 28th at 6:30 p.m.
Soon after his retirement from a brewery in a quiet English village, Harold Fry receives a surprising letter. It's from beloved friend and colleague Queenie Hennessy, whom he hasn't heard from in 20 years, writing from a distant terminal cancer ward to say good-bye. This letter returns Harold to a horrifically painful part of his past, threatens his already troubled marriage, and ultimately leads to a crisis that casts into doubt everything he thinks he knows about himself. He decides to embark on a 600-mile walk to say goodbye to Queenie in person. Joyce, a former actress and acclaimed BBC scriptwriter here publishing her first novel, depicts Harold's personal crisis and the extraordinary pilgrimage it generates in masterly fashion, exploring psychological complexities with compassion and insight. The result is a novel of deep beauty and wisdom about the human condition; Harold, a deeply sympathetic protagonist, has much to teach us. — Library
Journal
The Unlikely Pilgrimage of Harold Fry is also available as a downloadable e-book, a downloadable audiobook, and in large print.
On Tuesday, July 29th, Patrick Dugan will once again be leading the Spades Park Poetry Program.
There will be a shared reading of poems and a discussion.
Call the branch at 275-4520 for details about the July program (or the June program, for that matter, which will happen on June 24th.)
Category Book Discussions | Tags: Readings and Book Discussions
---