June 8, 2014 by Reader's Connection
The 2014 Summer Reading Program for children was launched on June 2nd. We've also selected a group of books, and planned a series of events, for adults.
The program's theme this summer is Read in Any Language, and these adult books tell stories from around the globe. Our related events–music and meditation and beer and Casablanca and book discussions–pop up here and there in the city.
Tuesday, June 17 — China
First, the event–this is one of the events that isn't really linked to the book.

June 17, 6:00-8:00 pm
Come and watch Secrets of the Dead: China's Terra Cotta Warriors.
Central Library Clowes Auditorium
40 E. St. Clair Street
Find out about this stunning achievement at a free screening of the PBS documentary. Following the film, learn more from the Children's Museum staff about how the Terra Cotta Warrior Exhibition will engage visitors of all ages.

And our book about China:
Five Star Billionaire by Tash Aw
Dreaming of love and success in rapidly changing Shanghai, four individuals including a starry-eyed waitress, a wealthy developer's son, a pop artist and a poetry-loving activist confront unexpected realities in regional challenges, including a billionaire's complex business strategy.
Five Star Billionaire is also available as a downloadable e-book and a downloadable audiobook, and has been ordered as an audiobook on CD.
Wednesday, July 9 — Chechnya
Attend a pop-up discussion of Anthony Marra's novel A Constellation of Vital Phenomena
It happens at Calvin Fletcher's Coffee Company.
647 Virginia Avenue
July 9, 4:00-5:00 pm
In this extraordinary first novel, Marra homes in on a people and a region that barely register with most Americans and, in heartrending prose, makes us feel their every misfortune. In rural Chechnya, during the second war, a small group of people struggle to survive in the bleakest of circumstances. A gifted surgeon works tirelessly in a crumbling hospital, hardening her heart so that she can perform her gruesome work. An eight-year-old girl who has already seen too much is being hunted by the government ever since the night her father was abducted by Russian soldiers. An incompetent doctor who longed to be an artist paints portraits of 41 neighbors who were killed by government forces and hangs them in the doorways and trees of his ruined village . . . Marra collapses time, sliding between 1996 and 2004 while also detailing events in a future yet to arrive, giving his searing novel an eerie, prophetic aura. — Booklist
A Constellation of Vital Phenomena is also available as a downloadable e-book and a downloadable audiobook.
Also on Wednesday, July 9 — Spain/Morocco
At least one reviewer of María Dueñas's The Time In Between (not the reviewer quoted below) was reminded of the film Casablanca.
Come attend a screening of that classic at
White Rabbit Cabaret
1116 Prospect Street
July 9, 7:00-9:00 pm
Dueñas's wonderful debut (a runaway bestseller in her native Spain) opens during the mid-1930s as Spain is on the brink of civil war and young Sira Quiroga is preparing a simple wedding in Madrid, where she lives. Sira's plans are thrown off track when she meets Ramiro Arribas, the cunning older manager of a typewriter shop who convinces her to embark on an exotic life in Morocco. The future that he envisions for her differs from what he imagines for himself, however, and he abandons Sira after pilfering her inheritance and leaving her saddled with debt. Newly adrift, Sira travels to northern Morocco, where she is reluctantly taken in by Candeleria, a disreputable woman known for housing dispossessed souls. In Candeleria's care, Sira returns to her roots as a dressmaker's apprentice . . .As WWII looms, an influential client implores Sira to make a dangerous return to Madrid and set up shop there, adding another level of difficulty and peril to her journey. This thrilling debut is marked by immaculate prose and a driving narrative, establishing Dueñas as a writer to watch. — Publishers Weekly
The Time in Between has also been ordered as an audiobook on CD.
Monday, July 14 — Japanese immigrant experience in U.S.
Come to a pop-up discussion of Julie Otsuka's The Buddha in the Attic, followed by a workshop led by the Indiana Writers Center.
The Foundry
236 E. 16th Street
July 14, 5:30-7:30 pm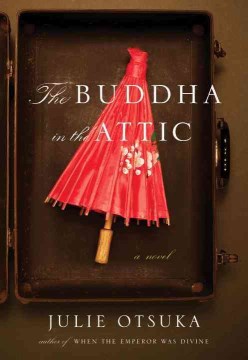 In the early 1900's, numerous Japanese mail order brides came to America seeking better lives. Otsuka's latest novel paints a delicate, heartbreaking portrait of these women. Using a collective first-person narrator ("On the boat we were mostly virgins."), Otsuka looks at the experiences of these "picture brides," organizing their stories into themes which include: their arrival in America; their first nights with their husbands; their interactions with white people; their children; and finally, the experience of World War II. Each section is beautifully rendered, a delicate amalgam of contrasting and complementary experiences. Readers will instantly empathize with these unnamed women as they adjust to American culture . . . By the time readers realize that the story is headed toward the internment of the Japanese, they are hopelessly engaged and will finish this exceptional book profoundly moved. — Publishers Weekly
The Buddha in the Attic is also available as a downloadable e-book, a downloadable audiobook, and an audiobook on CD.
Thursday, July 17 — Afghanistan & locales to which Afghanis migrate
Pop-up discussion: Khaled Hosseini's And the Mountains Echoed— and while discussing the book, enjoy music and food that highlight Afghani culture.
Kurt Vonnegut Memorial Library
340 N. Senate Avenue
July 17, 6:30-8:00 pm
This bittersweet family saga spans six decades and transports readers from Afghanistan to France, Greece, and the United States. Hosseini weaves a gorgeous tapestry of disparate characters joined by threads of blood and fate . . . Each character tells his or her version of the same story of selfishness and selflessness, acceptance and forgiveness, but most important, of love in all its complex iterations. In this uplifting and deeply satisfying book, Hosseini displays an optimism not so obvious in his previous works. — Library Journal
And the Mountains Echoed is also available as a downloadable e-book and in large print, and has been ordered as an audiobook on CD.
Saturday, July 26 — Nigeria to U.S. (and London)
Americanah, by Chimamanda Ngozi Adichie, will be featured in a pop-up discussion and workshop.
Bookmamas
9 Johnson Avenue
July 26, 1:30-3:30 pm
Following the discussion, participate in a writing activity led by the Indiana Writers Center. Enjoy music, food, and arts that showcase the Nigerian culture from 10 am – 4 pm at Bookmamas.
Ifemelu, the Nigerian expat and Princeton lecturer at the heart of this novel, writes biting, dead-on blog posts taking aim at the cultural schism between non-African blacks, Africans, and everyone else. She also observes her Auntie Uju turning herself inside out to attract a man as Ifemelu's nephew silently accepts his mother's aspirations. Whether Ifemelu is writing a treatise on how to care for black hair or a scathing take on American students earning extra credit for bombast, her opinions bring her money and acknowledgment. But one day, as she is complimented on her nurtured American accent, Ifemelu senses that she has lost her way. A parallel plotline follows Obinze, the man Ifemelu left behind in Lagos, who emigrated to London and longs for a life in America with her. Witty, wry, and observant, Adichie is a marvelous storyteller who writes passionately about the difficulty of assimilation and the love that binds a man, a woman, and their homeland. — Library Journal
Americanah is also available as a downloadable e-book and an audiobook on CD.
Sunday, July 27 — Ireland to U.S.
We're back at Central Library, for a concert highlighting traditional Irish music and dance.
Ceili Band Concert
Central Library
Clowes Auditorium
July 27, 2:00-3:00 pm
And our book: Fever, by Mary Beth Keane.
In this compelling historical novel, the infamous Typhoid Mary is given great depth and humanity by the gifted Keane. Irish immigrant Mary Mallon is eager to better her station in life and unafraid of hard work. When she is finally made a head cook, she is hired by some of the best families in Manhattan but unwittingly leaves a trail of disease in her wake. A "medical engineer" ultimately identifies her as a healthy carrier of typhoid fever and quarantines her on North Brother Island, where she is separated from her lifelong companion, Alfred Briehof, and forced to live in isolation. She is released three years later under the condition that she never cook again. But her inability to understand her condition, her passion for cooking, and the income she had become used to all conspire to lure her back into the kitchen. Keane not only makes of the headstrong Mary a sympathetic figure, she also brings the New York City of the early twentieth century to teeming life . . .  — Booklist
Fever is also on order as an audiobook on CD.
Wednesday, July 30 — South America
Piano Concert in Central Library's Atrium
40 E. St. Clair Street
July 30, 6:00-7:00 p.m.
Enjoy South American folk and jazz music performed by pianist Paulo Castro.
And our book: Lost City Radio by Daniel Alarcón
Set in a fictional South American nation where guerrillas have long clashed with the government, Alarcón's ambitious first novel (after the story collection War by Candlelight ) follows a trio of characters upended by civil strife. Norma, whose husband, Rey, disappeared 10 years ago after the end of a civil war, hosts popular radio show Lost City Radio , which reconnects callers with their missing loved ones. (She quietly entertains the notion that the job will also reunite her with her missing husband.) So when an 11-year-old orphan, Victor, shows up at the radio station with a list of his distant village's "lost people," the station plans a special show dedicated to his case and cranks up its promotional machine. Norma, meanwhile, notices a name on the list that's an alias her husband used to use, prompting her to resume her quest to find him. — Publishers Weekly
Lost City Radio is also available as a downloadable e-book.
Monday, August 4 — India
Take part in a pop-Up discussion of Jhumpa Lahiri's The Lowland.
Where? Sun King Brewery
August 4, 6:30-8:00 pm
135 N. College Avenue
Before the discussion, bring your yoga mat and participate in an invigorating 30 minute meditation. Sun King beer samples to be provided during the book talk and writing workshop led by the Indiana Writers Center.
The clever Mitra brothers are inseparable even though Subhash is serious, cautious, and reliable, while Udayan is brash, impassioned, and rebellious. Both excel in their studies even though, thanks to Udayan, they get into mischief in their quiet, middle-class Calcutta enclave with its two adjacent ponds and water hyacinth-laced lowland, a gorgeously rendered landscape Lahiri uses to profound effect. In college, Subhash studies chemistry, Udayan physics, but while Subhash prepares to go to America to earn his PhD, Udayan experiences a life-altering political awakening. It's the late 1960s, a time of international protest, and Udayan joins the Mao-inspired Naxalite movement, which demands justice for the poor. He also secretly marries self-reliant, scholarly Gauri. Subhash's indoctrination into American life and Rhode Island's seasons and seashore is bracing and mind-expanding, while Udayan's descent into the Naxalite underground puts him in grave danger. — Booklist
The Lowland is also available as a downloadable e-book, a downloadable audiobook, and an audiobook on CD.
Tuesday, August 12 — Haiti
Edwidge Danitcat's Claire of the Sea Light will be the subject of a pop-up discussion, which will be followed by a writing activity led by the Indiana Writers Center.
New Day Craft
1102 Prospect Street
August 12, 6:00-8:00 pm
As a native Haitian, Danticat is known for taking an innate cultural understanding and mixing it with a spare, striking writing style, always with marvelous results. The setting for her latest is Ville Rose, a small coastal town in Haiti, where baby Claire is born as her mother dies in childbirth. The novel begins on Claire's seventh birthday and then flows back in time, revisiting previous birthdays and their parallel events. In the village, life and death coexist in heartrending fashion, and the people live with the understanding that any one of them may be instantly and forever altered by natural forces, irrational acts, or simple circumstances. As Claire's father, a poor fisherman, makes a difficult decision, personal histories converge and the village comes together both to mourn a death and to save a life. Throughout, everything seems to be driven by the mystical power of the sea, for which Claire is named . . . Danticat . . . has the ability to conjure up the rarified air of Haiti as she manages to pull tightly at one's heartstrings; this novel is no exception. — Library Journal
Claire of the Sea Light is also available as downloadable e-book and an audiobook on CD.
Thursday, August 21 — North Korea
The Indianapolis Museum of Art will host a pop-up discussion of Barbara Demick's Nothing to Envy: Ordinary Lives in North Korea.
4000 Michigan Road
August 21, 6:00-8:00
Following the discussion, participate in a writing activity led by the Indiana Writers Center and browse the IMA's vast Asian Collection.
A detailed, grim portrait of daily life under the repressive North Korean dictatorship, where schoolchildren are taught to sing anthems in praise of their leader asserting that they "have nothing to envy in this world.`Los Angeles Times foreign correspondent Demick bases her account on seven years of interviews with North Koreans who escaped to South Korea. She focuses on individuals whose stories began in the 1990s and continue to the present, including Mi-ran, a lower-class girl who became a teacher; Jun-sang, a university student who eventually got a glimpse of outside life through books, radio and television; Mrs. Song, a middle-aged true believer, and her defiant daughter Oak-hee; Dr. Kim, an idealistic female physician; and Kim Hyuck, an orphan boy surviving alone on the streets. Along with their personal stories, Demick includes background information on the Korean War and the dictatorships of Kim Il-sung and his son Kim Jong-il . . . In one unforgettable scene, Dr. Kim, having crossed a river into China, sees that dogs in China eat better than human beings in North Korea . . . Demick shows the state of mind of each of her subjects, what their daily life was like, how they coped and eventually how each escaped. — Kirkus Reviews
Nothing to Envy is also available as a downloadable e-book, a downloadable audiobook, and an audiobook on CD.
Have a great summer.
Category Announcement, Book Discussions, Booklist, Event | Tags: Summer Reading Program
---