June 12, 2014 by Reader's Connection
The last few years have seen a surge of interest in mainstream vampire lit. Among the top contenders is Charlaine Harris's Southern Vampire Mysteries book series (also known as the The Sookie Stackhouse Novels).
Based on Harris' books, the popular HBO television series True Blood has taken the vampire obsession to a whole new level with its large, devoted fan base. Since it began airing in 2008 it has received huge ratings, great reviews, and plethora of awards including a Golden Globe and an Emmy. Season Six of True Blood was released on DVD June 3rd and the seventh and final season will air on June 22nd. If you love the show and haven't read the books yet, you still have time to catch up! The library owns the entire book series and all six seasons of the show on DVD.
Southern Vampire Mysteries Books
1. Dead Until Dark (2001)
In this first installment, the author introduces the character of Sookie Stackhouse, a young telepathic waitress from the fictional town of Bon Temps, Louisiana, and her world, an alternate history where vampires, shapeshifters and other supernatual beings coexist with humans. Sookie begins a romantic entanglement with her vampire neighbor and is faced with a series of murders in town.
2. Living Dead in Dallas (2002)
This second novel follows Sookie as she is employed by Dallas vampires to use her telepathy to help find their lost companion. Sookie agrees to help investigate and in Dallas she has her first encounter with the anti-vampire organization "The Fellowship of the Sun", as well as learning of the existence of werewolves.
3. Club Dead(2003)
Things between Sookie and her vampire boyfriend Bill seem to be going excellently until he leaves town for a while. A long while. Bill's sinister boss Eric has an idea of where to find him, whisking her off to Jackson, Mississippi to mingle with the under-underworld at Club Dead.
4. Dead to the World (2004)
Sookie only has a few close friends, because not everyone appreciates Sookie's telepathic gift. Vampires, though, are impossible to read. And that's just the kind of guy Sookie's been looking for. Maybe that's why, when she comes across a vampire struck with amnesia, she doesn't just drive on by. He hasn't got a clue who he is, but Sookie does, and whoever took his memory now wants his life.
5. Dead as a Doornail (2005)
When Sookie sees her brother Jason's eyes start to change, she knows he's about to turn into a were-panther for the first time — a transformation he embraces more readily than most shapeshifters she knows. But her concern becomes cold fear when a sniper sets his deadly sights on the local changeling population.
6. Definitely Dead (2006)
As a person with so few living relatives, Sookie Stackhouse really hated to lose one. But she never guessed that it would be her cousin Hadley—a consort of the Vampire Queen of New Orleans. Someone doesn't want Sookie looking too deeply into Hadley's past and they're prepared to do anything in their power to stop her. But who?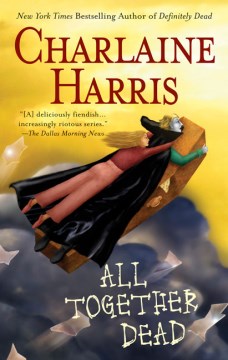 7. All Together Dead (2007)
Sookie Stackhouse has her hands full dealing with every sort of undead and paranormal creature imaginable. And after being betrayed by her longtime vampire love, Sookie must not only deal with a new man in her life—the shapeshifter Quinn—but also contend with the long-planned vampire summit.
8. From Dead to Worse (2008)
After Hurricane Katrina and the manmade explosion at the vampire summit in New Orleans, Sookie Stackhouse faces danger, death, and, once again, betrayal by someone she loves.
9. Dead and Gone (2009)
In Bon Temps, Louisiana, a race of unhuman beings–older, more powerful and far more secretive than vampires or werewolves– is preparing for war. And Sookie Stackhouse will find herself an all-too human pawn in their battle as she investigates the murder of a were-panther.
10. Dead in the Family (2010)
After the brief but deadly Faery War, Sookie Stackhouse is hurt and she's angry. Just about the only bright spot in her life is the love she thinks she feels for vampire Eric Northman who is under scrutiny by the new Vampire King. As the political implications of the Shifters coming out are beginning to be felt, Sookie's connections draw her into the debate and up against a Fae who wants her dead.
11. Dead Reckoning (2011) Sookie Stackhouse witnesses the firebombing of Merlotte's, the bar where she works. Caught up once again in the politics of the vampire world, Sookie will learn that she is as much of a pawn as any ordinary human–and that there is a new queen on the board.
12. Deadlocked (2012)
Sookie investigates the body of a woman discovered in vampire Eric Northman's yard, she has no idea the murderer is an enemy out to get her.
13. Dead Ever After (2013)
When Sookie learns the reason why Eric's vampires are keeping their distance from her, she is devastated. Then a shocking murder rocks Bon Temps, and Sookie is arrested for the crime in this final Sookie Stackhouse novel.
True Blood DVDs
Season 1 (2008)
The small town of Bon Temps, Louisiana boasts a wide array of colorful locals. Sookie Stackhouse is a sweet and innocent waitress who hides her powerful ability to read minds. Bill Compton is a 173 year-old vampire who's just moved back to town. Sookie's brother Jason is a ladies' man who can't seem to stay out of trouble. Tough-as-nails Tara is Sookie's loyal best friend and Sam is the owner of Merlotte's who tries to keep his feelings for Sookie to himself. Lafayette is a man about town who's always cooking up something illicit.
Season 2 (2009)
Welcome back to Bon Temps, home to mystery, Southern sensuality, and dark secrets. Tara finds herself in love and under a spell; Sam puts his trust in an unlikely ally; Jason becomes involved with an anti-vampire sect; and Eric recruits Sookie to investigate the disappearance of a 2,000-year-old vampire.
Season 3 (2010)
The Maenadian reign of terror may be over, but Sookie Stackhouse and the townspeople of Bon Temps face a new calamity that makes the bacchanalian evils of Maryanne Forrester seem tame by comparison. Sookie desperately tries to locate her fiance, ending up in a netherworld of human and undead interlopers, among them the powerful Vampire King of Mississippi, Russell Edgington.
Season 4 (2011)
Follows the life and loves of Sookie Stackhouse, a telepathic barmaid who lives in a small Louisiana town inhabited by both humans and vampires.
Season 5 (2012)
Mixing romance, suspense, mystery and humor, season five goes deep into the battle between the Vampire Authority and 'vampire fundamentalists': a political power play whose outcome could decide not only the fate of Sookie and her Bon Temps friends, but of all human existence.
Season 6 (2013)
Season six introduces several jarring storylines. As 'Billith' comes to terms with his newfound powers after emerging from a pool of blood at the end of season five, Louisiana governor Truman Burrell declares open season on vampires, replete with novel anti-vamp weapons and high-tech internment camp. Sookie and Jason steel themselves for an encounter with the killer of their parents; the mysterious and ancient Warlow.
Check out some of these titles or be brave and explore deeper into our collection to see what thrilling hidden gems you can find!
Category Booklist, Television | Tags: Charlaine Harris, Jessica Lawrence, Southern Vampire Mysteries, True Blood
---