December 16, 2012 by Reader's Connection
We've been putting together a gift suggestion list since early October, and now Susanne has a suggestion about how to wrap these presents.
The Japanese art of origami involves the time-honored tradition of creating objects by folding paper without using scissors, tape, or glue.
Long before fancy wrapping paper became the standard, the Japanese also created a tradition of wrapping gifts beautifully by using simple squares of fabric. Furoshiki  is the art of wrapping with textiles, and it is an ever-so-eco-friendly method that can be easily learned. The library has a few titles for you:
Wrapagami : The Art of Fabric Gift Wraps by Jennifer Playford
Presents wrapped in cloth are highly prized in Japan. The secret is to use a cloth large enough to make a decorative tie. Illustrator and graphic designer Playford's projects are wraps for many differently shaped objects, all using a single square of fabric and some decorative trinkets such as toys or chopsticks. These are wonderful for using up a fabric stash. –Library Journal
Furoshiki Fabric Wraps : Simple – Reusable – Beautiful by Pixieladies
The Japanese art of furoshiki–the use of elegantly folded fabric as packaging–takes the spotlight in this slim volume by the Pixeladies. They tie the tradition to many cultures but make it particularly appropriate to today's environmental ethic, suggesting that "By making and reusing furoshiki instead of plastic bags and paper, you can help reduce waste." . . . Twenty different ways of wrapping are clearly diagrammed and explained, all far easier than origami, the complex Japanese art of paper-folding . . . Color photos & diagrams. — Publishers Weekly
Gift Wrapping With Textiles : Stylish Ideas from Japan by Chizuko Morita
Chizuko Morita created her own style of wrapping with textiles that's very contemporary, yet preserves the techniques of the centuries-old Japanese tradition of wrapping for gift-giving. She has taught her techniques to Americans and Europeans in Kyoto, Tokyo, and Boston, and appears regularly on Japan's public television channel, NHK. This is her seventh book on wrapping, and her first in English. — Oxford University Press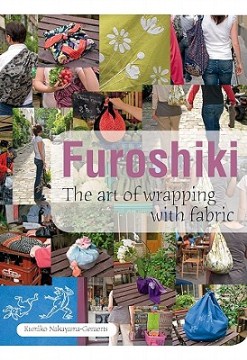 Furoshiki : The Art of Wrapping with Fabric by Kumiko Nakayama-Geraerts
Teaches the four basic knots and various folding methods needed for the Japanese art of using fabric to carry, protect and gift-wrap items, in a book with full-color photos that also includes embroidery techniques for personalizing one's furoshiki. — Baker & Taylor
While you might miss the sound of people tearing into wrapped-paper packages, you will be rewarded by knowing that you will not be adding to mounds of trash after the holidays. Enjoy!
Category Booklist | Tags: 12 Weeks of Christmas~Hanukkah~Kwanzaa~Solstice~New Years, Furoshiki, Gift Wrapping, Susanne
---