May 25, 2012 by Reader's Connection
With one exception, our authors this month are all women. Just worked out that way. Along with Marjorie Kinnan Rawlings, Harriet Beecher Stowe and Zora Neale Hurston, we feature a half-dozen current authors.
Rebecca Skloot's The Immortal Life of Henrietta Lacks will be discussed at two branches this month
Franklin Road Library on Monday, June 4th at 6:30 p.m.
Flanner House Library on Monday, June 11th at 6:30 p.m.
The "first immortal human cells," code-named HeLa, have flourished by the trillions in labs all around the world for more than five decades, making possible the polio vaccine, chemotherapy, and many more crucial discoveries. But where did the HeLa cells come from? Science journalist Skloot spent 10 years arduously researching the complex, tragic, and profoundly revealing story of Henrietta Lacks, a 31-year-old African American mother of five who came to Johns Hopkins with cervical cancer in 1951, and from whom tumor samples were taken without her knowledge or that of her family. Henrietta died a cruel death and was all but forgotten, while her miraculous cells live on, "growing with mythological intensity." Skloot travels to tiny Clover, Virginia; learns that Henrietta's family tree embraces black and white branches; becomes close to Henrietta's daughter, Deborah; and discovers that although the HeLa cells have improved countless lives, they have also engendered a legacy of pain, a litany of injustices, and a constellation of mysteries. Writing with a novelist's artistry, a biologist's expertise, and the zeal of an investigative reporter, Skloot tells a truly astonishing story of racism and poverty, science and conscience, spirituality and family driven by a galvanizing inquiry into the sanctity of the body and the very nature of the life force. — Booklist
Janice Y. K. Lee's novel The Piano Teacher will be discussed at the Wayne Library on Monday, June 4th at 6:30 p.m.
Former Elle editor Lee delivers a standout debut dealing with the rigors of love and survival during a time of war, and the consequences of choices made under duress. Claire Pendleton, newly married and arrived in Hong Kong in 1952, finds work giving piano lessons to the daughter of Melody and Victor Chen, a wealthy Chinese couple. While the girl is less than interested in music, the Chens' flinty British expat driver, Will Truesdale, is certainly interested in Claire, and vice versa. Their fast-blossoming affair is juxtaposed against a plot line beginning in 1941 when Will gets swept up by the beautiful and tempestuous Trudy Liang, and then follows through his life during the Japanese occupation. As Claire and Will's affair becomes common knowledge, so do the specifics of Will's murky past, Trudy's motivations and Victor's role in past events. The rippling of past actions through to the present lends the narrative layers of intrigue and more than a few unexpected twists. Lee covers a little-known time in Chinese history without melodrama, and deconstructs without judgment the choices people make in order to live one more day under torturous circumstances. — Publishers Weekly
Elie Wiesel's classic Holocaust memoir Night will be discussed at Central Library on Tuesday, June 5th at 6:00 p.m.

Elie Wiesel is the internationally celebrated author, Nobel laureate, and spokesperson for humanity whose decision to dedicate his life to bearing witness for the Holocaust's martyrs and survivors found its earliest and most enduring voice in Night, his penetrating and profound account of the Nazi death camps. Born in the town of Sighet, Transylvania, he was a teenager when he and his family were taken from their home in 1944 to the Auschwitz concentration camp, and then to Buchenwald. Night is the terrifying record of Elie Wiesel's memories of the death of his family, the death of his own innocence, and his despair as a deeply observant Jew confronting the absolute evil of man. — Blackwell North America
The Warren Library will host a discussion of The Yearling by Marjorie Kinnan Rawlings on Thursday, June 7th at 10:30 a.m.

In this classic story of the Baxter family of inland Florida and their wild, hard, satisfying life, Marjorie Kinnan Rawlings has written one of the great novels of our times. A rich and varied story – tender in its understanding of boyhood, crowded with the excitement of the backwoods hunt, with vivid descriptions of the primitive, beautiful hammock country, with humor and earthy philosophy – The Yearling is a novel for readers of all tastes and ages. Its glowing picture of life that is far and refreshingly removed from modern patterns of living becomes universal in its revelation of simple courageous people and the abiding beliefs they live by. — Simon and Schuster
Emma Donoghue's novel Room will be discussed at the East 38th Street Library on Monday June 11th at 6:00 p.m.
Five-year-old Jack and his Ma enjoy their long days together, playing games, watching TV, and reading favorite stories. Through Jack's narration, it slowly becomes apparent that their pleasant days are shrouded by a horrifying secret. Seven years ago, his 19-year-old Ma was abducted and has since been held captive–in one small room. To her abductor she is nothing more than a sex slave, with Jack as a result, yet she finds the courage to raise her child with constant love under these most abhorrent circumstances. He is a bright child–bright enough, in fact, to help his mother successfully carry out a plan of escape. Once they get to the outside world, the sense of relief is short lived, as Jack is suddenly faced with an entirely new worldview (with things he never imagined, like other people, buildings, and even family) while his mother attempts to deal with her own psychological trauma. VERDICT Gripping, riveting, and close to the bone, this story grabs you and doesn't let go. Donoghue skillfully builds a suspenseful narrative evoking fear and hate and hope–but most of all, the triumph of a mother's ferocious love. — Library Journal
On Thursday, June 14th at 1:30 p.m., Carol Anshaw's novel Carry the One will be discussed at the Fountain Square Library
 The one that must be carried when the Kenney siblings add themselves up is the girl who was hit and killed when Nick and Alice were driving home, stoned and stupid, from their sister Carmen's wedding. That's the first chapter: the rest of the novel and the rest of their lives–sex and drugs and prison visits, family parties and divorce, raising teenagers, painting, politics, and addiction–play out with that guilt and loss forever in the background. Anshaw has a deft touch with the events of ordinary life, giving them heft and meaning without being ponderous. As the siblings' lives skip across time, Carmen's marriage, shadowed by the accident, falls apart; painter Alice's career moves forward unlike her life, as she remains stuck on the same woman, her former sister-in-law; and astronomer Nick fights, with decreasing success, his craving for drugs. Funny, touching, knowing–about painting and parents from hell, about small letdowns and second marriages, the parking lots where people go to score, and most of all, about the ways siblings shape and share our lives–Anshaw (Seven Moves) makes it look effortless. Don't be fooled: this book is a quiet, lovely, genuine accomplishment. — Publishers Weekly 
Sara Gruen's novel Water for Elephants will be discussed at the Irvington Library on Thursday, June 14th at 1:30 p.m.
When his parents are killed in a traffic accident, Jacob Jankowski hops a train after walking out on his final exams at Cornell, where he had hoped to earn a veterinary degree. The train turns out to be a circus train, and since it's the Depression, when someone with a vet's skills can attach himself to a circus if he's lucky, Jacob soon finds himself involved with the animal acts–specifically with the beautiful young Marlena, the horse rider, and her husband, August. Jacob falls for Marlena immediately, and the ensuing triangle is at the center of this novel, which follows the circus across the states. Jacob learns the ins and outs of circus life, in this case under the rule of the treacherous Uncle Al, who cheats the workers and deals roughly with patrons who complain about blatant false advertising and rip-off exhibits. Jacob and Marlena are attracted to each other, but their relationship is fairly innocent until it becomes clear that August is not merely jealous but dangerously mentally deranged. Old-fashioned and endearing, this is an enjoyable, fast-paced story told by the older Jacob, now in his nineties in a nursing home. — Library Journal
The Pike Library will host a discussion of Harriet Beecher Stowe's Uncle Tom's Cabin on Monday, June 18th at 6:30 p.m.
An international bestseller that sold more than 300,000 copies when it first appeared in 1852, Uncle Tom's Cabin was dismissed by some as abolitionist propaganda; yet Tolstoy deemed it a great work of literature 'flowing from love of God and man.' Today, however, Harriet Beecher Stowe's stirring indictment of slavery is often confused with garish dramatizations that flourished for decades after the Civil War: productions that relied heavily on melodramatic simplifications of character totally alien to the original. Thus "Uncle Tom" has become a pejorative term for a subservient black, whereas Uncle Tom in the book is a man who, under the most inhumane of circumstances, never loses his human dignity. "Uncle Tom's Cabin is the most powerful and most enduring work of art ever written about American slavery," said Alfred Kazin. — Random House
 Steampunk is busting out all over!
At 1:00 p.m. on Sunday, June 24th, the Portal science fiction and fantasy book discussion group will meet for the second time at Glendale Library. Their theme will be steampunk.
A post will appear sometime in June with suggested steampunk titles.
Colleen Coble's novel Anathema will be discussed at the Southport Library on Monday, June 25th at 6:30 p.m.
When Hannah refuses to forgive a terrible sin she becomes anathema–shunned. But the real question is, can she forgive herself? Visitors come to Parke County, Indiana to enjoy the lush farms, to buy the Amish quilts, and to experience the peaceful ways of the Amish families who live there. But when a double murder rocks this quiet community, the Amish residents resolve to forgive even this unfathomable offense. Hannah, however, finds forgiveness out of reach–both for the murderer and for herself. She harbors a secret shame: while the crime was committed in her own home, she was out meeting with her forbidden love, her English beau, Reece. The elders of the community insist that Hannah must forgive her family's killer or be shunned. When Hannah refuses, she runs away with Reece, leaving behind the only life she's ever known. — Publisher's description
Their Eyes Were Watching God by Zora Neale Hurston will be discussed at the Spades Park Library on Wednesday, June 27th at 6:00 p.m.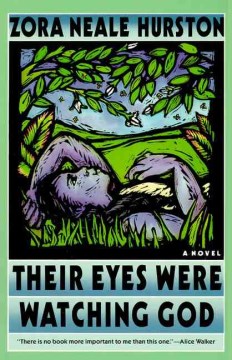 Their Eyes Were Watching God, an American classic, is a luminous and haunting novel about Janie Crawford, a Southern black woman in the 1930s whose journey from a free-spirited girl to a woman of independence and substance has inspired writers and readers for close to seventy years. This poetic, graceful love story, rooted in black folk traditions and steeped in mythic realism, celebrates, boldly and brilliantly, African-American culture and heritage. And in a powerful, mesmerizing narrative, it pays quiet tribute to a black woman, who, though constricted by the times, still demanded to be heard. Originally published in 1937, Their Eyes Were Watching God met significant commercial but divided critical acclaim. Somewhat forgotten after her death, Zora Neale Hurston was rediscovered by a number of black authors in the late 1960s and early 1970s, and reintroduced to a greater readership by Alice Walker in her 1972 essay "In Search of Zora Neale Hurston," written for Ms. magazine. Long out of print, the book was reissued after a petition was circulated at the Modern Language Association Convention in 1975, and nearly three decades later Their Eyes Were Watching God is considered a seminal novel of American fiction. — Harper Collins
Category Book Discussions | Tags: Readings and Book Discussions
---