January 31, 2009 by Reader's Connection
Actually, the Irvington Fiberistas never went away. They meet on the first Thursday of every month to work on fiber-art projects, and you're welcome to bring your supplies and join them. They´ll be at the Irvington Library on Thursday, February 5th, from 6:00 to 8:00 p.m.
If you're into fiber-related work, here are some recent titles that may be of interest.
Knit or Crochet–Have It Your Way: 15 Fun Projects with Complete Hook and Needle Instructions for Each by Margaret Hubert
The Essential Guide to Color Knitting Techniques by Margaret Radcliffe
Socks from the Toe Up: Essential Techniques and Patterns from Wendy Knits by Wendy D. Johnson
Knitting the Threads of Time: Casting Back to the Heart of Our Craft by Nora Murphy
Creepy Cute Crochet: Zombies, Ninjas, Robots, and More! by Christen Haden
300 Classic Blocks for Crochet Projects by Linda Schapper
Crafted Lives: Stories and Studies of African American Quilters by Patricia A. Turner
Martha Skelton: Master Quilter of Mississippi by Mary Elizabeth Johnson Huff
Quilt with Confidence by Nancy Luedtke Zieman
Jelly Roll Quilts: The Perfect Guide to Making the Most of the Latest Strip Rolls by Pam Lintott
Tartan by Jonathan Faiers
Simply Stunning Woven Quilts: 11 Easy Techniques, Great Results by Anna Faustino
Overshot is Hot! 20 Innovative Designers: Over 40 Unique and Beautiful Projects: Many In-Depth Articles on Theory and Design from 20 Years of Weaver's and Prairie Wool Companion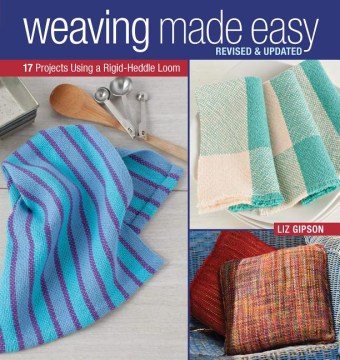 Weaving Made Easy: 17 Projects Using a Simple Loom by Liz Gipson
Category Booklist, Event | Tags: Crochet, Cross-Stitch, Fiberistas, Knitting, Quilting, Weaving
---