June 26, 2011 by Reader's Connection
Timothy Egan´s The Worst Hard Time : The Untold Story of Those Who Survived the Great American Dust Bowl will be discussed at Central Library on Tuesday, July 5th at 6:00 p.m.
Egan tells an extraordinary tale in this visceral account of how America's great, grassy plains turned to dust, and how the ferocious plains winds stirred up an endless series of "black blizzards" that were like a biblical plague: "Dust clouds boiled up, ten thousand feet or more in the sky, and rolled like moving mountains" in what became known as the Dust Bowl. But the plague was man-made, as Egan shows: the plains weren't suited to farming, and plowing up the grass to plant wheat, along with a confluence of economic disaster–the Depression–and natural disaster–eight years of drought–resulted in an ecological and human catastrophe that Egan details with stunning specificity. He grounds his tale in portraits of the people who settled the plains: hardy Americans and immigrants desperate for a piece of land to call their own and lured by the lies of promoters who said the ground was arable. Egan's interviews with survivors produce tales of courage and suffering . . . With characters who seem to have sprung from a novel by Sinclair Lewis or Steinbeck, and Egan's powerful writing, this account will long remain in readers' minds. — Publishers Weekly  
The Warren Library will host a discussion of The Boy Who Harnessed the Wind: Creating Currents of Electricity and Hope, by William Kamkwamba and Bryan Mealer, on Thursday, July 7th at 10:30 a.m.
American readers will have their imaginations challenged by 14-year-old Kamkwamba's description of life in Malawi, a famine-stricken, land-locked nation in southern Africa: math is taught in school with the aid of bottle tops ("three Coca-Cola plus ten Carlsberg equal thirteen"), people are slaughtered by enemy warriors "disguised. as green grass" and a ferocious black rhino; and everyday trading is "replaced by the business of survival" after famine hits the country. After starving for five months on his family's small farm, the corn harvest slowly brings Kamkwamba back to life. Witnessing his family's struggle, Kamkwamba's supercharged curiosity leads him to pursue the improbable dream of using "electric wind"(they have no word for windmills) to harness energy for the farm . . . This exquisite tale strips life down to its barest essentials, and once there finds reason for hopes and dreams, and is especially resonant for Americans given the economy and increasingly heated debates over health care and energy policy. — Publishers Weekly
Zeitoun by Dave Eggers will be discussed at the East 38th Street Library on Monday, July 11th at 6:00 p.m.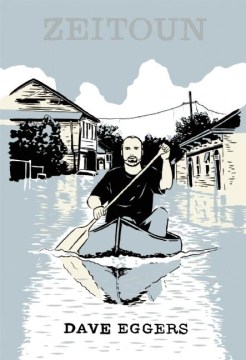 Eggers chronicles, as nonfiction, the tribulations of Abdulrahman Zeitoun, a Syrian American painting contractor who decides to ride out Hurricane Katrina in New Orleans. Although his wife, Kathy, leaves town with their four children, Abdulrahman (known as Zeitoun because few locals can pronounce his first name) stays behind, hoping to protect their home, their job sites, and their rental properties. After the storm, he paddles the flooded streets in a canoe, rescuing stranded people, feeding trapped dogs, and marveling at the sometimes surreal beauty of the devastation. Was it God's plan that he help others? he wonders. Then people in uniforms take him at gunpoint and incarcerate him. There are no charges, only the guards' insistence that he is "al Qaeda" and "Taliban." Zeitoun's odyssey–23 days of grueling imprisonment, held incommunicado and deprived of all due process–is but one nightmare of many lived after Katrina. But it is exceptionally well told . . . Booklist
Alex Kershaw's The Envoy : The Epic Rescue of the Last Jews of Europe in the Desperate Closing Months of World War II will be discussed at the Franklin Road Library on Monday, July 11th at 6:30 p.m.
 Until 1944, the Jews of Hungary had been left relatively unscathed by the surrounding slaughter, despite the anti-Semitic leanings of both the Hungarian government and large segments of the population. But as Nazi military disasters mounted, there was a rush to complete the "Final Solution." Nazi officials placed immense pressure upon the Hungarian government, and the roundup and attempted extermination of Hungarian Jews commenced. The effort to locate, detain, and transport the Jews to the death camps was driven, with his typical ruthless efficiency, by Adolf Eichmann. By July 1944, an estimated half-million Hungarian Jews had been deported. The effort to save the remnants is largely the story of the remarkable Swedish diplomat Raoul Wallenberg. Kershaw recounts those efforts in a tense, fast-moving narrative that shows Wallenberg as a match for Eichmann in intelligence and determination as he utilized fake documents, safe houses, and a variety of other methods to save thousands of Jewish lives. This is an inspiring story that illustrates how one dedicated human can make an impact, even against a monstrous tyranny. — Booklist  
Chaim Potok's classic The Chosen will be discussed at the Wayne Library on Monday, July 11th at 6:30 p.m.
 The Chosen's two central characters are a Hasid and a traditional Orthodox Jew. The Hasidim are known for their mystical interpretation of Judaism and for their faithful devotion to their leaders. In contrast, traditional Orthodoxy emphasizes a rational and intellectual approach to Judaism. The novel examines Jewish identity from within these contexts by telling the parallel stories of two Jewish adolescents who are similar enough to become best friends, yet different enough to change each other's view of the world. — SparkNotes 
The Flanner House Library will host a discussion of Shelia M. Goss's novel Savannah's Curse on Monday, July 11th at 6:30 p.m.
Straight-laced Savannah Blake's world is turned upside down when she finds her dad, Major Blake, shot on his lawn. Before he dies, he gives her a few clues to the identity of his killer. His dying request is "Protect your sisters." Montana and Asia are the only family Savannah has left, and she will fight to the end to save them. The pain of losing their father has Savannah obsessed with finding his killer. Savannah suspects someone from "The Agency," a secret government security operation where her father once worked, is behind his death. She enlists the help of Troy Bridges, the owner of a private security firm in Dallas. She doesn't necessarily trust him, but Savannah needs Troy because of his inside knowledge of The Agency. The chemistry between Savannah and Troy is electric, and only intensifies as the stakes get higher. They have no time to deal with their unresolved feelings, though, because the closer they get to the killer, the more dangerous things become. — Publisher's note  
Mary Wine's Highland Heat is too hot to handle. The Sugarbook club at College Avenue Library  likes them that way. But it's not too hot to discuss. Tuesday, July 12th at 6:00 p.m.
As in Highland Hellcat (2010), Wine uses her experiences with an historical reenactment group to give life to this tale set in 1439 in Scotland. Deirdre Chattan, daughter of a highland chief, is exiled to an abbey after having sex with her fiancé, who then jilted her. When Dierdre comes face to face with the mother of the boy king of England, Joan Beaufort is on the run to her lover. Because Deirdre looks so much like her, Joan wants the young woman to trade places with her to evade the king's evil adviser. After she does, Deirdre is captured by highland lord Quinton Cameron and held in his keep because he's unsure who she really is. The chemistry between them is volatile, so after Deirdre escapes, Quinton pursues her tirelessly. Although Deirdre's concerns about women's rights and freedom step over the line to twenty-first-century sensibilities, Wine provides a lively and exciting adventure around Dierdre's search for love. — Booklist
Scott Simon's Baby, We Were Meant for Each Other : In Praise of Adoption will be discussed at the Irvington Library on Thursday, July 14th at 1:30 p.m.
 The award-winning host of NPR's Weekend Edition, Simon here shares the moving story of how he and his wife adopted two daughters from China. With the wit and grace we have come to expect from him ("There are times when the adoption process is exhausting and painful and makes you want to scream. But, I am told, so does childbirth"), he makes a cogent case for the "natural order" of adoption. In addition to his own story, he recounts those of other parents who have adopted and includes quotes from adopted children themselves. Beautiful and heartwarming, but with the earned sophistication of one who knows, Simon's book should transcend the child-care market and be treasured by any parent, adoptee, or lover of literary form. — Library Journal 
Plainsong by Kent Haruf will be discussed at the Pike Library on Monday, July 18th at 6:30 p.m.
Two bachelor farmer brothers, a pregnant high school girl, two young brothers, and two devoted high school teachers. This is the interesting group of people, some related by blood but most not, featured in the award-winning Haruf's touching new novel. Set in the plains of Colorado, east of Denver, the novel comprises several story lines that flow into one. Tom Guthrie, a high school history teacher, is having problems with his wife and with an unruly student at school, problems that affect his young sons, Ike and Bob, as well. Meanwhile, the pregnant Victoria Roubideaux has been abandoned by her family. With the assistance of another teacher, Maggie Jones, she finds refuge with the McPheron brothers, who seem to know more about cows than people. Lyrical and well crafted, the tight narrative about how families can be made between folks who are not necessarily blood relatives makes for enjoyable reading. — Library Journal 
The Southport Library will host a discussion of Sarah's Key by Tatiana De Rosnay on Monday, July 25th at 6:30 p.m.

De Rosnay's U.S. debut fictionalizes the 1942 Paris roundups and deportations, in which thousands of Jewish families were arrested, held at the Vlodrome d'Hiver outside the city, then transported to Auschwitz. Forty-five-year-old Julia Jarmond, American by birth, moved to Paris when she was 20 and is married to the arrogant, unfaithful Bertrand Tzac, with whom she has an 11-year-old daughter. Julia writes for an American magazine and her editor assigns her to cover the 60th anniversary of the Vl' d'Hiv' roundups. Julia soon learns that the apartment she and Bertrand plan to move into was acquired by Bertrand's family when its Jewish occupants were dispossessed and deported 60 years before. She resolves to find out what happened to the former occupants: Wladyslaw and Rywka Starzynski, parents of 10-year-old Sarah and four-year-old Michel. The more Julia discovers–especially about Sarah, the only member of the Starzynski family to survive–the more she uncovers about Bertrand's family, about France and, finally, herself. [Sarah's Key] beautifully conveys Julia's conflicting loyalties, and makes Sarah's trials so riveting, her innocence so absorbing, that the book is hard to put down. — Publishers Weekly
The Spades Park Library will host a discussion of Erik Larson's Thunderstruck on Thursday, July 28th at 6:00 p.m.
In his follow-up to the enormously popular The Devil in the White City, Larson sticks to a formula that works: pairing the story of a progressive development, in this case, wireless communication, with an exciting murder mystery set in England. The murderer in this book is Hawley Harvey Crippen, a mild-mannered doctor and unlikely killer, who murdered his overbearing wife to be with his young lover. Crippen and Guglielmo Marconi take center stage in the book, and their stories gradually come together as Marconi's invention is integral in apprehending Crippen. Larson parallels the story of Crippen's unhappy marriage and eventual love affair with young Ethel Le Neve with Marconi's struggles to develop and perfect wireless technology in the face of adverse weather, envious fellow scientists, and everything in between . . . Larson has a knack for creating genuine suspense in his writing, and his latest is thoroughly enthralling. — Booklist
Category Book Discussions | Tags: Readings and Book Discussions
---