April 19, 2011 by Reader's Connection
The winners of the 2011 Pulitzer Prizes were announced yesterday. Here is a list of the winners and finalists in the fiction and nonfiction book categories.
For information about the winners in other categories–journalism, drama, music–visit the Pulitzer Prize website. 
Fiction
A Visit from the Goon Squad by Jennifer Egan
Egan is a writer of cunning subtlety, embedding within the risky endeavors of seductively complicated characters a curious bending of time and escalation of technology's covert impact. Egan tracks the members of a San Francisco punk band and their hangers-on over the decades as they wander out into the wider, bewildering world. Kleptomaniac Sasha survives the underworld of Naples, Italy. Her boss, New York music producer Bennie Salazar, is miserable in the suburbs, where his tattooed wife, Stephanie, sneaks off to play tennis with Republicans. Obese former rock-star Bosco wants Stephanie to help him with a Suicide Tour, while her all-powerful publicist boss eventually falls so low she takes a job rehabilitating the public image of a genocidal dictator. These are just a few of the faltering searchers in Egan's hilarious, melancholy, enrapturing, unnerving, and piercingly beautiful mosaic of a novel. — Booklist
Fiction Finalists
The Privileges by Jonathan Dee
Dee's latest novel is a scathing portrait of the perks and perils of a life of privilege. Cynthia and Adam Morey are a golden couple–beautiful, ambitious, untouchable. From their wedding in their early twenties, to raising two children in Manhattan, to Adam's rise in the financial world, they exude a self-absorbed confidence, and their commitment to each other shines. Yet Adam's relentless insider trading and lack of conscience are pathological. Daughter April is aimless and abuses drugs, while son Jonas eschews his trust fund and attends art school. In a twisted and bizarre sideplot, he comes running back to the safety of his privileged life after a near-death experience. Dee excels at detailing contemporary scenes, delivering pitch-perfect dialog, and crafting brutal, hard-to-forget interactions, as when Cynthia coldly buys off her dying father's girlfriend in order to spend a few last hours with the man who deserted her as a child. — Library Journal 
The Surrendered by Chang-rae Lee
Lee's masterful fourth novel bursts with drama and human anguish as it documents the ravages and indelible effects of war. June Han is a starving 11-year-old refugee fleeing military combat during the Korean War when she is separated from her seven-year-old twin siblings. Eventually brought to an orphanage near Seoul by American soldier Hector Brennan, who is still reeling from his father's death, June slowly recovers from her nightmarish experiences thanks to the loving attention of Sylvie Tanner, the wife of the orphanage's minister. But Sylvie is irretrievably scarred as well, having witnessed her parents' murder by Japanese soldiers in 1934 Manchuria. These traumas reverberate throughout the characters' lives, determining the destructive relationship that arises between June, Hector and Sylvie as the plot rushes forward and back in time, encompassing graphic scenes of suffering, carnage and emotional wreckage. Powerful, deeply felt, compulsively readable and imbued with moral gravity, the novel does not peter out into easy redemption. It's a harrowing tale: bleak, haunting, often heartbreaking–and not to be missed. — Publishers Weekly
History
The Fiery Trial: Abraham Lincoln and American Slavery by Eric Foner
Foner, our most distinguished scholar assaying the meaning of American freedom, ventures boldly into the tangled study of Lincoln's relationship with slavery and race to produce an original and compelling argument. Based on a close rereading of Lincoln documents and careful consideration of the changing contexts in which Lincoln thought and acted, Foner shows that Lincoln's relationship to slavery was sometimes contradictory in the details but persistent in his belief that slavery must somehow die so that the nation might live. Foner argues that Lincoln was sometimes conflicted on race but that antislavery sentiments shaped his policies as much as wartime demands for party unity, border-state loyalty, and public support affected his move toward emancipation and arming blacks. To Foner Lincoln both operated within and transcended the politics of slavery in his day. His capacity for growth was the lodestar of his greatness as an instrument for freedom.  — Library Journal
History Finalists
Confederate Reckoning: Power and Politics in the Civil War South by Stephanie McCurry
The story of the Confederacy during the Civil War is typically framed as a progression of bloody battles with the South losing its bid for secession in the final tally. McCurry, however, found that the slaveholders and generals who sought to protect their pro-slavery, anti-democratic state had apparently failed to consider not only how difficult it would be to unite its citizens who were not slaveholders, but had also failed to bring white women and slaves into the equation. In their initiative to build the state they envisioned, the leaders of the Confederacy hadn't anticipated the resistance to its cause from such a large number of its own people. The book is interesting reading, and a more complete picture of the causes of the demise of the Confederacy. — Book News \
Another finalist, Michael Rawson's Eden on the Charles: The Making of Boston, is not owned by the library.
Biography or Autobiography
Washington : A Life by Ron Chernow
In this cradle-to-grave biography of the Founding Father, notable biographer Chernow (Titan: The Life of John D. Rockefeller) thoroughly recounts how Washington rose to prominence in the French and Indian War, parlayed that early heroism into international fame as general of the Continental army during the American Revolution, and, as America's first President, unified a young nation and shaped its government–and he offers deeper explorations of, for example, Washington's cold relationship with his mother, his heavy reliance on younger devotees such as Alexander Hamilton and the Marquis de Lafayette, and his contradictory actions regarding slavery. Chernow's Washington is a reluctant celebrity who perpetually tries to retire from national service but refuses to turn his back on an embryonic republican country struggling with its newfound freedom . . . While objective for the most part, [Chernow ] occasionally offers well-grounded opinions on Washington's character and political and military actions. — Library Journal
Biography or Autobiography Finalists
The Publisher: Henry Luce and His American Century by Alan Brinkley
Forty-three years after Henry Luce's death, historian Brinkley brings fresh perspective to Luce's life and work. Brinkley analyzes Luce's political influence while furnishing readers with fair-minded estimates of his character. Typical of media moguls, Luce sought political influence through his instruments–Time, Fortune, and Life magazines. But if Luce's frustration with the limitations of his sway over politicians flows through Brinkley's pages, so too does Luce's acumen in launching his publications, or co-acumen to speak accurately about Time, which was as much the brainchild of Luce's prep-school comrade Briton Hadden (who died in 1929). Brinkley's portrayal of Hadden's competitive, sometimes combative relationship with Luce foreshadows one of his lifelong features: his inability to establish friendships. He had business associates, not chums, and his two marriages (the second to celebrity politician Clare Boothe) and several affairs were stormy, as indicated by Brinkley's extensive quotations from the archives. Luce might not have been very happy, but he was wealthy, famous, and a redoubtable journalistic force, all of which are reasons for settling into this absorbing biography. — Booklist
Mrs. Adams in Winter: A Journey in the Last Days of Napoleon by Michael O'Brien
British historian O'Brien pursues Louisa Adams's 40-day trek through a Europe in the process of transformation.The Mrs. Adams in question is not to be confused with Abigail Adams, the Colonial matriarch and wife of the second president. Rather, Louisa Catherine Adams was her London-born daughter-in-law, the wife to Abigail's son John Quincy Adams. In early 1815, as her husband had been recalled to Paris after serving as minister to Alexander I's court in St. Petersburg, Adams was requested by letter to join him. The trip involved a grueling journey by carriage with her young son and the French nurse over the rough, frigid terrain of Russia and Prussia and through Germany to Paris. The Adamses had not seen each other in nearly a year, and Louisa was anxious to leave St. Petersburg, where the couple had been stationed for a few years. She was weary of costly court appearances, ready to close the chapter on a painful recent period involving the death of her baby girl and wondering, as O'Brien suggests, how her marriage to the evidently chilly, undemonstrative Quincy Adams would hold up. After weeks of preparation, they set off by kibitka (Russian sled), averaging 64 miles a day for the 2,000-mile trip . . .O'Brien's narrative is richly contextual, encompassing not only the great personalities of the age, whom Mrs. Adams met, but penetrating the secrets of a complicated marriage. — Kirkus Reviews
Poetry
The Best of It: New and Selected Poems by Kay Ryan
In her new book, current U.S. poet laureate Ryan gives readers a panoramic view of how her poetry has evolved. Throughout her career, Ryan has used a compressed and condensed language charged with playfulness and wit: "Wherever the eye lingers/ it finds a hunger/ The things of the world/want us for dinner/ Inside each pebble or leaf/ or puddle is a hook/ the appetites of the world/ compete to catch a look." She writes about anything, reviving the idea of poetry as a means of naming and actualizing things through the eyes of a poet/creator. The rhymes don't seem imposed but rather a natural manifestation of creating meaning, and her dense, fractured lines and the white space they create echo Dickinson. Ultimately, Ryan fuses science with myth in a language grounded in the concrete; she often opens with a plain image or even a clich�hat soon develops into something far deeper and more detailed. VERDICT Ryan's poetry offers a fresh experience of seeing and knowing that all serious poetry readers will enjoy.– Library Journal
Poetry Finalists
The Common Man by Maurice Manning
In this book, despite the singularity the title implies, many common men, rural and Kentuckian, speak meaningfully in unrhymed couplets of, basically, four or five feet, primarily if often very casually iambic. Fully acknowledging listeners ("you," they say, and they mean us), they couldn't sound more natural. First man up relates a boyhood experience of "Moonshine" that "might as well be blood, at least / the bonds that come with blood." The next tells about his occasional visits to two old brothers, one "fatter than / a tick with lies and sassy tales," the other perpetually mute. A prayer, extended metaphors, Bible variations, stories Chaucer could have told, a little preachin', personal recollections, and reflections that aren't exactly clear but certainly are worth having heard all crop up before the end. It's obvious again that Manning is one of America's invaluable poets. — Booklist
Break the Glass by Jean Valentine
Valentine's poems are brilliantly concentrated and neatly faceted, forged in the heat and press of experience and rumination like diamonds within the earth. In meticulously measured lines of deceptive quickness, Valentine encompasses the full spectrum of life and death as she deftly limns vivid landscapes etched by change slow and irrevocable, such as an old, abandoned stable and its fields, where the poet sees deep down to buried horses, a cow, memories. Attuned as she is to spirit, Valentine is nonetheless unsentimental, facing hard facts about the grand scheme of things when she comes across "just-born," now-doomed rabbits in the garden. Her poems possess the immediacy and gestural magic of cave paintings and the resonance of psalms, albeit with a wild and pagan streak, as in the wonderfully piquant "Earth and the Librarian," and a series of keening, prayerful, praise poems to Lucy, our 3.2 million-year-old foremother. Sharply honed yet mysterious, Valentine's lyrics of longing, conscience, collapsed time and space, and the elemental are startling and resounding. — Booklist
General Nonfiction
The Emperor of All Maladies: A Biography of Cancer by Siddhartha Mukherjee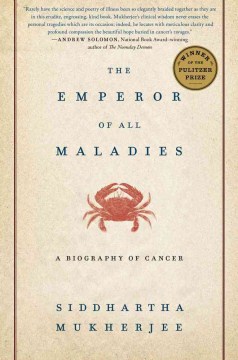 Cancer physician Mukherjee . . . shapes the narrative as a heroic contest between two adversaries—cancer and the brave patients who fight for their lives, despite horrendous nausea from chemotherapy and other painful effects of the disease and the treatment. Only since the 1950s have cancer victims had a reasonable chance of surviving and returning to normal life, and even then surgical treatment often left patients disabled while halting but not stopping the spread of metastatic cancers. In addition, researchers had to consider the effects of radiation in destroying healthy tissue and causing leukemia and pernicious anemia. The side effects of both radiation and chemotherapy were frequently deadly. Mukherjee traces the refinement of treatments over the past 50 years and the development of early detection, as well as the growing understanding of the relationship between genetic abnormalities and environmental carcinogens in causing cancers. In 2005, significant advances and progress were noted by the scientific community. "The mortality for nearly every major form of cancer," writes the author, "had continuously dropped for fifteen straight years." Mukherjee also looks optimistically to the future when the Human Genome Project completes "The Cancer Genome Atlas," which will become "a compendium of every gene mutated in the most common forms of cancer." — Kirkus Reviews
General Nonfiction Finalists
The Shallows: What the Internet Is Doing to Our Brain by Nicholas Carr
Carr details his history with computers from the 1970s to his present-day Internet obsession. Realizing that the Internet might be dramatically affecting his brain, he decides to explore the neuroscience behind brain plasticity, which offers clues about how the brain adapts to favor new skills over underutilized ones. The book offers a fascinating history of intellectual tools and their effects on society and ways the human psyche changed with each new development. Indeed, one of human history's greatest advances came from writing, reading, and the book. Carr argues that the inherent intellectual ethic of books, single-minded concentration allowing for deep reading and comprehension, is lost when text is delivered online. He believes the Internet favors the distraction that comes with wading in and out of "the shallows" of information and convincingly argues that the Internet is changing the way people think–not necessarily for the better. The author meanders at times, sometimes purposely, when exploring history's many technological milestones, but never for too long, and often one senses his enthusiasm for appending an interesting, historical, tangential character or anecdote. An entertaining, insightful, thought-provoking book. — Choice
Empire of the Summer Moon: Quanah Parker and the Rise and Fall of the Comanches, the Most Powerful Indian Tribe in American History by S.C. Gwynne
Journalist Gwynne tracks one of the U.S.'s longest-running military conflicts in this gripping history of the war against the Comanche Indians on the high plains of Texas and Colorado. The Comanches stood for decades as the single most effective military force on the southern plains; their mastery of horseback warfare and their intimate knowledge of the trackless desert of the plains stymied the armies of Spain and Mexico, and blocked American westward expansion for 40 years. Gwynne's account orbits around Quanah Parker (ca. 1852-1911), the brilliant war chief whose resistance raged even as the Comanche, increasingly demoralized by the loss of the buffalo and the American military's policy of total annihilation, retreated into the reservation. Rigorously researched and evenhanded, the book paints both the Comanches and Americans in their glory and shame, bravery and savagery. — Publishers Weekly
Category Announcement | Tags: Pulitzer Prizes
---