December 27, 2010 by Reader's Connection
Happy New Year! Wasting no time, here, our first book discussions for 2011 begin on Monday, January 3rd–as soon as they could, really–at Franklin Road and Wayne
David Grann's The Lost City of Z: A Tale of Deadly Obsession in the Amazon will be discussed at the Franklin Road Library on Monday, January 3rd at 6:30 p.m.
What could compel someone to repeatedly enter a place so inhospitable it was called "Green Hell" by early explorers?  Could the legend of El Dorado still hold a fatal allure to this day?   The author attempts to answer these questions as he traces the life and disappearance of Colonel Percy Fawcett. Among the first modern explorers to venture into the unmapped vastness of the Amazon, Fawcett repeatedly faced incredible dangers and privations.  Hunger, disease, insects and animals made life miserable.  Attacks by Indians were a constant threat.  But Fawcett somehow convinced himself an incredible lost city lay hidden in the jungle, just waiting for someone determined enough to discover it. Fawcett defied the odds by making repeated expeditions until he too succumbed to the jungle and simply vanished.  It is estimated that over one hundred people have died or disappeared trying to find Fawcett and his city.  This is a gripping account of how an experienced and educated man could develop such a strong obsession that he was willing to die attempting to fulfill it. — Mark Kincaid, formerly of Decatur Library    
Also on Monday, January 3rd, the Wayne Library will host a discussion of Harper Lee's To Kill a Mockingbird at 6:30 p.m.
Harper Lee's To Kill a Mockingbird is more than a literary classic; it's a 50-year testament to the ways a well-told story can inspire readers and impact a culture. Oprah Winfrey has called it America's "national novel," and Tom Brokaw remembers the "electrifying effect" it had on the country the year it debuted. The book won the Pulitzer Prize for fiction in 1961, and in 1962 a movie adaptation garnered three Academy Awards (having been nominated for eight). Today, this treasured gem has sold more than 30 million copies. — BookPage
Paulo Coelho's novel The Alchemist will be discussed at Central Library on Tuesday, January 4th at 6:00 p.m.
 This inspirational fable by Brazilian author and translator Coelho has been a runaway bestseller throughout Latin America and seems poised to achieve the same prominence here. The charming tale of Santiago, a shepherd boy, who dreams of seeing the world, is compelling in its own right, but gains resonance through the many lessons Santiago learns during his adventures. He journeys from Spain to Morocco in search of worldly success, and eventually to Egypt, where a fateful encounter with an alchemist brings him at last to self-understanding and spiritual enlightenment. The story has the comic charm, dramatic tension and psychological intensity of a fairy tale, but it's full of specific wisdom as well, about becoming self-empowered, overcoming depression, and believing in dreams. The cumulative effect is like hearing a wonderful bedtime story from an inspirational psychiatrist. Comparisons to The Little Prince are appropriate; this is a sweetly exotic tale for young and old alike. — Publishers Weekly
The Glass Castle, a memoir by Jeannette Walls, will be discussed at the Warren Library on Thursday, January 6th at 10:30 a.m.
Walls, who spent years trying to hide her childhood experiences, allows the story to spill out in this remarkable recollection of growing up. From her current perspective as a contributor to MSNBC online, she remembers the poverty, hunger, jokes, and bullying she and her siblings endured, and she looks back at her parents: her flighty, self-indulgent mother, a Pollyanna unwilling to assume the responsibilities of parenting, and her father, troubled, brilliant Rex, whose ability to turn his family's downward-spiraling circumstances into adventures allowed his children to excuse his imperfections until they grew old enough to understand what he had done to them–and to himself. His grand plans to build a home for the family never evolved: the hole for the foundation of the "The Glass Castle," as the dream house was called, became the family garbage dump, and, of course, a metaphor for Rex Walls' life. Shocking, sad, and occasionally bitter, this gracefully written account speaks candidly, yet with surprising affection, about parents and about the strength of family ties–for both good and ill. — Booklist
A Mercy by Toni Morrison will be discussed at the East 38th Street Library on Monday, January 10th at 6:30 p.m.
 In 1690, Anglo-Dutch trader Jacob Vaark sets off from New Amsterdam to collect a debt from a landowner in Maryland. Arriving at the plantation, Vaark discovers that the debtor cannot pay, and Vaark reluctantly decides to accept a young slave girl, Florens, as partial compensation. Taken from her baby brother and her mother, who thinks that giving up her daughter to a kinder slave owner is an act of mercy, Florens finds herself in the midst of a community of women striving to understand their burdens of sorrow and grief and to discover the mercies of love. Much as she did in Paradise , Morrison hauntingly weaves the stories of these women into a colorful tale of loss, despair, hope, and love. Knitted together with Florens's own tale of her search to be reunited with her mother are the wrenching stories of Sorrow, a young woman who spent most of her time at sea before coming to Vaark's home; Lina, a Native American healer and storyteller who looks after Florens as a mother would a daughter; and Rebekka, Vaark's wife and Florens's mistress, who endures her own persecution, loss, and sorrow. Magical, mystical, and memorable . . Library Journal 
Ernessa Carter's first novel 32 Candles will be discussed at the Flanner House Library on Monday, January 10th at 6:30 p.m.
Carter's captivating debut follows Davie Jones, an African American girl growing up in the 1980s in the small town of Glass, Mississippi. Scorned by her mother and classmates, Davie eventually stops speaking and takes refuge in the movies of Molly Ringwald, which promise happy endings for even the most downtrodden social outcast. Davie finds her dream guy in hunky James Farrell, a high-school football star who moves to Glass with his wealthy family. But her dreams are dashed when she incurs the ire of James' cruel sister, Veronica, after Veronica catches her father visiting Davie's promiscuous mother. Veronica then plays a mean prank that sends Davie running away from Glass for good, all the way to Los Angeles. There she finds her voice, both literally and figuratively, earning a living as a lounge singer. Davie is content with her life until James crashes back into it, causing demons from her past to bubble to the surface. With all the charm of a clever romantic comedy and peopled by appealing, memorable characters, Carter's first novel is a winner on all fronts. — Booklist  
On Thursday, January 13th, at 1:30 p.m., the Irvington Library will host a discussion of Robert Kurson's Crashing Through: A True Story of Risk, Adventure, and the Man Who Dared to See
 By the time he turned 44, Mike May had accomplished a lot. He had been an Olympic downhill skier and won three gold medals at the 1982 Winter Games. He was an entrepreneur with a specialized portable GPS system under development. He had lived for a time in Ghana among the villagers of Kumbuli, helping them to build a schoolhouse. He had even worked briefly for the CIA. So when doctors offered May the opportunity to regain his eyesight via a risky corneal transplant, he took the chance of a lifetime. May had been blinded by a chemical explosion at the age of 3, and the operation would make him one of only 60 documented cases of vision restoration after long-term blindness. The surgery proved successful, and May's experience with his new eyesight was packed with adventure–and difficulty. Kurson wrote the best-selling Shadow Divers (2004), about risk-taking deep-wreck divers. His latest offering documents a different kind of courage, as embodied by a man who was willing to take enormous risks on behalf of his curiosity. — Booklist  
Traveling with Pomegranates: A Mother-Daughter Story, by Sue Monk Kidd and Ann Kidd Taylor,will be discussed at the Fountain Square Library on Thursday, January 13th at 1:30 p.m.
In a probing literary collaboration that moves from Greece to their home in Charleston, S.C., novelist Kidd and her daughter, Taylor, explore and record the changing stages of a woman's life. At 50, Kidd, a wife and mother who had found fulfillment as a writer in recent years, was approaching menopause and anxious about tapping the "green fuse," or regenerative energy, for the next step in her life. Traveling to Greece with her daughter, Taylor, 22, when the latter graduated from college in 1998, Kidd recognized that her daughter, who had just received a stinging rejection from a graduate school, was also undergoing another kind of wrenching transformation–from child to adult faced with decisions about what to do with her own life. In passages narrated in turn by Kidd and Taylor, the two create a gently affectionate filial dance around the other, in the manner of the fertility myth of Persephone and her mother, Demeter. In travels through Greece, Turkey and later France, Kidd and Taylor found strength and inspiration on their respective journeys in the lives of Athena, the Virgin Mary and Joan of Arc, but mostly through a new understanding and appreciation of each other. — Publishers Weekly
Zeitoun by Dave Eggers will be discussed at the Lawrence Library on Tuesday, January 18th at 10:15 a.m.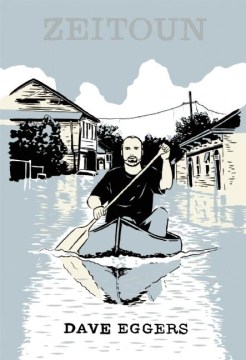 Eggers chronicles, as nonfiction, the tribulations of Abdulrahman Zeitoun, a Syrian American painting contractor who decides to ride out Hurricane Katrina in New Orleans. Although his wife, Kathy, leaves town with their four children, Abdulrahman (known as Zeitoun because few locals can pronounce his first name) stays behind, hoping to protect their home, their job sites, and their rental properties. After the storm, he paddles the flooded streets in a canoe, rescuing stranded people, feeding trapped dogs, and marveling at the sometimes surreal beauty of the devastation. Was it God's plan that he help others? he wonders. Then people in uniforms take him at gunpoint and incarcerate him. There are no charges, only the guards' insistence that he is "al Qaeda" and "Taliban." Zeitoun's odyssey–23 days of grueling imprisonment, held incommunicado and deprived of all due process–is but one nightmare of many lived after Katrina. But it is exceptionally well told . . . Booklist 
Azar Nafisi's Reading Lolita in Tehran: A Memoir in Books will be discussed at the Spades Park Library on Thursday, January 27th at 6:00 p.m.
 So you want a revolution? If your foe is an ayatollah, try reading Jane Austen.So exiled writer and scholar Nafisi instructs in this sparkling memoir of life in post-revolutionary Iran. A modest dissident during the shah's regime, a member of a Marxist study group like so many other Iranian students abroad ("I never fully integrated into the movement. . . . I never gave up the habit of reading and loving "counterrevolutionary' writers"), Nafisi taught literature at the University of Tehran after the revolution. After running afoul of the mullahs for having dared teach such "immoral" novels as The Great Gatsby and such "anti-Islamic" writers as Austen, she organized a literary study group that met in her home. Fittingly, the first work her group, made up of seven young women, turned to was The Thousand and One Nights, narrated by that great revolutionary Scheherazade. "When my students came into that room," Nafisi writes, "they took off more than their scarves and robes. . . . Our world in that living room became our sanctuary, our self-contained universe, mocking the reality of the black-scarved, timid faces in the city that sprawled below." — Kirkus Reviews  
Patricia Wood's novel Lottery will be discussed at the Southport Library on Monday, January 31st at 6:30 p.m.
 By choosing to tell the story of Perry L. Crandall, a 31-year-old man with an IQ of 76, from Perry's viewpoint and in his own voice, debut author Wood has set herself quite a challenge. Although getting used to Perry's narrative takes a bit of time, the technique ultimately succeeds. Perry's life in a small coastal town is radically changed by two events early in the novel: the death of his caretaker grandmother and his winning $12 million in the Washington State Lottery. Soon, Perry's relatives–who'd only just cheated him out of the inheritance he was due on his grandmother's death–are holding out their hands for money. Wood keeps the reader guessing as to how the story will end, and the resolution is satisfying. She meets her goal of portraying a mentally challenged person as a fully realized, functioning human being. Perry's worldview is so charming and fair that by the end, you might think he's the smartest character in the whole book. — Library Journal 
The Pike Library will host a discussion of Jessamyn West's novel Massacre at Fall Creek on Monday, January 31st at 6:30 p.m.
A dramatic, sweeping saga of life on the Indiana frontier in 1824, based on actual historical events. The Fall Creek Massacre was a unique occurrence-the first recorded instance of whites being formally charged with murder for killing Indians. Five whites were accused, tried by jury, convicted, and executed. West uses this historical record as the source for a fictional account of the events of the massacre and trial. — Publisher's note
Category Book Discussions | Tags: Readings and Book Discussions
---