August 17, 2010 by Reader's Connection
Our Classics for the College-Bound and Beyond booklists are alive and well on the website, but Central Library´s Sherry Utterback would like to give the idea of classics a new spin. Her message might help those for whom the school year is about to begin, those for whom it has already started, and those who will never enter a classroom again but are still ready for that new reading experience.
What picture comes to your mind with the phrase "classic literature"?  Chances are it is more along the lines of under the gun in Mrs. Winchell's English Lit class (read: pass it or you don't graduate) than reading something for fun.  However, there are some books considered classics that you probably have read and enjoyed.  There, don't you feel smarter already?  According to Tina Frolund, author of  Genrefied Classics,  there are several qualities that make a book a classic including:
• Longevity-books that have been around and in print at least 50 years.
• Multiple levels of meaning-readers can enjoy the same story at different points in their lives and get a new experience each time.
• Memorable characters-these people stay with us.
• Stories that transcend their original format-many classics are also rewritten as plays, films, and/or TV series.
• Popular appeal-generations of readers turn to them.
With all of this in mind, look over this list of classic titles to see if you haven't read a few, or maybe it will inspire you to pick up one you've missed.  Mrs. Winchell will never know.
The Awakening Land Trilogy (The Trees, The Fields, The Town) by Conrad Richter
Sayward Luckett walks with her family to Ohio in 1790, and watches as the territory changes over the years from forest to town, from wilderness to civilization. A 1978 made for TV adaptation featured Elizabeth Montgomery, Jane Seymour and Hal Holbrook.
Roots: the Saga of an American Family by Alex Haley
Haley's interest in following the stories of his ancestors led to this epic that begins in a West African village and concludes in 20th century America.  The book received a special Pulitzer award and was made into an early TV miniseries.
Schindler's List  by Thomas Kenneally
Written as a novel but based upon true events and people, Oskar Schindler needs workers to manufacture mess kits in 1930s Poland. Schindler sees an opportunity to get his workers and free prisoners from the Nazi death camp by creating a list of "crucial" workers.  Steven Spielberg directed the 1993 film version.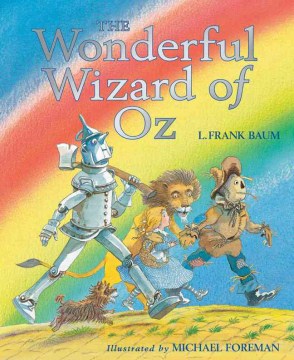 The Wonderful Wizard of Oz
by Frank Baum
A tornado sweeps up Dorothy and her dog Toto and sets them down in the magical land of Oz.  En route to the Emerald City, Dorothy meets a scarecrow, tin woodman, and a cowardly lion who join her on the journey to learn that there is no place like home.  The 1939 film version starring Judy Garland is a perennial favorite.
 The Haunting of Hill House by Shirley Jackson
Four people are to spend one night in Hill House, which is reported to have "manifestations" and "disturbances".  "It is a house without kindness, never meant to be lived in, not a fit place for people, or for love or for hope".  Made into a 1963 movie entitled The Haunting, and then a 1999 film with the same truncated title.
Warning: I used to recommend this to teens and adults when they would ask for a really scary book.  None of them ever asked me for another recommendation!
Anne of Green Gables
by Lucy Maud Montgomery
As a solution to remaining independent, aging brother and sister Marilla and Matthew Cuthbert agree to adopt a boy from an orphanage.  Imagine their surprise when instead of a boy, eleven year-old Anne Shirley arrives.  To say she is unconventional is an understatement, as she gets into trouble and searches for "kindred spirits".  In print for over 100 years, the series has also been produced on film for the Disney Channel.
Go Ask Alice by Anonymous
First published in 1967, Go Ask Alice is the story of a typical teen girl who is unknowingly given a dose of LSD at a party.  The book follows her ups and downs as she first pursues then rejects a drug involved lifestyle.  Ultimately, this is not a happy story, and is frequently challenged due to drugs and sex.
Gone With the Wind by Margaret Mitchell
On the eve of the Civil War, we find Southern belle Scarlett O'Hara at the neighboring Wilkes' barbecue, fiddle-dee-deeing everything that displeases her.  Readers find that as the story progresses through the Civil War and Reconstruction, Scarlett moves from a pampered, spoiled girl to a savvy businesswoman through grit and determination.  Do I need to mention the movie?
Christy by Catherine Marshall
Based upon the life experiences of the author's mother, Christy is the story of 19 year old Christy Huddleston who goes into the Appalachian Mountains after she hears of the need for teachers there.  From her comfortable upper-middle class life, she is faced with the harsh realities for the impoverished mountain people.  She also finds herself pulled between affection for two very different men.  A perennial favorite, this has also been a made for TV movie and a TV series.
Little Big Man
by Thomas Berger
AT 111 years of age, Jack Crabbe tells the story of his life, sometimes as a white man, other times a Cheyenne Indian.  The tale he tells is so outrageous, it leads to the statement that "Jack Crabbe was either the most neglected hero in the history of this country, or a liar of insane proportions."  Dustin Hoffman portrayed Jack Crabbe/Little Big Man in the 1970 film, aging from 17 to 121 years of age.
Category Booklist | Tags: Classics
---