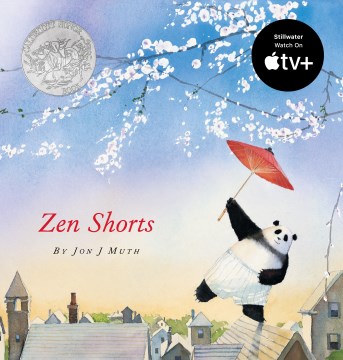 When Stillwater the bear moves into the neighborhood, the stories he tells to three siblings teach them to look at the world in new ways. To Addie he tells a story about the value of material goods. To Michael he pushes the boundaries of good and bad. And to Karl he demonstrates what it means to hold on to frustration.
"When Michael, Addy and Karl meet Stillwater, a panda with his paws full of Zen wisdom, each are made trustees of an ancient tale….
Addy, kind and curious, brings Stillwater a cake, and in return, hears of the neighboring bear's enlightened uncle Ry, who awakened one night to the rummaging of a robbing raccoon. The robber is startled, but Ry's pity for the pilferer brings him to offer the thief his robe, which is all that fills the empty house; a peaceful demonstration of value. The next day, among the boughs of a tall tree, Michael is told the of "The Farmer's Luck" and after, Karl, the youngest, is aided in his frustrations through the telling of "The Heavy Load".
Written and illustrated by Jon Muth, Zen Shorts, a 2006 Caldecott Honor book, is gentle in its message and wonderfully enlivened by delicate watercolors on every page. Neatly shelved in the children's section, an all-age treasure awaits, inviting passerby to share in a peaceful moment with three Zen shorts."
Recommended by: Kevin Kirkpatrick, Garfield Park Branch Library
More Staff Picks
If you like Zen Shorts you might also like these three books also by Jon Muth. In The Three Questions a boy asks his animal friends three questions: "When is the best time to do things?" "Who is the most important?" and "What is the right thing to do?". Zen Ghosts and Zen Ties again feature the wise Zen stories of Stillwater the bear:
Print This Post